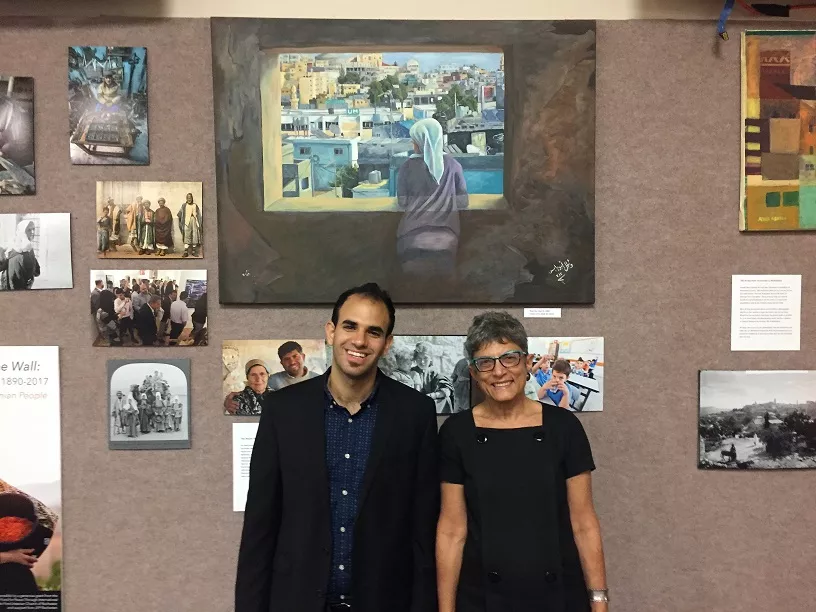 PHOTO BY KURT INDOVINA
Bshara Nassar and Mary Panzer, co-curators of "Bethlehem Beyond the Wall," an exhibit of the Museum of the Palestinian People currently installed at Nazareth College.
When Bshara Nassar moved from Bethlehem to the US in 2011, he didn't expect to end up starting a museum. He was working on a graduate degree in Conflict Transformation at Eastern Mennonite University in Harrisonburg, Virginia, and by the end of 2014, he had plans in motion to create the
Museum of the Palestinian People
, which through October is co-presenting the traveling exhibit "Bethlehem Beyond the Wall" at Nazareth College. Through photographs, paintings, and artifacts, the exhibit aims to shed light on the history and enduring culture of Palestine from the perspective of Palestinians.
It's a modest exhibit, taking up just one corner-wrapping wall inside Nazareth's Wilmot Library, and providing a ground-level glimpse of the new museum's earnest origins. Nassar envisions the Museum of the Palestinian People, which is based in D.C., will eventually be a permanent, brick-and-mortar space. For now it's an expanding collection that is being toured, gathering interest and support while shedding light on everyday life in Palestine.
Nazareth's library itself is a small center-campus hub dominated by a mammoth, colorful stained glass window depicting St. Jerome the Hermit, on his knees as he contemplates the crucified Christ.
Throughout the collection of photographs are representations of the various faiths that have histories inseparably intertwined with the land and landmarks of Bethlehem and nearby Jerusalem. In all of Christendom and beyond, Bethlehem is known as the birthplace of Jesus. This general familiarity and Nassar's expertise on the area are two reasons the exhibit focuses on Bethlehem specifically.
But the town was also chosen because its name doesn't ring with violence the way that the names Gaza or Hebron do, says co-curator Mary Panzer, who is also a member of Rochester
Jewish Voice for Peace
, which co-sponsored the exhibit with the Josephine and Paul Wenger Fund for Peace through International Understanding.
As a student, Nassar spent free time in D.C. checking out the city's many museums, monuments, and memorials, and noticed that Palestine was left out of the glory club. "I saw how proudly the Americans tell their stories through all these museums," he says. "A lot of citizens come to the United States from all over the world, and their stories are being presented. At that time, I felt my own story as a Palestinian was not being presented."
Not only was there no representation, Nassar says that through conversations with Americans he became aware of some profound misconceptions about Palestine and its people.
"The stories were being lost to many factors — to politics, UN resolutions, to political games, and endless negotiations that we hear in the news media," he says. "And I felt that the story of everyday Palestinian life is not being told. It's not there. But it's not just unknown, it's also victimized. So I wanted to look forward, and to bring the story of everyday life."
Nassar decided to create the museum in late 2014. "It was just an idea for a few months, he says, "but in 2015 we began to collect some art and photography from Palestinian artists in Palestine, and we started bringing this art to Washington, D.C."
He began introducing people around him to contemporary Palestinian identity and culture. When different institutions contacted him to borrow the art, he realized that he needed to establish an institution for the collection.
Panzer began working with Nassar about a year ago, helping him connect the dots and hone his vision for the museum.
"We're not talking about Hamas, or Fatah, or Israeli settlements or any of the sort of hot button things," Panzer says.
Unlike most discussions about Palestine, this exhibit doesn't directly center on conflict, but seeks to tell the story of Palestinians as a people of resilience, from their own perspective. And despite various conflicts through history, it's a long, unbroken perspective.
In young America, it's difficult to fathom a place so old that it had tourists before the Crusades. Weathering the influence of many empires and shifting borders, the Palestinian people have maintained a strong identity and culture that stretches back more than 4,000 years.
"I like to think of myself as bringing a new perspective, to help people understand the story of Bethlehem, because by understanding, people are making a difference," Nassar says.
The exhibit is peppered with paintings by a few artists that effectively convey the feelings of exile and longing, but the show is photography-heavy.
Bethlehem has a long history of representation in photo, and as a curator and historian of photography, Panzer knew about a collection at the Library of Congress of Bethlehem photos that spanned from 1890 to the early 1950's.
She hand-picked images that represented various aspects of daily life, and these were supplemented by pictures that Nassar collected from contemporary photographers and photojournalists, as well as images from his own history.
"Some of these are kind of twins," Panzer says, pointing out an image of a woman sitting in her shop in downtown Bethlehem in 1930, then a nearby contemporary photo of a man tending his own store. Another pairing of older and modern images, this time, of weddings, show the resilient procession of traditions and everyday life.
A 1982 photo captures Nassar's parents on their wedding day, their elated gazes sweetly meeting as he lifts her modern lace veil. Beneath it, a nuptial snapshot from the 1940's contains a crowd dressed in varying degrees of traditional-to-modern garments.
Nassar consulted with people back in Bethlehem about the collection, and they suggested that the community's agricultural history was missing. So historic and contemporary images of farmers were added, the latter group including Elias Halal's 2015 image of a woman in a leopard print blouse posing with a basket of saffron, and Ryan Rodrick Beiler's 2014 picture of a shepherd leading his flock past the Israeli
separation wall
.
The exhibit shows life in Bethlehem proceeding despite the looming
wall and associated apartheid restrictions that complicate but do not preclude some defiant sense of normalcy.
A 2017 image by Nihayah Alhaj captures a crowd enjoying an art opening at Bethlehem's Gallery Bab id Deir. Another Beiler image shows men watching a World Cup soccer match projected on the separation wall; in another, runners take part in the Second Annual Palestine Marathon race along the barrier — the caption states that 2,500 Palestinian and 700 international runners participate in the races under the title "Right to Movement."
Other images reveal how over the course of 65 years, refugee camps became permanent villages, with fields of tents gradually becoming permanent buildings as people built structures where they were forced to stay.
A video listening station presents a two-part interview with genuine stoic Tahir Mansour, who remembers the 1948 Palestinian exodus, known as
the Nakba
, during which more than 750,000 people were displaced from 500 communities by Zionist forces. Mansour gives a personal account of the climate before, during, and after it. Perhaps easily overlooked in the corner, this station provides a vital opportunity to hear his story directly.
One of the show's several sections contains a series of images that depict a brief history of this historic road between Jerusalem and Bethlehem. Provided information states that the cities were about 10 minutes apart if you drove directly, using the route that has been taken by people for thousands of years.
Pointing to images from 1902 and 1915, Panzer discusses the wide open terrain with stone villages on rolling hills dotted with lines of olive trees.
After 1948 it was no longer a short trip, she says, indicating an AP Wirephoto image from 1967 showing a stone arch with a sign that reads "Welcome the Bethlehem" in English, Hebrew, and Arabic. The original caption is still attached, calling the area "the Israeli-occupied Holy Land."
By the time we hit the 20-teens, images by Beiler and David Verberckt capture barbed wire, barricades, and lines of cars waiting at military checkpoints.
Among the artifacts in the exhibit are a few maps displayed behind glass, including a reproduction of a 1588 German map of Palestine, a detailed map on the history of the Holy Land and of Israel's encroachment sourced from a 1963 issue of National Geographic, and a 2014 map of the West Bank settlements and separation barrier created by
B'Tselem
(The Israeli Information Center for Human Rights in the Occupied Territories).
"We are not looking for people to pity the Palestinians," Nassar says. "We want people to look at Palestinians as people full of dignity and as heroes of the story. That's what the museum is all about, it's about resilience. We want to educate people, but we also want people to connect with us, interact with us, and partner with us, for the future."
Nassar says that the organizers plan to tour this exhibit around the country, to six or seven metropolitan cities, and that they plan to curate additional exhibits about other cities, including Gaza and Jerusalem.
"Bethlehem Beyond the Wall" continues through Saturday, October 14, at Nazareth College Wilmot Library, (4245 East Avenue). Daily, 10 a.m. to 7 p.m. Free. 389-2525;
mpp-dc.org/bethlehem-beyond-wall
.