A group of Nazareth adjunct faculty members, tenured faculty, and students held a rally at the main entrance to Nazareth College today to support the adjunct faculty's right to unionize.
Adjunct faculty members typically teach part-time on a contractual basis with no benefits or job security.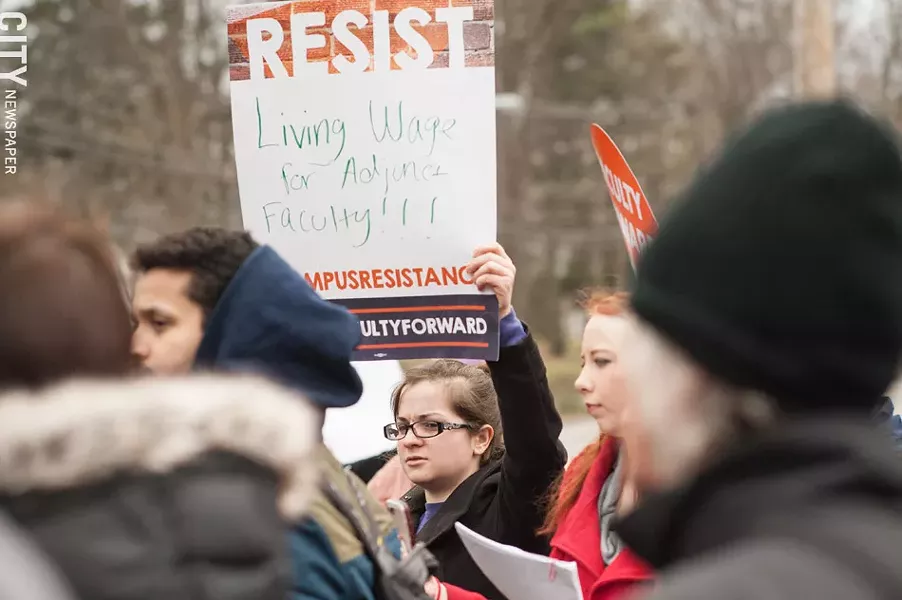 PHOTO BY JEREMY MOULE
Nazareth College adjunct faculty members and students gathered in support of the adjunct faculty's right to unionize.
Nazareth's adjuncts have filed a petition with the National Labor Relations Board to join Service Employees International Union, Local 200United. Their primary concerns: higher pay and longer-term contracts that offer greater job security.
Among the speakers at the rally was Josh Massicot, who has taught in Nazareth's Music and Creative Arts Therapy Department for 10 years as adjunct.
"I remain appointed on a semester-to-semester basis and receive no guarantees in my load," he said. "I am paid $878 per credit to teach required courses, even less if those courses are counted as labs or receive lower enrollment."
He gets no pay for the extra help he provides to his students outside of classes, he said.
Colleen Wolf is an adjunct who also works in the music department. She is a single mother working three jobs to make ends meet, she said.
"For me, something has to change," Wolf said. "I don't think the person who can teach at Nazareth should be the person who can afford to teach here."
A student speaking at the rally questioned the college's reliance on adjuncts, given the high cost of the private school's tuition.
The move to unionize is supported by many of Nazareth's students. A petition with more than 500 student signatures was given to senior administration today supporting the adjuncts and urging administrators not to interfere with an adjunct faculty election, which will take place sometime in May.
"We believe that a decision whether or not to seek union representation is a personal decision, and one that should be free from pressure," Nazareth President Daan Braveman said in a written statement.