Bob Sneider & Joe Locke Film Noir Project
Fallen Angel
Sons of Sound Records
Bob Sneider and Paul Hofmann
Escapade
Sons of Sound Records
The Eastman School of Music's guitarist extraordinaire Bob Sneider has been a busy man lately, co-headlining two new albums this month.
Sneider and vibraphone giant Joe Locke share top billing on their wonderful new album conjuring the moods of film noir, but every member of the band gets time in the footlights. Sneider's slinky guitar lines, wrapping themselves around tunes like "Les Modernes" and "Promenade Sentimentale," are beautifully complemented by Locke's gorgeous cascades on "Katya" and his own "Fallen Angel." But it's trumpeter John Sneider who plays the wrenching solo on the brilliant theme from Chinatown. And saxophonist Grant Stewart joins him in igniting "Body Heat." Pianist Paul Hofmann, bassist Phil Flanigan, and drummer Mike Melito contribute masterfully throughout.
Sneider and Hofmann have played together enough to reach a level of musical symbiosis recalling the classic duo of Bill Evans and Jim Hall. On Escapade they cover a range of compositions from Hofmann's five-part tone-poem-like "Touching the Sky" to Sneider's wild ride on "Roller Coaster." Both contribute excellent compositions, but they also shine on a Nat King Cole Trio medley and Rodgers and Hart's "My Funny Valentine." Their most ecstatic performance is on "MaÃÆ'Æ'±ana Time," a Calypso gem by the late bassist Bob Stata. (Both albums are dedicated to Stata).
--- Ron Netsky
---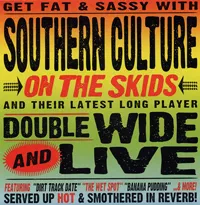 Southern Culture On The Skids
Doublewide & Live
Kudzu/Yep Roc Records
Getting a live record to actually sound like a live band is the trick, sluggo. But whatever mojo Southern Culture on the Skids summoned for their new Doublewide & Live worked big time.
A lot of folks may dismiss the band's trailer park tongue-in-cheek, polyester-pants stance as simply kitsch. But the band is for real. And it's the trio's perfect blend of hillbilly, blues, surf, country, and rock 'n' roll --- thrown in with an endless lyrical affinity for Southern cooking (among various other simple, albeit offbeat pleasures) --- that may actually save Southern culture.
Recorded over a three-day period in the band's hometown of Chapel Hill, North Carolina, at the Local 506 --- the notorious dive where SCOTS holds its annual Sleazefest --- the band throttles through tunes from its 20-plus-year history. Rick Miller's guitar takes you to the heaven where Link Wray now romps. The beat is nonstop with all its steam and hip-shake appeal. And you can almost hear bassist Mary Huff's sky-high beehive in your headphones.
Sixteen hits made the cut, but honestly I wish Doublewide & Live was a double disc. I really missed favorites like "Soul City" and "Eight Piece Box" but still flipped my wig to cuts like "Cheap Motels," "Banana Pudding," and "'69 El Camino."
--- Frank De Blase
---
Deep Purple
Live in California 74
Eagle Vision
In 1974 Deep Purple was on top. So was big rock in general. Massive rock concerts --- events, really --- were still relevant and feasible. California Jam held at Ontario Speedway April 6, 1974 featured a bevy of the big and heavy like Black Sabbath, Black Oak Arkansas, and Deep Purple. The DVD Live in California 74 captures DP's whole seven-song set. The band stretches the breaks --- and the space between numbers --- for varying eternities.
Despite David Coverdale's rock star good looks and pipes, the show was clearly Ritchie Blackmore's baby. Blackmore conducts the whole affair from stage left with waves of his arms, jabs with his fingers, or the evil eye. His tone is monstrously huge. Everyone in the group gets in on the extended jams --- it's fun to see keyboardist John Lord go completely off the sonic map. Killer versions of "Smoke on the Water," and "Space Truckin" are cool but admission is paid in full with Blackmore's show-ending temper tantrum after a pyrotechnic mishap. He smashes a video camera, a few guitars, and drags several amps to the edge of the stage and tosses them over. Silent 8mm footage shot by the band's tour manager makes for a cool bonus feature.
--- Frank De Blase
---
BR549
Dog Days
Dualtone Records
Throughout its decade of existence, BR549 has prided itself on never being pinned down. Artistically, the band has been wildly unpredictable --- in a very good way --- when it comes to roots music. Perhaps it could be tossed into the "alt-country" bin, but even then, the use of labels seems inadequate and even a little unfair.
With Dog Days, BR549's second album for Dualtone, the band --- vocalist-guitarist Chuck Mead, drummer-vocalist Shaw Wilson, multi-instrumentalist Don Herron, and newbie bassist-vocalist Mark Miller --- has stretched itself even further, testing its own limits and the limits of what defines country music.
The band dedicates "Bottom of Priority" to imprisoned Native-American activist Leonard Peltier, and it describes the type of tragedy we saw with Hurricane Katrina with "After the Hurricane."
The only major drawback to Dog Days is its short running time --- 37 minutes and change --- but that can be forgiven because the 11 songs that make up those 37 minutes both define and defy the traditions of country and roots music.
--- Ryan Whirty