Maybe you remember that "don't ask, don't tell," our government's weird head-in-the-sand policy on gay men and women serving in the American military, went into effect very shortly after the inaugural Rochester LGBT Film & Video Festival debuted in 1993. Two decades later, how things have changed: DADT has been repealed, DOMA is over, and even same-sex marriage is now legal in approximately one-fourth of these United States. And it's probably not a coincidence that ImageOut is still going strong, with no plans for laurel-resting as its 21st chapter unfolds October 11-20 with 41 programs of features, documentaries, and short films about the lesbian-gay-bisexual-transgender experience, including the world premiere of Kevin J. Indovino's "Shoulders To Stand On: The LGBT History Of Rochester, NY."
Returning in 2013 are the Next Generation Film Series, a selection of flicks free to the under-21 set, as well as the ImageOut There! Series, a roster of films about the darker side of human nature. ImageOut continues to offer programs like the donation-fueled ImageOutreach, which provides senior discounts, sign-language interpreting, and other services to make the festival accessible to all. And this year's ImageArt exhibition spotlights marriage equality; it's entitled "I Do!?" and it's on display through October 26 at Visual Studies Workshop alongside "Wish You Were Queer 4," a benefit show and sale of original postcard-sized artwork.
Mostly, though, there are movies, and lots of 'em. Read on for a peek at this year's fest, then get additional information, like ticket availability and party particulars, at imageout.org or by calling the festival office at 271-2640.
PHOTO PROVIDED
"Reaching for the Moon"
ImageOut 2013 kicks off with the truth-based "Reaching For The Moon," a well-crafted and forgivably flawed melodrama that recounts the opposites-attract love story between Pulitzer Prize-winning U.S. poet laureate Elizabeth Bishop and Brazilian architect Lota de Macedo Soares. It's almost the stuff of rom-com cliché, as the buttoned-down Bishop and the feisty Soares clash upon their initial encounter in 1951 Rio, but soon these formidable women are trying to harness their lives and passions into an unconventional relationship, one that includes Soares' not-entirely-ex-girlfriend.
Directed by acclaimed Brazilian filmmaker Bruno Barreto (1997's "Four Days In September"), "Reaching for the Moon" benefits greatly from stunning rainforest scenery as well as the performances of its two leads, played by Miranda Otto (Eowyn in the "Lord of The Rings" trilogy) and telenovela superstar Glória Pires, who distract from occasionally stiff line readings with monsoons of emotions both productive and destructive. (Friday, October 11, 6:30 p.m., Little Theatre; SOLD OUT — rush tickets may be available at the door)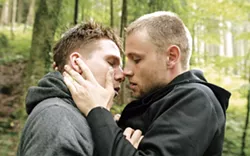 PHOTO PROVIDED
"Free Fall"
Don't you just hate it when your girlfriend is pregnant and your obnoxious fellow rookie at the police academy decides to stalk and then seduce you? That's what goes down in "Free Fall," a scorching but problematic German drama about the repercussions of unchecked desire. By-the-book Borgmann is on track for a law-enforcement career and a new baby when he begins building a tentative friendship with the rebellious Engel, who manages to whip Borgmann into a lustful frenzy that threatens to destroy both his family and professional lives.
As Borgmann, Hanno Koffler manages to believably convey the paralyzing confusion attendant to a total upending of what you thought was true, while Max Riemelt (you may remember him from ImageOut 2011's sassy, trashy "We Are The Night") does what he can with his severely underwritten catalyst. Most troublingly, though, Engel's dogged pursuit of Borgmann teeters on the brink of sexual assault, which would never fly within a hetero setup. (Friday, October 11, 9:30 p.m., Little Theatre; SOLD OUT — rush tickets may be available at the door)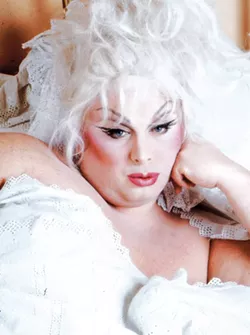 PHOTO PROVIDED
"I Am Divine"
"He was just such a gregarious, big, healthy, pink piece of flesh, we just figured he'd go on forever," one interviewee says about the larger-than-life subject of "I Am Divine," an insightful, loving, and frequently hilarious look at the late, great Harris Glenn Milstead, better known as a turd-eating drag queen called Divine.
Packed with awesome archival footage, this documentary by Jeffrey Schwarz (he also made the 2011 Vito Russo doc) includes interviews from a number of Milstead's friends and contemporaries — including John Waters, of course — who regale us with tales of the aspiring beautician's early days in Baltimore as part of Waters' underground filmmaking crew on through his rise to counterculture notoriety as Divine. (Pro tip: there's room for lots more eye make-up if you shave your hairline way back!). But that fame turned out to be a double-edged sword. Even as Milstead parlayed his notoriety into opportunities he was simultaneously chafing at being pigeonholed and soothing his frustrations through the comfort of food. (Saturday, October 12, 3:45 p.m., Little Theatre)
PHOTO PROVIDED
"The New Black"
Some suggested a correlation between the high African-American voter turnout in 2008 and the passage of California's Prop 8, linking it to the power of the pulpit. Yoruba Richen's fascinating documentary "The New Black" takes us to Maryland for a chronicle of last year's fight to pass its own marriage-equality referendum, focusing specifically on the efforts of the African-American clergy and their sadly ironic attempts to deny civil rights to fellow humans.
We hear from ministers who firmly believe that homosexuality is a choice, and we spend time with those working tirelessly for the passage of Question 6, including the National Black Justice Coalition's Sharon Lettman-Hicks, who refers to marriage equality as "the unfinished business of black people being free." The film's best scene unfolds on a stoop during some neighborhood canvassing; one young African-American man tells the LGBT activists that he has no interest in "that gay shit," while his friend understands exactly what's at stake. "I got you," he assures them. (Sunday, October 13, 3:15 p.m., Little Theatre)
PHOTO PROVIDED
"Pit Stop"
Fans of ImageOut 2008's lovely dramatic duet "Ciao" will admire Yen Tan's feature follow-up "Pit Stop," a beautifully executed ensemble piece revolving around a bunch of lonely souls in a blue-collar Texas town. We kinda know where it's all headed, but most of the film follows the parallel lives of Gabe (Bill Heck) and Ernesto (Marcus DeAnda), both in the building trades, both coming out of relationships with seemingly selfish men, and both longing for connection.
Gabe has the more interesting thread, thanks mostly to the suddenly everywhere Amy Seimetz ("Upstream Color") as Gabe's ex-wife, clearly still struggling with the fact that her one-time husband is gay while making endearingly clumsy attempts to move on. (In contrast, Ernesto's ex Luis is an unsympathetic annoyance.) Filmmaker David Lowery ("Ain't Them Bodies Saints") has a cowriting credit on the film's wise script, which drops in on the lives of ordinary people holding out hope for something extraordinary. (Sunday, October 13, 3:15 p.m., Dryden Theatre)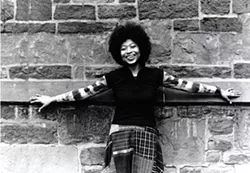 PHOTO PROVIDED
"Alice Walker: Beauty in Truth"
Pratibha Parmar's starry-eyed "Alice Walker: Beauty In Truth" is a carefully constructed portrait of the Georgia sharecropper's daughter who went on to become the first black woman to win the Pulitzer Prize for fiction, for 1982's "The Color Purple." Born to a strong-willed woman who demanded education, Alice Walker recounts her initial forays into writing as a way to cope, eventually landing a full ride to Atlanta's Spelman College, where the 1960's civil rights movement ignited her activist streak.
With insights from luminaries like Gloria Steinem, Angela Y. Davis, Quincy Jones, and Walker's former Spelman professor, the late historian Howard Zinn, "Beauty In Truth" hits all the expected bio-beats: relationships with both men and women, child-rearing, career, and especially Walker's seemingly tireless passion for justice. ("Activism is the rent I pay for living on the planet," says Walker.) The only quibble with the film might be an absolute lack of dissent over how amazing Walker is, leaving one to wonder about the whole truth. (Sunday, October 13, 6 p.m., Little Theatre)
PHOTO PROVIDED
"In the Name Of"
You know, if Pope Francis ever does eliminate the requirement of clerical celibacy, an entire genre of film is off the table. Until that time we have movies like "In the Name Of," a brooding, dreamlike Polish drama about a priest at a rural reform school wrestling with desire. Initially, Father Adam's sexuality doesn't seem to be an issue — he and his charges really seem to like and respect each other — but both a homophobic young delinquent and a quiet, handsome local in need of care force Father Adam to re-examine his lot.
Director Malgorzata Szumowska avoids judgment and gets excellent performances out of her cast, most notably Andrzej Chyra (he resembles a melancholy Daniel Craig) as Father Adam, whose faith doesn't waver even as he dulls his confusion and sadness with the contents of a bottle. And looking like a cross between Jon Snow and Jesus Christ is Mateusz Kosciukiewicz as the nearly silent Lukasz, who isn't so much a flesh-and-blood man as he is a symbol of Father Adam's struggle between human need and an otherworldly calling. (Sunday, October 13, 6:15 p.m., Dryden Theatre)
PHOTO PROVIDED
"Two Mothers"
One harsh reality about same-sex couples is they ain't making a baby without a little outside help, with all the red tape, financial stress, and quid pro quo that might entail. The spare, unflinching "Two Mothers" drops us in on a happy German couple who have decided to start a family, but with both Katja (Sabine Wolf) and Isabella (Karina Plachetka) hovering around the age of 40, timing has become important.
The women quickly get an unfair crash course in a German bureaucracy that favors hetero couples, and when a just-shy-of-ideal solution presents itself, the communication between Katja and Isabella begins to suffer tremendously. Many couples find themselves in the position of having to choose between a baby or a relationship, and filmmaker Anne Zohra Berrached's intimate close-ups skillfully capture the joy, the jealousy, and what may or may not be the acceptance. (Sunday, October 13, 8:15 p.m., Little Theatre)
PHOTO PROVIDED
"Bwakaw"
A bittersweet comedy hailing from the Philippines, "Bwakaw" is an unexpected pleasure, a character study of a man whose crabby-bastard surface masks a lifetime of heartache and regret. "A gay man whose time has passed" is how Rene describes himself, spending his days at the post-office job from which he already retired, fending off nosy neighbors, dictating changes in his will to an exasperated priest, and mostly enjoying the company of his cute dog, Bwakaw.
Redemption, as it were, presents itself in a surprising package, and as the loss in Rene's life begins to escalate, he starts to realize it might be time to really live. (The recently delivered coffin in the living room also provides a none-too-subtle reminder.) It's really nothing you haven't seen before — scowling old coot gets new lease on life — but Eddie Garcia's compelling lead performance, combined with writer-director Jun Lana's refusal to pander, make a familiar trope seem fresh and alive. (Monday, October 14, 6:30 p.m., Little Theatre)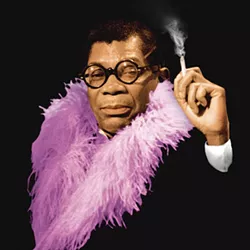 PHOTO PROVIDED
"Portrait of Jason"
This year's ImageOut of the Archives selection is 1967's "Portrait of Jason," a monumentally important film rereleased in 2013 after a meticulous restoration of the elusive original print. Indie filmmaker Shirley Clarke spent one long evening with her lens trained on Jason Holliday (formerly Aaron Payne), a born raconteur who describes himself as "bonafide freaksville," but under Clarke's manipulative guidance provided future generations with an astonishing account of what it was like to be a gay black man in mid-century, big-city America.
To be fair, the free-flowing booze certainly helps to loosen Jason's sharp tongue as he recounts early life with a no-nonsense father (known as "Brother Tough") and later days of hustling, drug use, stints in prison, and cozying up to the rich ("anything to keep from punching the clock from 9 to 5"). But this is Clarke's show, too, with varying degrees of focus and severe edits, along with an escalating antagonism from behind the camera for maximum effect. And just as we feel for the weepy, sloshy Jason, Clarke calls his bluff, and the tears dry instantly. That cabaret show would've been somethin'... (Tuesday, October 15, 7 p.m., Dryden Theatre)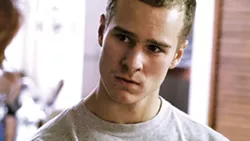 PHOTO PROVIDED
"Five Dances"
Dance aficionados should appreciate "Five Dances," which employs some world-class choreography by the renowned Jonah Bokaer to relate the coming-of-age tale of Chip, an 18-year-old out of Kansas trying to make it in New York City. (Because if you can make it there, you can... you know.) Director Alan Brown expertly captures the backstage intrigue along with the tedium and triumph of collaborating on an intricate piece until it's deemed perfect.
Dramatically speaking, however, "Five Dances" has glaring imperfections, most obviously in the central character of Chip, played by Broadway star Ryan Steele. It's not uncommon for a still-evolving teenager to lack maturity and self-awareness, but Chip is the one we're meant to hang our collective hat on, and he just doesn't elicit any real empathy with his stone-faced passive-aggression. Chip's homophobic harpy of a mother is beyond cartoony, and his romantic chemistry with the man we're meant to root for is nonexistent. (Wednesday, October 16, 6:30 p.m., Little Theatre)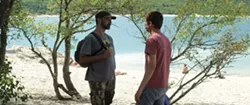 PHOTO PROVIDED
"Stranger by the Lake"
Now, if you're solely in the market for oodles of male full-frontal nudity and relatively graphic sex, then Alain Guiraudie's "Stranger by the Lake" is the film for you. (The three-word review that I proffered to City film critic Adam Lubitow on my porch: "Taints for days.") But if you're also looking for a tense and darkly funny thriller, then this award-winning French import should do the trick, juxtaposing beachside cruising culture against, um, amoral murderer culture.
Set entirely on a lovely stretch of shoreline, "Stranger by the Lake" watches Franck (Pierre Deladonchamps), who hits the beach to soak up some rays, take a quick swim, and get it on in the nearby woods. Despite — or perhaps because of — what he witnessed one evening, Franck becomes obsessed with Michel (Christophe Paou), who looks like an underwear model from 30 years ago. What ensues is a stark but suspenseful and gorgeously shot cat-and-mouse game between the two men, our outsider perspective nicely embodied by Henri (Patrick d'Assumcao), a lonely husband who says little but sees a lot. (Wednesday, October 16, 9 p.m., Little Theatre)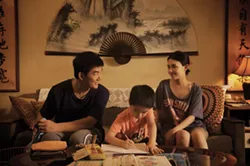 PHOTO PROVIDED
"Will You Still Love Me Tomorrow"
Arvin Chen's candy-colored Taiwanese ensemble comedy "Will You Still Love Me Tomorrow?" is an adorable lark, its plot set into motion when Feng (Mavis Fan) announces to her sad-eyed husband Weichung (Richie Jen) that she'd like to have a second child. A devoted father to their son, Weichung avoids answering, and it isn't until he visibly perks up upon meeting a dreamy flight attendant (Wong Ka Lok) that we guess what the hitch might be. (Also, this is ImageOut, so we can't help but assume these things.)
There's actually quite a bit cooking here: Weichung's little sister Mandy has gotten cold feet about her impending nuptials, Feng's handsome boss is extra attentive to her, and Mandy's wedding planner seems to know more than a little about Weichung's past. As Feng, Fan is the standout, gracefully conveying her justifiable turmoil. Nothing earth-shattering happens here, but it's all handled with sweetness, respect, and no agenda other than love. (Thursday, October 17, 6:30 p.m., Little Theatre)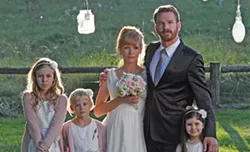 PHOTO PROVIDED
"Honeymoon"
When a character announces that "Everything is OK" and the movie isn't even half over, you can't help but brace yourself and wait. That's the case with "Honeymoon," a taut but belabored drama from prolific Czech director Jan Hrebejk that observes as an uninvited guest bearing a bizarre gift crashes the wedding of Radim (Stanislav Majer) and Tereza (Anna Geislerová), parceling out his motives with all the velocity of a glacier.
"So get the cops to throw his ass out," you might think. Yes, but it soon becomes clear that Radim is hiding something, so the guest has the upper hand, at least for a little while. "Honeymoon" is less successful as a study of the long-term repercussions of cruel homophobia than it is an inquiry into the rules of marriage and whether those vows can be trumped by nondisclosure. (Saturday, October 19, 4:15 p.m., Dryden Theatre)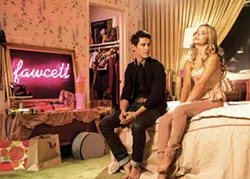 PHOTO PROVIDED
"G.B.F."
It'd be easy to dismiss "G.B.F." as another overly broad comedy with a simplistic message of acceptance, because, well, it totally is. But "G.B.F." has such a huge heart, and takes such delight in skewering all those lazy high-school-movie stereotypes, that its trespasses fall away fast. "G.B.F" introduces us to comic-book nerd Tanner (Michael J. Willett), whose involuntary outing kickstarts a tug-of-war among his school's gayless gay-straight alliance and the three popular girls. Fawcett, Caprice, and 'Shley are each looking for a leg up in the race for prom queen, and they just read that a gay best friend is this season's hottest accessory.
Director Darren Stein manages to keep a bunch of flaming bowling pins in the air and gives us much to adore here, from George Northy's whipsmart script to the ridiculous costume design to the unexpected depth of the characters. Add to that a game supporting cast of recognizable faces like Rebecca Gayheart and Jonathan Silverman as Tanner's understanding parents (their son's desperate suggestion that he might be bisexual sends them into peals of laughter) plus Horatio Sanz, Natasha Lyonne, and the invaluable Megan Mullally, with whom I think we would all like to sit down and watch "Brokeback Mountain." (Saturday, October 19, 7:30 p.m., Dryden Theatre)
---
ImageOut 2013 Festival Schedule
Friday, October 11
6:30 p.m.: "Reaching For The Moon" Little 1 (SOLD OUT)
9 p.m.: Opening Night Party at 140 Alex (Free w/opening night film ticket)
9:30 p.m.: "Free Fall" Little 1 (SOLD OUT)
11 p.m.: Opening Night Party at Tilt (Free w/opening night film ticket)
Saturday, October 12
11 a.m.: "Shoulders To Stand On" Dryden
1:30 p.m.: "Mr. Angel" Little 1
1:45 p.m.: "Monster Pies" Dryden
3:45 p.m.: "I Am Divine" Little 1
4 p.m.: "The Falls: Testament Of Love" Dryden
6:45 p.m.: Quick Licks (Shorts Program) Little 1
6:45 p.m.: "Out In The Dark" Dryden
9:15 p.m.: "Who's Afraid Of Vagina Wolf?" Little 1
9:30 p.m.: "Test" Dryden
Sunday, October 13
12:30 p.m.: "Before You Know It" Little 1
12:30 p.m.: "The Happy Sad" Dryden
3:15 p.m.: "The New Black" Little 1
3:15 p.m.: "Pit Stop" Dryden
6 p.m.: "Alice Walker: Beauty In Truth" Little 1
6:15 p.m.: "In The Name Of" Dryden
8:15 p.m.: "Two Mothers" Little 1
8:45 p.m.: "Getting Go, The Go Doc Project" Dryden
Monday, October 14
6:30 p.m.: "Bwakaw" Little 1
9:15 p.m.: "Meth Head" Little 1
Tuesday, October 15
6:15 p.m.: "Route Of Acceptance" Little 1
7 p.m.: "Portrait Of Jason" Dryden
9:30 p.m.: Sex, Lies, & VHS (Shorts Program) Little 1
Wednesday, October 16
6:30 p.m.: "Five Dances" Little 1
6:30 p.m.: "Ian Harvie Superhero" RIT Ingle Auditorium
9 p.m.: "Stranger By The Lake" Little 1
9 p.m.: "Valentine Road" RIT Ingle Auditorium
Thursday, October 17
6:30 p.m.: "Will You Still Love Me Tomorrow?" Little 1
9:15 p.m.: Home(grown) Boys (Shorts Program) Little 1
Friday, October 18
6 p.m.: "Breaking The Girls" Little 1
8:15 p.m.: "The Last Match" Little 1
10 p.m.: Second Friday Celebration at Bachelor Forum (No entry fee)
10:45 p.m.: "I'm A Porn Star" Little 1
Saturday, October 19
11:30 a.m.: "The Rugby Player" Dryden
2 p.m.: "Soongava: Dance Of The Orchids" Dryden
4:15 p.m.: "Honeymoon" Dryden
7:30 p.m.: "G.B.F." Dryden ($12-$30)
10 p.m.: Closing Night Party at Village Gate Atrium ($15-$20)
Sunday, October 20
12:45 p.m.: "Geography Club" Little 1
3 p.m.: "American Vagabond" Little 1
6 p.m.: "20 Lies, 4 Parents And A Little Egg" Little 1
8:15 p.m.: "Birthday Cake" Little 1
Tickets cost $7-$10 unless otherwise noted; discounts available for ages 24 and under. For more information visit imageout.org.