CITY looks at three holiday celebrations of food, music, ingenuity, and creativity
Whether it's celebrated in a religious, secular, or commercial way, Christmas has been the undeniable star of American winter holidays. But there's countless ways that people make merry during the colder months beyond hunting for the perfect tree, mall Santas, and stress-shopping.
Here we spotlight specific celebrations that some Rochesterians incorporate into their winter traditions. The long winter months have room for everyone's cheer, so we asked several people how they celebrate their holidays.
Have a unique tradition you'd like to share? Leave a comment below this article online at rochestercitynewspaper.com.
Rejoicing in bright ideas
About 20 years ago, Debra Ross and her husband, David, created a new tradition that originated from wanting to find common ground. The couple, who celebrate Christmas, had become friendly with a family of Jehovah's Witnesses next door, who had young children but did not partake in the holiday. Debra and David developed "Light Bulb Day," a secular holiday that celebrates reason and technological advances. The tradition stuck when the Ross's had children of their own, and wanted to find a fun way to emphasize critical thinking skills and an appreciation for human accomplishments.
Debra, who is the force behind the Kids Out and About website, says she didn't "invent" the holiday, but heard the name mentioned somewhere on the early Internet, most likely in a chat room. But they created a unique celebration around the idea, and Ross says other family members and friends have incorporated Light Bulb Day into their own winter traditions.
As the Ross children grew up, each Winter Solstice (December 21) Debra and David illuminated the darkest day of the year with food, games, presents, and a few rituals, all geared toward celebrating reason and technology.
They created custom decorations and cookies, and made light bulb cards to send to scientist friends. They make a lightbulb piñata and fill it with candy, and read passages from "The Long Winter" by Laura Ingalls Wilder "to appreciate what a struggle it was to fight the dark and the cold even as recently as the 19th century," Debra says. And they had discussions about how advances in technology and medicine have lengthened and improved the quality of the human life span.
The family also exchanges thematic, technological gifts, which is the most lasting part of the tradition now that their children are teenagers, Debra says with a laugh. But it has also served to instill in her children a gratitude for the people who have created these advances. "Over the years, we've seen people close to us saved by medical technology progress," she says. "And that gives us extra, personal reasons to celebrate."
Interested in celebrating Light Bulb Day, but at a loss where to start? Get ideas by visiting the Rochester Museum and Science Center, which highlights the marvels of innovation through its year-round exhibits.
Parrandas bring the party to you
Christmas caroling isn't a particularly new feature of the season, and the door-to-door tradition hasn't had a central place in mainstream culture for a few decades. But a rather festive version of caroling is alive and well as part of the Christmas season for Rochester's Puerto Rican population.
The caroling tradition of Trullas Navideñas, or Parrandas (parades), has its origins in Puerto Rico (among other Latin American countries), where on or around Christmas, a small group of parranderos gather with instruments (guitarras, tamboriles, maracas, and palitos) at the front door of a friend, and at a signal all begin playing and singing aguinaldos (Puerto Rican folk Christmas songs). The musicians are invited in for refreshments and dancing, and after a while, the party moves to the next joyful household. The festivities might continue until dawn.
Annette Ramos, founder of Rochester Latino Theatre Company, says that those targeted by friends for a parranda are given hints that they'll be visited — if the party isn't outright planned to the last detail. Warming, traditional food is offered to the revelers, including asopao de pollo (chicken soup), roasted pig, sweet rice, pasteles (mashed green bananas filled with meat and other vegetables), and coquito (eggnog's big brother: a coconut-based rum beverage that will knock you on your butt if you're not careful).
Rochester's Puerto Rican Festival organization (which holds multiple events throughout the year, not just the summer festival) hosts a well-attended Trulla Navideña party event every January that aims to educate Rochesterians about Puerto Rico traditions. Details about this year's events haven't yet been announced, so for more information, watch prfestival.com.
Miniature mansions and candy cottages
The making of decorated gingerbread houses originated in Germany in the early 1800's, when German bakers made ornamented fairy tale houses of lebkuchen (gingerbread) during the Christmas season. Some researchers claim they were the result of the Brothers Grimm fairy tale, "Hansel and Gretel," while others say the story was inspired by an existent tradition. The custom reached America by way of Pennsylvanian German immigrants, and families have since flexed their creative skills beyond cottages to all manner of subjects.
George Eastman Museum is in the middle of its 21st "Sweet Creations" community Gingerbread House exhibit and silent auction, which is open to anyone interested in participating — one year there were 99 creations on display.
Since the beginning, the exhibit has been organized by Kathy Connor, curator of the George Eastman Museum and George Eastman Legacy Collection, who says the exhibit is the result of the public's interest. A local baker had called Connor to ask for the dimensions and photos of Eastman's historic mansion, because she wanted to make a locally-themed piece for a baking competition in Corning. After winning a prize and bringing the piece back to Rochester, the baker realized she didn't have space to display it, and offered it to the museum. After exhibiting the work in the mansion's palm house, enthusiastic community commentary encouraged Connor to initiate an exhibit.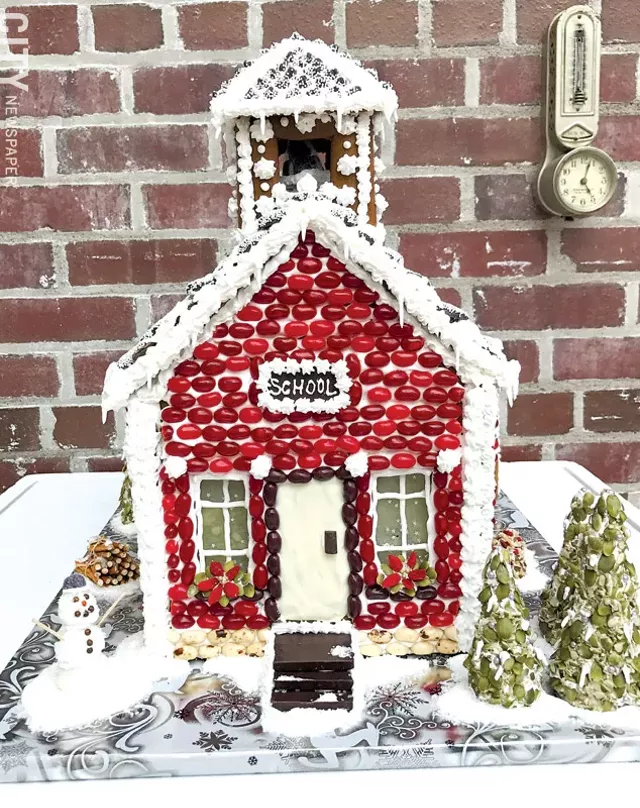 "There are some who have participated for 20 years," Connor says. At first, there was an annual theme, but these days, it's anything goes. Contributors have created everything from replicas of cathedrals, to miniature Frank Lloyd Wright houses, to SpongeBob SquarePants' underwater neighborhood. The Fast Ferry, carousels, circus wagons, the Sesame Street block, and chess sets have also made appearances.
Connor says that "the only two rules are that you have to use real gingerbread, and Royal Icing," which is a specific, Google-able recipe that if made correctly, becomes cement-like and lessens the chance of the piece falling apart during the run of the show.
The creations are sold via silent auction, and buyers can take their purchases home or to their offices to enjoy before the winter holidays are over (this year, the exhibit ends on December 14). The proceeds of the sales benefit restoration of the Eastman house, and the uptick in visits to the museum during the show are also helpful.
Check out this year's show at the George Eastman Museum (900 East Avenue), featuring more than 60 creations, and get inspired to make your own, or enter next year's exhibit. For more information, call 271-3361, or visit eastman.org.
SIDEBAR:
Other alt celebrations
The giving tree
"When we were kids, my mom would find a Christmas Angel from one the trees in the area that was near our age so we could pick out things they might like for Christmas. As adults my brothers and I continue to give to the angel trees; though, now we get children our own children's age or the ones that really pull our heart strings.
"If a card says a child needs warm clothes or something to love I can't leave them there. None of us is particularly religious but we all fervently believe that children should be allowed to believe in something magical for as long as they possibly can. In our mid-20's, my middle brother and I adopted several families. We made sure they had a Christmas dinner, presents for everyone in the family, and my sweet brother found a lot that would donate trees so that the picture would be complete. It's our Christmas tradition and one I am excited to teach my children about." — Megan Wutzke
Gets you right in the aorta
"An unusual tradition showed up one winter with my cousin from California: the New Year's Day all-bacon brunch. The idea is to start the year with the most irresponsible/decadent/grotesque meal possible, so as to set the bar for all epicurean pleasures in the months to follow. Also, it introduces a healthy dose of fatalism to keep us from getting any lofty airs about keeping resolutions.
"It started with two people and a single rasher in Buffalo many years ago, found its way to Rochester, and took root at the punk house where I lived at the beginning of the decade. Crowd size peaked in 2015 — something like 10 pounds of bacon and a half case of champagne; the event went on all day (a pair of industrious scientists may or may not have started a small kitchen fire that year trying to deep-fry an egg). The cultural ubiquity of bacon has kinda jumped the shark and my living situation is tamer these days, but participants across the US keep the custom alive in a smaller way in a number of cities." — Declan Ryan
The long-distance dance party
"Every Winter Solstice, my friend Dr. Sean T. Hammond organizes a group of friends to stream music for the entire duration of the Solstice, overnight, sunset to sunset for about 24 hours. We do this over an Internet stream. It is our way of sharing warmth between distant friends. We have been doing so as a rotating cast of eight to 12 DJs for every Winter Solstice since 2008." — Jeremiah Parry-Hill
Our savior...Santa?
Back in 2010, the costumed noise "prop band" duo The Bloody Noes (the brainchild of Ian Downey and Mary Lewandowski) created a hit pageant, "Santanalia," which has nothing to do with the pagan tradition of Saturnalia (...or does it?).
For three consecutive seasons, the performance explored the conception and birth not of a savior, but of Santa Claus, fathered by the wicked gnome Economicus. It told of the epic battle between greed and generosity, accompanied by a variety show filled with yuletide fire stunts, tunes by the Ho Ho Horchestra, burlesque acts, carols, and other tidings of terror and joy. Alas, The Bloody Noes have taken a hiatus from the show for the past few years. Some of us think this should be a Rochester tradition. If you want them to consider bringing it back, bother them repeatedly: djcardboard@gmail.com.