THE PUMPKIN PATCH
Krestia DeGeorge<
At the Public Market: Rush farmer Jeff Warner.
Don't panic.
It's not as bad as it sounds. It's just that, well, the pumpkin season wasn't quite what it could've been. Oh, you'll still have your pumpkin pie and your decorative jack-o-lanterns. Probably.
"There are always pumpkins available by the end of the season," says Bob King. "The question is, are they the ones you want to buy?"
If anyone would know, it's King. He's the agriculture program leader at the Monroe County Cornell Cooperative Extension.
"Almost everything is gonna be two to five days earlier," he says. That may not sound like much, but "that actually can be a lot," he adds. And pumpkins can be as much as 10 days ahead of schedule.
The culprit, he says, is heat. Especially overnight heat. "Nighttime temperatures are up, on average," he says.
Particularly affected: a new crop of so-called "designer pumpkins."
Hard pressed to describe these new varieties, King ends up by saying: "It reminds you of something you'd see in a Peanuts cartoon."
Last Thursday at the Public Market, Jeff Warner, who runs Warner Farms in Rush, already had a few pie pumpkins out for sale.
"We were fortunate," he says. In addition to heat, he's heard rain was a problem for some local growers. For whatever reason, though, a lot of the bigger storms passed to the north or south of Warner. Sometimes a farmer 10 miles away would get drenched while his plants got away with a nice watering.
"It can vary that much from town to town," he says.
And rains were disastrous in some other parts of the state.
"I know there's a drastic pumpkin shortage east all the way to Albany," because of the summer floods in that part of the state, he says. One farmer he heard about lost a 200-acre field of pumpkins that was submerged by the floodwaters.
Warner doesn't think that a shortage of pumpkins will hit Rochester too hard, though. He might ship a little surplus east, but he'd prefer to sell as much locally as possible.
"We'll make more money selling them retail than shipping them, and also I want to maintain my customer base," he explains. Plus, if he does have extras, he says, "I'd much rather help out a local grower."
--- Krestia DeGeorge
---
ELLIOTT VS. RIVERA
It's not unusual for elected officials to write letters to the editor. But Rochester School Board member Cynthia Elliott's piece in the August 31 Democrat and Chronicle raised the eyebrows of some of her fellow board members.
Elliott's letter --- "Reminder: School Chief Serves Board" --- was a public reprimand of Superintendent Manuel Rivera.
Rivera and Rochester Mayor Bob Duffy are co-chairing the new Education Leadership Council, a group of university and business leaders hoping to improve the school district's attendance and graduation rates.
In her letter, Elliott complained that by co-chairing the committee with Duffy, Rivera had elevated himself to the level of an elected official. The superintendent, she said, reports to her and the other members of the School Board, and the board's president, not Rivera, should be co-chairing the Leadership Council.
Elliott is sometimes at odds with other board members and with Rivera, and this is no exception. "I can only tell you that the board does not share Cynthia Elliott's views on this," board president Domingo Garcia said on Monday. "To me and to other board members, the fact that the superintendent is involved at this level is a very positive thing."
"This board expects the superintendent to reach out to the mayor," said board vice president Malik Evans, "not to mention: the Council was formed by Mayor Duffy. It's his prerogative who he wants to chair it with him."
Elliott's letter "made it look like there was something surreptitious going on," said board member Tom Brennan. "There wasn't; we've all known about this for a long time. He's not acting out of order. It's a CEO to CEO-level meeting, and frankly, Manny sitting down with the mayor of this city is long overdue. It is the only way that major projects like the Rochester Children's Zone will move forward. I mean, isn't this what we want?"
"I'm not concerned about the fact that she votes no on most things," said Brennan. "There is nothing wrong with a diversity of opinion. But I am tired of these people who want to make the district their whipping boy and take every opportunity to be critical of the superintendent. It doesn't do anything to move our agenda forward. It only makes the job harder."
Brennan and Evans co-wrote a letter to the D&C last week supporting Rivera. So far, the newspaper --- which is in the midst of a special editorial-page project on the Upstate economy --- hasn't printed it.
--- Tim Louis Macaluso
---
AH, DEMOCRACY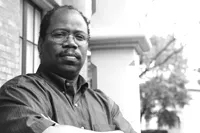 Headed to the School Board: Van Henri White.
Nobody expected a high turnout for Tuesday's primaries, but 14 percent in MonroeCounty? City voters managed to hit about 18 percent (according to unofficial returns), thanks to the Democratic fights over School Board and City Court. Even at that, two important officials were nominated by a small minority of voters. And in one case, the primary winner faces no opposition in the general election, so the election's over.
The number of registered Democrats in the city: 57,121. The number who voted on Tuesday (according to unofficial returns): a little over 9300.
There's no mystery about what that low turnout reflects: everybody knew Eliot Spitzer and Hillary Clinton would win. But there's also no secret about what the turnout means, and what it breeds: a growing disconnect between politicians and the public and a growing dissatisfaction and distrust among the public.
The local winners: Van Henri White over Allen Williams in the Rochester School Board primary, and Maija Dixon over Debra Crowder in the City Court primary. White's win means he'll take the School Board seat in January; there's no Republican candidate in the November general election. Dixon faces Republican-Conservative Paul Irving in November. (Crowder remains on the ballot on the Independence Party line.)
--- Mary Anna Towler
---
PLAYOFFS: PAIN AND PROMISE
In the end, it was power over pluck that won the 2006 International League championship.
While the Rochester Red Wings had proved to be a scrappy, resilient squad through the last half of the season and the first nine days of the IL playoffs, they couldn't overcome the Toledo Mud Hens' astounding ability to hit the long ball in the Governors Cup championship series.
The Wings went up two games to one in the series, but on Friday and Saturday the Mud Hens simply overpowered the Wings in front of an ecstatic Toledo crowd, belting eight home runs and outscoring Rochester 16-1 over the final two games to clinch the title. Toledo's lights-out display of power spurred Wings manager Stan Cliburn to compare the 2006 Hens to the legendary 1927 Yankees squad that featured, among others, Babe Ruth and Lou Gehrig.
Despite the heartbreaking loss, the Red Wings still enjoyed their most successful season since 1997 by overcoming dozens of major-league call-ups and fighting for every last run.
"When you come to the last game and you have a chance to do something special and you fall short, it's always tough," Cliburn said after Game 5. "It makes you feel like what you've done all year just fell by the wayside. It's easy to look at it that way, but I don't. I look at it as a very successful year."
Meanwhile, the Rochester Raging Rhinos are waiting for their own crack at a league championship. After finishing the regular season in second place in the United Soccer Leagues' First Division, the Rhinos earned a first-round playoff bye into the semifinals. On Friday at 7:35 p.m. at PAETEC Park they face third-seeded Charleston in the first of two matches in an aggregate-goal series.
The Rhinos are looking to claim their first championship since 2001, a drought that hasn't set well with die-hard local fans. But this year's squad, while young, brings to the table a top-notch defense that allowed the second-fewest number of goals in the regular season and features arguably the best goalkeeper in the league in Scott Vallow. The Rhinos will look to top scorers Matthew Delicate, John Ball, and Johnny Menyongar to put the ball in the back of the net on offense.
The team might also be playing with a little chip on its shoulder: despite going 13-4-11 and finishing second in the regular season, no Rhinos were selected for the USL First Division first-team all-league squad. Only Vallow and rookie defender Kenney Bertz were named to the second team.
--- Ryan Whirty