THEY ALL TELL A STORY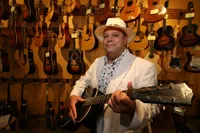 There are over 350 (mostly vintage) instruments hanging in Bernunzio Uptown Music at 122 East Avenue. Yet John Bernunzio is quick to point out he is not a collector. He's a dealer. He's been one for 35 years.
"You know you become a dealer when you decide to sell something from your collection," Bernunzio says. "I collected. And then I realized I was not going to be able to keep all these things. I enjoyed having them pass through my hands where I could study them."
But he does collect their stories, reveling in their history and mystery. One recent story was a close call, involving a 1915 Gibson Artist's Model Scroll guitar found in the garbage in Perinton.
"I love it," he says. "The suburbanites: 'throw it out, clean the house.' They all have stories --- like that Scroll guitar --- that hasn't been played in years and years, that was gonna go in the garbage can. In another week of restoration, it's going to play. It's going to make music again. They all tell a story, and they're all made to sing. That's incredible; to get them back in the hands of players, people who enjoy them."
As a teenager, Bernunzio took mandolin lessons from music publisher, Veda Santos on Garson Avenue.
"I had a little Harmony mandolin," he says. "And when she would walk out of the room I'd pick up her old Gibson Mandolin and I would play it and say, 'Someday I'm gonna have one like this.' I didn't think I'd have a whole wall like this."
Nicks and scratches and old shipping labels are often the only clues as to an instrument's long journey to Bernunzio's shop --- including two instruments in a bittersweet posthumous romance.
The two old banjos rest side by side in the display case. One belonged to Mistinguett, the famed performer in the peacock dress at the Moulin Rouge in post-WWI Paris.
"She probably didn't play," Bernunzio says. "Just covered up with it."
The other banjo belonged to her young lover, Maurice Chevalier.
"And those two banjos are now together again," he says. "They're side by side there."
Bernunzio bought Mistinguett's banjo 10 years ago and procured Chevalier's 2 years later, both from a collector in Europe.
Bernunzio does sell new stuff as well --- instruments that will one day have their own tales to tell.
"Not in our lifetime," he says.
--- Frank De Blasé
---
RG&E STICKS TO DEADLINE
For months, Rochester Gas & Electric officials have been threatening to enforce a stricter collections policy. Initially, they set the date at August 1, after which defaulting customers could lose their service. After protests outside the company's headquarters, RG&E pushed the deadline back to October 2 --- which is fast approaching. This time it doesn't look like RG&E is going to back down.
"While our shut-off notices have always stated that payment of the amount listed in the notice was required to avoid shut-off, we previously developed an informal practice of accepting partial payments," RG&E Public Affairs Manager Lydia Boddie-Rice wrote in an e-mail. "Our experience indicates that when customers only make a partial payment, their payment problems just often become worse down the road."
There are several programs available to help low-income utility customers, said Boddie-Rice. For example, the Department of Human Services' Home Energy Assistance Program provides payments for eligible low-income consumers, while the New York State Research and Development Authority provides grants, loans, and educational opportunities to help customers reduce energy costs. RG&E also offers a deferred-payment agreement, which allows customers to make back payments over a period of time.
Part of the reason people are still struggling, says Rodney Washington, Action for a Better Community's energy conservation program director, is that customers often fall behind on their payments and then reach out for help. But he says, programs such as HEAP don't address back payments. And, he says, most programs typically only cover a portion of the bill, which isn't always enough.
Boddie-Rice says RG&E won't simply terminate service. "It is very important to note that those customers who simply cannot afford to pay the full amount on the shut-off notice will still able to work out a payment agreement with us to avoid having service shut off," she wrote.
How RG&E plans to work with struggling customers remains to be seen. "We don't have anything in writing right now," says Darlene Williams, a founding member of the Heat Is On, a grassroots organization formed to protest RG&E's decision. But following a meeting between Heat members and RG&E representatives late last month, both Boddie-Rice and Williams said the two groups will work together to create educational programs and secure emergency funds for struggling customers.
Following that same meeting, County Legislator Calvin Lee Jr., also a founding member of Heat, said he believes RG&E will handle complaints on a "case-by-case basis." Defaulting customers, he says, should contact RG&E. "Let them know what your situation is," he says. "They'll have to decide based on what's going on." Lee also hopes to secure financial aid from the state.
--- Sujata Gupta
---
NOW FOR THE CUP
By Labor Day, chances that the Red Wings would advance past the first round of the International League playoffs were looking pretty slim.
True, the Wings had clinched their first playoff berth since 1997, but they had just lost their last two games of the regular season by a combined score of 13-1 to Scranton-Wilkes-Barre, their impending playoff opponent. And overall, the Wings spent the last third of the season struggling to stay in the playoff race, while Scranton had surged ahead of them to claim the IL North Division title.
Thus by early last week, there weren't a lot of people who gave Rochester much chance to win the best-of-five series that was to start last Wednesday at Frontier Field.
Apparently, however, the Wings hadn't talked to those skeptics, because Rochester proceeded to win the first two games of the series in come-from-behind fashion and immediately took a 2-0 lead in the series.
"You have to tip your hat to the guys in this clubhouse," Rochester outfielder Quinton McCracken said after the team's 11-5 triumph in Game 2. "It's a never-say-die attitude. They go out, play the game hard, and never give up."
The teams then traveled to Moosic, Pennsylvania, for what could have been the last three games of the series, but after dropping Game Three, 6-3, on Friday, the Wings closed out the series with a 2-0 win on Saturday.
With their stunning domination of the Red Barons, the Wings advanced to the Governors Cup finals, where they now face the Toledo Mud Hens in a best-of-five series that started Tuesday at Frontier Field.
However, even as his players raucously celebrated their series win in the visiting team's clubhouse on Saturday, Wings manager Stan Cliburn stressed caution. "We ain't done yet," he said. "We're halfway there."
--- Ryan Whirty
---
LEAD DATA UNCLEAR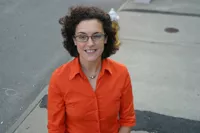 Data released by the City of Rochester indicates that about 62 percent of the approximately 1,500 houses tested for lead in the last six weeks are safe. Another 11 percent are waiting for further inspection.
Those numbers look very promising, says Molly Clifford, the city official in charge of overseeing the stringent new lead-abatement law, which took effect July 1. Going into the program, says Clifford, city officials had predicted that only 30 to 40 percent of Rochester's houses would pass the test.
That now seems like a gross underestimation. But Clifford warns that data analysis is premature. "It's six weeks worth of data, so it's a very small number," she says, adding that the city plans to inspect between 30,000 and 60,000 rental units over the next three years. So at most, only 5 percent of the units have been inspected.
Clifford suspects that the high inspection rate is due in part to landlords' cleanup efforts. But, she says, the city doesn't know how many landlords took that proactive approach. "It's not something we really track," she says.
Anecdotally, adds Clifford, it does appear that more houses in Rochester's impoverished crescent area are receiving notices for deteriorated-paint violations than elsewhere in the city. Most children with elevated lead levels in their blood live in Rochester's poorest neighborhoods. For that reason, when they passed the lead-paint law City Councilmembers mandated that houses in the crescent area pass both a visual inspection and a more stringent dust-wipe test. Houses outside the crescent have to pass only a visual inspection.
The 11 percent of units still pending review are waiting for the dust-wipe test. To date, though, 162 houses have passed the dust-wipe test, and only 22 failed. And houses in Rochester's poorest area are overrepresented in the data.
One of the city's biggest fears, says Clifford, was that landlords would abandon their properties instead of cleaning them up. That, she says, does not appear to be the case, although it's too early to be sure.
City officials have begun discussions with representatives from three groups --- the University of Rochester Medical Center, the Alliance for Healthy Homes, and the Center for Governmental Research --- to conduct a study of the legislation's impact on the local housing stock, says Clifford. No timeline has been set on the project.
Clifford says she's not ready to relax. "We're a long way from being over," she says.
--- Sujata Gupta