A FOCUS ON HEALING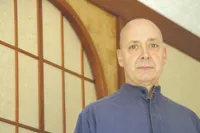 When the RochesterZenCenter opened its doors in 1966, it was one of only four places in the US devoted to the daily practice of Zen meditation. On Saturday, May 6, a symposium, "Healing & Buddhism" will mark the Center's 40th anniversary.
"Between the war in Iraq, the violent crime in Rochester, the poor state of education in our public schools, and our strained international relations, the world just seems particularly desperate right now," says Roshi Bodhin Kjolhede, explaining the symposium's emphasis on healing. Kjolhede, a graduate of the University of Michigan, has been with the Center for more than 30 years, spending the last 20 as its Abbot or priest.
He says one important milestone for the Center has been making it more accessible and less rigorously faithful to its Japanese roots.
"Zen Buddhism migrated originally from India to China, and further east to Japan and Korea," he says. "It has always undergone some adaptations to the new culture. I think we tried to shift more toward the American temperament."
The inclusion of women on equal footing as men, for example, is a departure from Buddhism's Japanese tradition.
While Buddhists are relatively small in number in the US and Canada compared to Christians, Buddhism's influence in much of Asia is significant. And it has a long association with mind-body health.
"Over time, the practice of meditation breaks down the distinction between the self and others," says Kjolhede. "Pain and suffering is an unavoidable aspect of life, but our personalized psychodrama tends to intensify that experience. Zen meditation doesn't eliminate pain. It doesn't cure an illness, but it can change our relationship to it. Practice reveals that the mind-body connection is inseparable."
Zen Buddhism, Kjolhede says, is perhaps the least violent of all world religions. "I think that is because Buddhism recognizes that the root of violence is a desire to cling to that distinction between self and others," he says. "That's where so many of the great divides in the world begin --- between the us and them. In that way, we see everything through iterations of greed, anger, and self-delusion instead of truth."
The symposium will feature David Abram, author of "The Spell of the Sensuous," which explores the relationship between human cognition and language. Jon Kabat-Zinn will discuss his research in mind-body medicine, including mindfulness-training in people with cancer and chronic pain. And a lecture by Kenneth Kraft will explore spiritual responses to pressing social and environmental issues.
"We hope that the symposium stimulates the kind of thought and action that heals some of the suffering that the media shows us every day," says Kjolhede.
Registration is $50, plus $10 for lunch. Details: 473-9180 or www.rzc.org.
---
A 'HARBOR VILLAGE'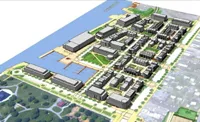 courtesy of Sasaki and Associates
The future of the Port of Rochester is beginning to take shape.
At a public meeting last week at CharlotteHigh School, Tom Doolittle and Varoujan Hagopian, of Sasaki and Associates, the Boston-based firm the city's hired to create the master plan, presented their vision for a 30-acre parcel that right now is mainly parking lots adjacent to the ferry terminal.
What they described was essentially a city neighborhood of moderate density. While the plan includes space for retail businesses, eating and dining establishments, and even a bit of office space, the overwhelming majority of developed space is dedicated to housing. There are apartment buildings, townhouses, and something halfway in between, which the planners dubbed "villa-style" housing.
The Sasaki plan isn't a concrete design of what will be built on the site. It's a concept, intended to guide development. City officials will seek private developers interested in acquiring the property and building on it.
In Sasaki's vision, buildings occupy only about 30 percent of the total area. The rest is split between a public marina (about 55 to 60 slips), a small green space, open courtyards between the buildings, and a modest grid of two-way streets throughout.
The ferry terminal could see new life as home to a proposed SUNYBrockportGreat LakesResearchCenter.
Although it suggests a small garage (360 cars) to be built on the south side of Beach Avenue, opposite the RobachCommunity Center, the plan adds more than 1,400 parking spaces, without incorporating a single additional parking lot. Nearly all of that is on-street parking. Hagopian and his team suggested incorporating garages into the homes to minimize the need for residents of the new homes to park on the streets.
"We don't want huge parking lots sitting around half empty," said Doolittle.
Of course, the consultants won't have ultimate control over details like garages, as Hagopian was quick to point out.
"In terms of the architectural style, we are not suggesting any style," he told the crowd. "That's not part of the master plan. This plan is a framework, and it's very flexible."
What ultimately gets built, he said, will be what the city and the private developers bidding on the project agree on. And the plan itself, while nearing completion, still has some wiggle room.
"There's a possibility this plan will still change," says Hagopian, as city officials continue to work with him on it.
--- Krestia DeGeorge
---
SECOND-HAND VIOLENCE
Studies show that children who witness violent crimes are more likely to become victims or aggressors later in life, says Monroe County Public Health Director Andrew Doniger. It is, however, a cycle that can be broken, he says.
The county and the Children's Institute are coordinating a program called Rochester Safe Start, trying to reduce children's exposure to violence. Last week, they rolled out the second phase of "Shadow of Violence," an educational campaign that will run until September.
The key, Children's Institute Director Deborah Johnson said at a press conference, is encouraging adults to intervene on a child's behalf. A similar campaign in 2003 emphasized the importance of bystanders becoming involved. And surveys before and after the campaign indicated that the number of bystanders who did nothing when they witnessed violence was cut in half.
Three years later, however, apathy is again on the rise, says Doniger. This year's campaign also encourages victims of violence to speak out by calling 211. The campaign's message, says Johnson, is three-fold: "Exposure to violence does hurt a child; you can help; you can get help."
With the help of several partners, including the Ad Council, the Institute created a 30-second public-service announcement, shot half in black and white and half in color. The message: Intervention can brighten a child's life. Stark images of children sitting in front of cocked guns or covering their ears are included in all of the campaign's educational materials, which include an 8-minute video, pamphlets, and posters.
The program is funded, in part, through by the US Justice Department. Federal Funding ends this October, says Johnson, but coordinators hope to continue the initiative with outside support.
--- Sujata Gupta
---
FIXING IT
Not sure what to do when your toilet backs up? Or when the baby shoves crayons down the kitchen sink?
The South East Area Coalition has published a home-improvement guide that's chock full of important information, such as how to fix minor breakdowns on your own and estimated costs for repair and renovation projects.
While some sections are geared toward those living in SEAC's service area, such as grants available through its various home repair programs, most of the book will be helpful for anyone who owns, or is thinking of buying a home, in the city.
Guides can be picked up at most neighborhood associations. For more information, call the SEAC office at 244-7405.
--- Sujata Gupta
---
PSALMS SUNG NEW
What are you feeling at this moment: happiness, curiosity, boredom? There's a Psalm to express that emotion, and a range of others, from contentment ("The Lord is my shepherd; I shall not want") to utter self-loathing ("My wounds stick and fester by reason of my foolishness.")
People have been singing the biblical poems as a form of meditation for thousands of years, and they're often printed separately from the Bible in a Psalter. Famous Psalters include the Geneva Psalter, the Luttrell Psalter, and the very first book printed in North America, the Bay Psalm Book of 1640.
Now there's a Rochester Psalter.
It's the brain-child of Thomas Elston, a curly-haired organist with sharp features who directs the choir at St. Luke's Episcopal Church in Fairport.
Elston was irritated by the high prices of arrangements offered by music publishing companies --- a year's worth of Psalm settings might cost $100 or more. He'd already set several Psalms to music, and he knew other musicians who'd done the same. So he contacted about 12 local composers, including Stephen Kennedy, Mitzie Collins, and Sandra Gay, and asked them if he could compile their settings into one volume.
Some of the tunes in the Rochester Psalter sound like they might have been penned in the year 1250. Others have a contemporary, Elton John-ish appeal. One or two are based on gospel songs. All of them are designed to be sung by amateur singers, choirs, and congregations.
"It's a work in progress," Elston says. "Since most of the participants are volunteers who have full-time day jobs, we've fallen behind a bit." But he hopes to finish a first set in the next few months, and he's working on getting permission from all the composers to go to press.
In the future, bound copies of the Rochester Psalter will be available for everyone for whom ancient poetry restores the soul. Information: chatter3324@gmail.com, or check out the project's website, http://muslit.info.
--- Brenda Tremblay