ON CAMERA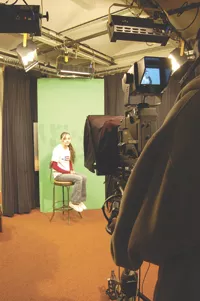 School Without Walls student Brandon Appleberry mans the camera, with SOTA's Tiffany Torres as the anchor.
What began in the 90's as routine taping of meetings and workshops has evolved into "Students First," a Rochester School District television show. Produced, shot, and edited at the district headquarters' studio downtown, students anchor the news and handle most of the technical duties behind the scenes.
With more 35,000 students, the district must continually communicate with an unusually diverse set of audiences: parents, students, and employees, and others. And the demographics add to the challenge --- ages from 5 to 75, households speaking many different languages, teachers and non-professional staff, residents and community groups.
"We have everything on the website, and we do mailings to as many as 17,000 households at a time trying to get information out to parents and families that they really need to have," says Barbara Jarzyniecki, a spokesperson for the district. "And we still get calls saying, 'We didn't know about the meeting,' or 'You didn't get us the information in a timely way.' But 'Students First' is changing that, because people do see us on TV."
Students have come from School Without Walls, Franklin, Wilson, and School of the Arts.
Every Wednesday, they get together with Todd Hall, the district's supervising producer, to come up with content ideas for the next week's show. The most recent show had students recounting their trip to New Orleans, where they helped Katrina victims, and a few weeks ago Superintendent Manuel Rivera's budget presentation to the School Board was televised live. Plans are in the works to televise School Board meetings, as well as the committee meetings where policy is discussed prior to the board meetings. Jarzyniecki says the district wants to increase its amount of air time.
"Sure, it's a community access program, but we really wanted it be professional looking," says Jarzyniecki. "Otherwise, people aren't going to watch it. But we also wanted students to have hands-on experience behind the camera and editing. This is a real job in addition to their regular school activities, and it requires a commitment. But we have students getting a true taste of what it would be like to pursue a career in broadcast journalism."
"Students First" airs Saturdays at 10 a.m. on City Cable 12 and WBGT Channel 40 (cable 18), Mondays and Fridays from 4 to 6 p.m. on RCTV Channel 15, and Thursdays at 7 p.m. on City 12.
--- Tim Louis Macaluso
---
(MORE) UPSCALE CITY LIVING
The city's bringing up its property-tax base --- one development project at a time. The latest project is on vacant land behind the Little Theatre on Charlotte Street downtown. If all goes well, says the city's Director of Development Services, Robert Barrows, that site will eventually contain 10 market-rate townhouses and 32 market-rate condominium-style loft units.
Barrows says Christa Development Corporation is in its "due diligence" phase with City Hall. "Once they complete their internal assessment of the issues, we will sit down to discuss the conditions of selling the land," he says. "There's a ways to go."
Christa is also the developer for nearby Sagamore on East, the luxury condos on East Avenue, whose prices ranged from $350,000 to $600,000. The Charlotte Street units, however, will likely cost significantly less than the Sagamore's, Barrows says. (Christa did not return phone calls requesting comments.)
Initially, Barrows says, Christa will develop 1.25 acres of the approximately 2.25-acre property. If the project's first phase meets city expectations, he says, Christa will be given preference for developing the other half.
While city officials have pushed for mixed-use, mixed-income developments in some other areas, including neighboring Chevy Place on East Avenue, Barrows says the Charlotte Street project will be entirely owner-occupied housing.
The city has owned the property for several years, but development had to wait until it could address environmental concerns, Barrows says. Both the parcel's northern and southern ends are brownfields, Barrows says. Development can begin on the northern end, says Barrows, "because we've cleaned everything that is above bedrock."
The city has cleaned the soil in the southern end, Barrows says, but the site must be monitored for a while before it can be developed.
There are some lingering environmental concerns on the northern parcel, however. While immediate hazards have been addressed, Barrows says surveyors discovered that outside contaminants were polluting groundwater below bedrock. The city --- or Christa, depending on contractual details --- will have to find the source of the contaminant, eliminate it, and then treat the groundwater.
It might be awhile before ground is broken on the project. "A construction start this year is possible" but not certain, Barrows says, noting that Christa still has to work out financing details and then get design plans approved.
--- Sujata Gupta
---
ON THE OFFENSIVE
The best defense is a good offense.
Maybe that's Maggie Brooks' strategy. That's what County Legislature Minority Leader Carla Palumbo makes of the county executive's latest move.
Last week, Brooks' administration filed suit against the Rochester and every town, village, and school district in MonroeCounty.
The county is seeking a declaration from the state Supreme Court that it has the right to enact the state's Medicaid "intercept" plan (which would let counties off the hook for Medicaid costs in exchange for giving up sales-tax revenue). Because Monroe County's sales tax sharing arrangement is unique --- the county shares more revenue with its municipalities that most other counties, and it does so on a complex, percentage-based formula --- questions have been raised about whether it's even legal for Monroe to opt into the state's plan.
In March, State Assemblymember David Gantt obtained a legal opinion from the counsel to the majority of the Assembly, saying that counties are expressly forbidden from shifting any of their Medicaid burden onto their municipalities. Opponents of Brooks' plan say that's exactly what will happen if the county opts into the intercept plan.
Larry Staub, the county's communications director, downplays the suit, saying: "First of all, it's not a lawsuit. We're requesting a judicial ruling."
Staub says county officials decided to request a ruling preemptively because they felt that proposed legislation opting into the intercept would end up in court anyway.
"We want to show that this is a legal option," he says. "We have no doubt that it is. We wouldn't go to the courts if we thought this was iffy."
While there's no word when the county might get a ruling, Staub says, "We're hoping we'll have this wrapped up while the [state] legislature is still in session."
But even if they do, there's no guarantee that legislation they send to Albany will get far.
Assemblymember Joe Morelle, who's also head of MonroeCounty's Democratic Party, says he was involved in talks with the Brooks administration about a compromise to fix the county's budget problems without hurting the city or other municipalities.
The "Community Solution" handle she's given her plan "rings hollow" now that she's suing the rest of the community, he says.
"It's gonna change the dynamic" of talks between the state, county, and municipalities, he says. "I don't think threatening people will work, and I think this is a threat."
That sounds similar to Palumbo, who likened the move to "sort of slapping the municipalities over the head with something."
"This shouldn't be like a football game," she said. "This shouldn't be like a war."
--- Krestia DeGeorge
---
MARRIAGE CASES HEAD TO COURT
On May 31, the New York State Court of Appeals will begin hearing oral arguments for four same-sex marriage cases. All four were filed after the Massachusetts high court ruled that same-sex couples were entitled to full marriage under that state's constitution.
Due to the amount of public interest the cases have generated, the Court of Appeals will webcast the oral arguments live at http://courts.state.ny.us/ctapps/ on Wednesday, May 31, beginning at 2 p.m.
The New York case drawing the most attention is the first one filed: Hernandez v. Robles, which, like the Massachusetts case, is based on the constitutionality of discriminating against gay couples. And because it's based solely on the New York constitution, the state's high court will have the final word.
The Robles case was filed two days after state Attorney General Eliot Spitzer said New York's laws referring to "husband and wife" might prohibit local officials from issuing marriage licenses to same-sex couples. But he acknowledged that those laws raise serious constitutional questions, since they exclude a specific group of citizens. Spitzer, who is running for governor, recently said if he were elected he would work to make same-sex marriage a reality.
"These are pivotal cases for the LGBT community," says Todd Plank, Marriage Equality Field Organizer for the Gay Alliance of the GeneseeValley. "This is not just about same-gender marriages. It's about families, often families with children. Without equal protection, anything can happen, and those children can literally be taken away from their parents. If straight couples had to undergo the same kind of humiliating scrutiny and evaluations, they would be outraged."
Basically, there are three possible outcomes for the Robles case, according to Lambda Legal, a national organization involved in LGBT civil-rights issues. First, the court could issue a decision similar to the Massachusetts court's, affirming the constitutional right of same-sex couples to marry. A second possible ruling: that it is unconstitutional to discriminate against same-sex couples by denying them access to the same rights, responsibilities, privileges, and protections as everyone else. And the third: that same-sex couples do not have a constitutional right to marry.
The couples in the four cases have been together between four and 23 years. Three of the couples have children.
In support of the plaintiffs, the Empire State Pride Agenda is sponsoring Marriage Equality Town Meetings and Vigils throughout the state. The Rochester town meeting will be at 7 p.m. Tuesday, May 30, at First Universalist Church, 150 South Clinton Avenue downtown. It will be followed by a reception and candlelight vigil at Washington Square Park, weather permitting.
Plank says he is expecting between 100 and 200 people to attend the meetings in both Buffalo and Rochester. Updates on cases will be shared at the meetings.
"Now more than ever is the time to let your legislators know how you feel about marriage equality," says Plank. "We need to educate lawmakers at every level about the very real hardships, dangers, and vulnerabilities faced by our families because we do not have the same protections as families headed by heterosexual couples."
--- Tim Louis Macaluso
---
SHE'LL STAY HOME
Maggie Brooks won't be running for lieutenant governor.
The county executive gave that news to Bill Weld last week after apparently flirting with the idea for a couple of months earlier this year. Weld is the favorite gubernatorial candidate of Steve Minarik, the state and Monroe County GOP chairman (and Brooks' political mentor).
In declining an invitation that had never been officially extended (at least publicly), Brooks said she was doing so because she had to focus on leading the county through a difficult financial period.
That's as good a reason as most, but let's try on another explanation for size.
Next week is the Republican Party's nominating convention. There Weld, a moderate, will square off with the more conservative John Faso for the party's nomination for governor. The outcome of that contest isn't certain, but Faso scored an important victory in late February when he got the blessing of Mike Long, the state's powerful Conservative Party chair.
Of course, the Conservative Party's actions have no official bearing on what the Republicans do. But no Republican has won statewide office in New York without the Conservative Party's endorsement since the mid-seventies, and that'll surely have some bearing on what the GOP delegates are thinking as they vote on a candidate next week. How much bearing may determine the fate of Weld's campaign.
There's also been speculation that Republicans are privately writing off the gubernatorial race, and that, in essence, the nomination is more of a battle for the soul of the party, between moderate and extreme elements of the party.
That might not be a battle Minarik can win, especially backing a moderate like Weld, and there's no reason for his protégé to risk her political future in it.
--- Krestia DeGeorge
---
DOING THE MATH
How does a city close a budget gap while growing its programs?
Mayor Bob Duffy unveiled the first draft of the 2006-07 budget Friday morning. A key provision included the addition of 31 bike and foot police officers --- which breaks down to 20 new officers and the transfer of 11 non-patrol officers. It will be at least six months before these new officers take the streets, Duffy said.
Duffy also proposed increasing spending to open DurandEastmanParkBeach for swimming, greater funding for the demolition of blighted and vacant city properties, independent inspections of all city parking garages, and increased support for various arts endeavors. Duffy also wants to add a chief information officer to assess the feasibility of citywide wi-fi capability.
The budget total is about $424.5 million, a 3.5 percent increase over last year. The city, says Duffy, went into the planning phase with a $33.3 million budget shortfall. With the help of $18 million in state aid and the sale of the fast ferry a few weeks ago, that amount dropped to $11.2 million.
Duffy wants to increase property taxes by approximately 1 percent --- about $12.71 for the average Rochester homeowner --- charging an extra $21 for refuse collection, and adding $18 to the local-works charge. He also recommended laying off 20 full-time employees and repositioning more than 50 others. "No matter what you do, you'll be praised by some, criticized by others," Duffy said.
City Councilmember Ben Douglas, head of the Finance and Law Committee, said Friday that councilmembers haven't had much time to review the budget. "It is really too early to say exactly what issues Council may have with that budget or not," he said, but added that Durand Eastman would likely be a prominent issue. Douglas said he would like to know how the money Duffy wants to spend on opening the beach --- $200,000 --- will be used, how the city will address potential liability issues, and what responsibilities would remain with the county.
--- Sujata Gupta