THE BIG TIME
Tree lover Richard Cook: Adding names to the register.
Some people tell big fish stories. Richard Cook tells big tree stories. A landscaper and self-described amateur naturalist, Cook says the Greater Rochester region is home to some of the state's biggest trees. And he has spent hundreds of hours identifying them for New York's Big Tree Register --- more than anyone else.
Started more than 30 years ago as a handwritten ledger, the register is now maintained by the state Department of Environmental Conservation as a way to promote interest in tree care and preservation. There are about 160 trees in the register, half of them located in Monroe and surrounding counties.
"We do it to raise awareness outside of conservation circles," says Cook. "Many of the trees are here naturally, but many of these trees were selected and planted with a vision in mind. And we want people to look up and notice them. Eventually they all come down, because they get damaged and die. But we shouldn't be taking them down for development. There's a Texas Black Ash in SenecaPark that qualifies as a national champion, but there they are parking cars under it --- great for the roots."
To qualify as a big tree, the species has to be included in the 1978 edition of the US Forest Service's "Checklist of US Trees Native and Naturalized" by Elbert Little, Jr.
Some basic measurements are taken to determine the size, height, and crown spread, with points given to each dimension. The tree's final score determines whether it makes it into the register. The trees don't have to be native to New York, and age is not a factor since it doesn't always determine size. But they should have a single trunk for the first 4 1/2 feet.
"I think of it as being really more about body mass," says Cook. "We're looking mostly for size and formation."
The trees in the register are not necessarily the largest in existence, either. They are only the largest that have been identified and recorded.
"It's really kind of like throwing up a target. There could be a bigger tree out there somewhere. We hope that someone looks at one of them [in the register] and says, 'Oh, that's puny compared to the one I saw.' And then they register a new one."
Cook is especially proud of a treasure he found in RiversideCemetery, a 107-foot Ponderosa Pine that beat the prior champion growing on the UR campus. Its dark green limbs rise above most of the surrounding trees. Taking Ink on a tour, Cook reexamines it using a clinometer, a handheld instrument about the size of a pocket watch. ("All the really cool forestry gadgets come out of the Scandinavian countries," he says.)
Stepping back from the tree, Cook peeks through the lens to measure the tree's height. The Ponderosa Pine, he says, has grown a couple of feet since he first measured it about two years ago.
There are lots of near misses, too. Cook points out a Himalayan White Pine at Riverside, noting it is a beautiful specimen, but not large enough to make it into the register. And he's spotted a Sequoia at a property near the Rochester Public Market.
"When the guy bought it, he said it was just one of those little seedlings --- just a few inches tall. You should see it now," says Cook. It's about 60 feet tall, "just gorgeous, and here it is growing where you would least expect it."
Anyone can nominate a tree to the register; no special certifications or degrees are required. And the tree can be on private property or in a public space. New York's big trees can also qualify as national champions and become part of the American Forests Big Tree Register. For information on how to register a tree --- or to get a copy of the registry --- visit www.dec.state.ny.us.
--- Tim Louis Macaluso
---
THE PUCK STOPS HERE
Right about now, Rochester hockey fans feel like they've had the crap kicked out of them by one or possibly all of the Hanson brothers. For the first time since 1989, the Rochester Americans failed to qualify for the American Hockey League playoffs, depriving local puckheads of something that has almost become a rite of passage into spring in this area.
After a very promising start, call-ups by the team's two parent organizations, the Buffalo Sabres and the Florida Panthers, crippled an Amerks squad that subsequently was never able to put a cohesive --- or particularly inspired --- unit on the ice and floundered to an overall losing record.
The culprits for Rochester's disappointing season were familiar ones.
"We had so many injuries," team general manager Jody Gage says. "Buffalo had injuries, Florida had injuries, we had injuries." Gage notes, for example, that Rochester's captain and emotional leader, Chris Taylor, sat out nearly half of the season with a thigh injury.
But there's also a lingering suspicion that the Amerks were also critically disrupted by the sudden addition of Florida as a parent team, a move that came less than six weeks before the 2005-06 season began.
Gage says the team never completely adjusted to the imposition of dual affiliation, but hopes are high that won't be the case next season. "It should work a lot smoother from the start," he says. "We're looking forward to getting off to a good start next year."
The Rochester Knighthawks, meanwhile, qualified for the National Lacrosse League playoffs --- barely --- by beating Toronto, 10-7, on Saturday. After losing four straight, the K-hawks found themselves in last place at the start of April, but by closing the regular season with two wins in a row, the 'Hawks made sure they didn't miss the playoffs for the first time in franchise history. Rochester opens the playoffs Saturday in a rematch against Toronto at 7:35 p.m. at Blue Cross Arena.
--- Ryan Whirty
---
PLAY SPACE
How much would you give for a small, windowless room with tilted walls? A lot, maybe --- if you play the saxophone, electric guitar, or drums. These rooms are totally soundproof, and the walls, while confusing to the inebriated, minimize reverberations.
Welcome to Halo Lofts at 60 Grove Street in downtown Rochester. Built in 1831, the structure most recently housed EmmanuelBaptistChurch; now it's being converted into 11 three-bedroom loft apartments, each with its own practice room. The lofts are geared to Eastman School of Music students, says Shane Bartholf, the 23-year-old owner of development firm Empire Living LLC. The Eastman dorm is nearby, but about 100 undergraduate students and more than 400 grad students don't live in it.
The lofts come equipped with washers, dryers, free wireless, walk-in closets, and 6-foot-high outlets and cable jacks, so students can easily mount flat-screen television sets.
Because Halo is located in a preservation district, Bartholf and project architect Mauro Cringoli of Chaintreuil Jensen Stark Architects had to maintain its 19th-century exterior. Among the challenges: maximizing natural light in the interior, since new windows couldn't be added to the front of the building.
The Grove Street façade's most prominent feature is a gigantic round window looking out toward Main Street and the Eastman Theatre and School. Don't expect to snag the room with a view, though. Bartholf was so taken by the big circle that he kept that space for himself. "Any project I do, I make sure I could live in it," he says. This time he meant it literally.
Rent for each unit will be $1,495, excluding utilities. Leases for all of the apartments have already been signed, Bartholf says.
This fall, Bartholf hopes to open a coffee shop on the building's ground floor, where Eastman students and faculty can perform. And he wants to build a four-story, 18-studio apartment building next door. He's discussing that project with city officials, he says, and would like to break ground on the project this fall.
--- Sujata Gupta
---
SPRING SWEEP
If you've been putting off cleaning out your garage or your basement, now's the time to do it. This week the City of Rochester begins a six-week spring-cleaning initiative called Clean Sweep.
As usual, there'll be bulk refuse collection, and you're asked to set out large household items and yard debris the night before you usual trash collection day. For Clean Sweep, City Hall will put extra focus on a different sector each week. Environmental Services staff will remove graffiti, repair streetlights, fill potholes, clean the streets, and survey and spruce up city-owned properties. Residents are asked to call City Hall to report broken streetlights and graffiti.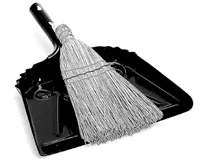 The city will also host a "Saturday Sweep" in each sector, with volunteers joining city crews for neighborhood clean-up efforts. Volunteers will meet in the morning for coffee and donuts and will wrap up their work with a city-provided picnic. The Saturday Sweeps begin at 9 a.m. at the following dates and locations: April 22, Lower Maplewood Park, Eastman Avenue; April 29, Webster Avenue Community Center, 530 Webster Avenue; May 6, Genesee Valley Park Ice Rink, 131 Elmwood Avenue; May 13, Edgerton Community Center, 41 Backus Street; May 20, NET D Office, 846 South Clinton Avenue; and May 27, NET F Office, 500 Norton Street.
Volunteers can register at www.cityofrochester.gov or by calling 428-5990. Call the same number to report light and graffiti problems or to ask for extra bags or containers for neighborhood clean-up efforts.
--- Sujata Gupta
---
UPDATED
Despite a large protest by labor unions and vociferous objections from the Democrats, the CountyLegislature approved selling some land for a new MCC dorm at the Lej's April 11 meeting. The vote followed party lines.
The objections from Dems and unions centered on the way the deal is structured, which will allow the contractor, DiMarco, to avoid paying prevailing wage. County and college officials and Republican legislators countered that this was the only way to structure the deal. The project isn't completely free to go forward, however. It still has to get the approval of Brighton's planning board. The town has had concerns about the extra cost of providing fire services for the dorm, which won't be generating any property taxes as a non-profit.
"Dorms generate a high level of calls," says Brighton Supervisor Sandra Frankel. The town is close to settling on a "mitigation agreement" with MCC, under which the college would help defray those costs, Frankel says.
--- Krestia DeGeorge