Clarke Conde
Fighting for every point: The Razorsharks in the semi-finals against San Jose on Saturday.
ROOKIE SHARKS SURFACE AT THE TOP
On Sunday afternoon, Rochester RazorSharks forward James "Mook" Reaves circled the court brandishing the American Basketball Association championship trophy. Dozens of jubilant fans mobbed the court and celebrated alongside the players and coaches. Later, 'Sharks CEO OrestHrywnak ran amuck, spraying champagne in the champions' locker room.
And pretty much every bit of the revelry was well deserved. The RazorSharks had just come from behind to beat the Southern California Legends, 117-114, in the ABA title game at Blue Cross Arena, thereby delivering the Flower City its first pro sports championship since the Rochester Raging Rhinos claimed the A-League soccer crown in 2001. With the win, the RazorSharks finished the season at 30-4, including an inspired run through the league tournament.
But while the team certainly deserved to celebrate the victory, 'Sharks officials and players said after the game that Rochester's fans had good reason to feel proud of themselves, too. All season long, the attendance at RazorSharks home games at BCA had exceeded Hrywnak's hopes and placed the brand-new franchise at the top of the league financially as well.
On Sunday, 6,377 spectators turned out to watch the home team win, providing further proof that Rochester sports enthusiasts will support a winning team. "We've got the Number 1 fans in America," Rochester guard and Greece native Demond Stewart told City after the game. "They never turned against us. They supported us the whole season."
ABA Chairman Joe Newman addressed the crowd and held Rochester up as a model for the sometimes shaky league to follow. "Rochester was a winner on the court, and it was a winner in the stands," he said. "Rochester has set the standard in the ABA for great support and great teams."
--- Ryan Whirty
---
STATE, YES; CITY, NO?
The proposed budget for the Rochester school district --- $612 million --- represents a $24 million increase over this year. And when Superintendent Manuel Rivera presented the budget to the School Board last week, he said he had designed it to build on the district's recent successes and accelerate change. One problem: the budget contains a $37.5 million shortfall.
The district is counting on making up most of the shortfall with an increase in state aid, and odds are, it'll get it. State Senator Joe Robach says that legislature leaders have agreed on an increase of at least $25 million for Rochester, and that it may be a good bit more.
But the district is also asking City Hall for $2.5 million more than it provided this year, and the city is wrestling with fiscal problems of its own. Mayor Bob Duffy says that while Rivera had told him the district would be asking for an additional $2.5 million, the city has budgeted the same amount for the district as this year.
The request for more city money seems to have caught City Council by surprise. "Nobody from City Council was told," says Councilmember Bill Pritchard. "I can tell you that if that was meant as a trial balloon, it didn't have enough air to make it into the room." If district officials want more money, Pritchard says, "they will have to tack it onto what they are requesting from Albany."
The school district has a better record of getting the money it requests from the state than cities do, says Pritchard. And indeed, late last week state officials were saying that the district is likely to get a substantial increase. But that would still leave the district short.
Rivera says the district has worked aggressively to better manage its finances and cut expenses. But some of the sharpest increases involve expenses that are out of the district's control, such as pensions, utilities, and health insurance. These expenses, Rivera stressed, are increasing at a rate that can't be addressed by holding the line to prior years' budgets. And they come at a time when the district is confronting its most deeply entrenched academic challenge: a drop-out rate that Rivera called "unacceptable."
The attendance rate in Rochester's high schools is only 86 percent, and barely half of the high-school students graduate in four years. Rivera has targeted more than $7 million in new funding for programs focused on keeping students in class, including suspension and truancy-reduction programs.
But although Pritchard says he is one of Rivera's biggest supporters, he says the district has resisted making tough financial decisions "even as they are projecting a steady decline in student enrollment."
"We all have increasing energy costs and increasing health-care costs," he says. "It's really not an excuse. They could do more. We have been after them for years to seriously look at consolidating city and school-district services. There is absolutely no reason why we need two human resources offices, two law offices and so on. And I'm not going to argue the worth of teachers, but they received more than a 4 percent [salary] increase when the rest of the community is barely looking at 2 to 3 percent increases. Hard choices have to be made. They just can't continue to grow their budget like this. It's not living in the real world."
Public hearings on the budget proposal are scheduled for Thursday, March 30, and Thursday, April 6, at 6 p.m., at the district's central office building, 131 West Broad Street. Those interested in addressing the board should call the board office, 262-8525, by noon on the day of the hearing. The budget is available on line at www.rcsdk12.org.
--- Tim Louis Macaluso
---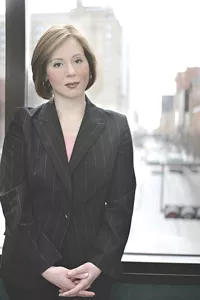 Rachel Barnhart: Channel 8 wins, for now.
FROM ARBITRON TO ARBITRATION
New YorkState's courts won't decide a dispute between television reporter Rachel Barnhart and her former bosses at Channel 8.
On March 15 State Supreme Court Judge Kenneth Fischer denied Barnhart's request for an injunction and dismissed the suit. That means the case will go to federal arbitration.
Barnhart had been suing to void a clause in her contract that bars her from working on air at another local television station for a year. This came after negotiations over a new contract broke down at the beginning of this year (see "Just clause?" February 22).
In his decision, Fischer writes that the arbitration clauses of the contracts in question affect interstate commerce (Channel 8's parent company Nexstar, is based in Texas). And since federal law favors arbitration, that's where the case should be settled, he ruled.
In theory, that outcome favors neither side. In practice, it's a defeat for Barnhart. Even at the outset of the case, Barnhart's attorney Richard Dollinger told City Newspaper that getting the injunction --- which would have allowed Barnhart to work while the dispute played out --- was "the heart of the battle." That's because the arbitration process takes about 6 months to complete, on average, according to Dollinger. By the time both sides agree on an arbitrator, wait a few months for the arbitrator to become available, present arguments, and wait for a decision, the better part of the year specified in Barnhart's non-compete clause could have elapsed.
Dollinger and Barnhart are obviously disappointed by the decision, but also a little bewildered.
"It was surprising, to say the least," says Dollinger. "I think it took both sides by surprise."
Specifically, Dollinger says, the judge's decision to invoke the US Constitution's interstate-commerce clause was unexpected.
"We never got a chance to brief that question," he says. Dollinger says he worries that decisions like this one are evidence of what he calls "galloping federalism" --- a trend toward taking more and more cases and areas of law out of the jurisdiction of state courts and putting them under the control of the federal judiciary. It's the subject of an article he's writing for the local legal newspaper, the Daily Record. Barnhart's case will now provide fodder for that article.
In the meantime, the case is also providing Dollinger with more ammunition against the non-compete clauses he attacked as unfair when the case began.
"It makes the effect of the agreement more onerous," he says, by stacking the odds in favor of enforcing them; employees will now be forced to go into lengthy arbitration to get out of non-competes, but companies can simply get an injunction against former employees to stop them from working.
"Once again, it's indicative of how unfair these agreements are," he says.
Channel 8 General Manager Marc Jaromin declined to comment saying the dispute "is still ultimately a station personnel issue."
--- Krestia DeGeorge
---
UPDATED
Pollstar announced over the weekend that the legendary James Brown will play the Eastman Theatre June 10. Given the date and venue, The Hardest Working Man in Show Business is likely a major headliner for the 2006 Rochester International Jazz Festival. Jazz Fest folks would neither confirm nor deny, but we've just gotta say: Owwww. Also reported on Pollstar recently: jazz harmonica player Toots Thielemans, on June 14.
Selling a city's low points isn't usually a mayor's top priority. But for Mayor Bob Duffy, who has been lobbying Albany for more state aid for weeks, showcasing the area's most violent and drug-infested streets has paid off --- literally. On the heels of a media tour through Rochester's poorest neighborhoods, city officials announced last week that Rochester will receive 33 percent more in state aid --- $17.9 million more than this year --- for the 2006-07 fiscal year. "This is the single largest increase in the city's history," city officials said. The total promised for Rochester: $71.2 million.
Rochester historically has gotten significantly less state aid per capita than Syracuse and Buffalo. All still isn't fair in the Flower City, though; Buffalo and Syracuse got only slightly lower increases, and Buffalo still gets far more state money than Rochester: $142.3 million. But it's a step toward parity. And, notes Rochester Business Alliance CEO Sandra Parker, we sure need it. Rochester leads the state in school dropouts, homicides, and unemployment.
To almost no one's surprise, Jack Davis will be announcing be announcing his decision to run for congress again this year on Thursday.
"Many of you have encouraged me to pick up my slingshot and fight the Goliath Reynolds," his brief Monday press release read. "I have tested the waters (polled) and discovered the possibility of defeating Reynolds looks great. All we have to do is get our message out on lost jobs, expensive health care, the Iraq War and terrorism."
Davis is the wealthy manufacturer and protectionist who gave GOP heavy Tom Reynolds a good scare in 2004. Running on a platform built mainly around protecting American jobs by opposing free-trade agreements, he picked up 44 percent of the vote in New York's 26th district. The fact that he did well (and spent his own money) attracted Democratic attention, and it could translate into more support from the Dems this time around.
There's just one problem for Davis. As chair of the Republicans' Congressional campaign committee, Reynolds will likely have access to a lot of cash himself. Expect an expensive campaign on both sides.
The celebration didn't last long: the Presbyterian Church plans to appeal the ruling involving a Rochester-affiliated minister who has married several same-sex couples.
Earlier this month, a church court ruled that the Rev. Jane Spahr had not violated the church constitution when she performed those married ceremonies. The court --- the Permanent Judicial Commission of the Presbytery of the Redwoods, in California --- is the lowest level of three in the Presbyterian judicial system. Last week, however, an attorney for the Redwoods Presbytery said it will appeal that decision to the next level: the Synod of the Pacific, which is based in San Francisco.