SPRING CLEANING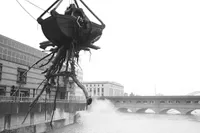 Paul Noto knows all about big cleaning jobs. He's the operations manager for the city's environmental-services department. And this week, his department begins working on one of its more unusual assignments: cleaning the Genesee River.
Each spring, environmental workers begin removing debris that collects in what the department calls "the river pool" --- the stretch of water from the Court Street dam north to the HighFalls.
The debris consists mostly of trees and brush, drawn into the water by erosion from melting ice and strong currents along the river banks from as far south as the Mount Morris Dam. But there's more interesting stuff, too.
"We'll find 70-foot trees with the roots still intact," says Noto --- and the occasional bloated cow. "Some of it is stuff people probably dump into the river, because we'll find tires, payphones, appliances, barricades, constructions barrels, and scraps of metal. But it's mostly debris, some 3,500 cubic yards of it."
The clean-up keeps tree trunks and other massive items from damaging the bridge pylons. "They can hit with a lot of force," says Noto. "Besides, this is right in the center of downtown. This stuff looks bad and it's rotting, so it would smell terrible in the summer."
The river pool is drained low enough to let Noto and his crew pull the debris out of the water with a crane.
"We only remove what is on the top, whatever we see on the surface," he says. "There's another 10 to 15 feet of muck below, so we can't go down there."
Once the debris is collected, it's hauled back to the main operations center on Mt. Read Boulevard, where it is converted to mulch and made available to the public. (Except for things the cows and payphones.)
--- Tim Louis Macaluso
---
TAX PLAYS
CountyLegislature President Wayne Zyra grabbed some media attention and ruffled a few feathers last week when he proposed changing the way the county divvies up its sales-tax revenue.
Right now about half of that money goes to the state. The remaining half is split between Monroe County, the City of Rochester, and all the county's towns, villages, and suburban school districts. Zyra's plan would change the formula, so that all of the county's Medicaid costs were paid first, with the remaining money divided among the local governments.
The plan also would cap the growth of the county's share of Medicaid at the growth of sales tax. Right now the growth in counties' share of Medicaid is capped at 3 percent. Tying it to sales tax could save the county a bit of money, at least in the short term, since sales tax growth is expected to be only about 2 percent.
But in exchange, the state would get a larger cut of the sales-tax revenue. And if in future years the sales tax grew more quickly, so would the share of Medicaid the county would be responsible for.
Predictably, municipal leaders --- who'd stand to lose a substantial chunk of cash --- aren't happy with Zyra's plan. And many of those leaders are Republican Town Supervisors, the political base of Zyra and his GOP majority in the legislature. That means passing such a measure might be harder than it sounds.
Democrats and other observers say that's because Zyra's proposal is only a ploy; by scaring local governments with the threat of getting less from the sales tax, he could make the idea of a sales tax hike more palatable.
Minority Leader Bill Smith, though, doesn't go along with that theory.
"Nobody wants to go to any kind of tax increase," he says. And while he wouldn't go so far as to endorse Zyra's plan, he says: "I think it can't be ruled off the table. It's the only action we can take without Albany doing something."
Albany would have to approve a sales-tax hike, if indeed that's the endgame in this play. But Smith is also talking about something else: overhauling the state's Medicaid system entirely.
"The real solution is for the state of New York to put Medicaid funding on the same footing it is in the other 49 states," he says. "But that's not going to happen."
--- Krestia DeGeorge
---
LEAD DOG'S OUT
Planning is under way for the 2006 city-sponsored MusicFest, a popular urban-music event that has begun to draw national attention, but there'll be at least one change this year.
Lead Dog Marketing, the Big Apple group that has run the festival recently, won't be in charge. City Council had approved a contract with Lead Dog back in December, at the end of the Johnson administration, but Mayor Bob Duffy didn't execute it.
"The mayor is really looking to keep it local," says Lorie Barnum, the city's director of cultural affairs. "We want to work with a local producer."
The city hasn't announced who the producer will be, and City Council hasn't approved a new contract. With the Fest scheduled for July 7 and 8, one week earlier than last year, time's running short for booking performers. The 2005 event featured top acts such as Common, Legend, and Boys II Men.
Barnum doesn't think it's too late, though. "I think when you book music, you're going to have a wish list, but even a year in advance that doesn't mean that you can get them," she says. "I'm feeling pretty good about the contact we've made so far."
--- Sujata Gupta
---
SPAHR 'NOT GUILTY'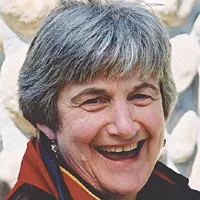 In a surprising, potentially significant move, a regional Presbyterian court in California has ruled that a Rochester-affiliated minister did not violate the church constitution when she married two same-sex couples, one of them in Rochester.
The case was brought against the Rev. Jane Adams Spahr, a San Rafael, California, minister and lesbian who has an evangelist position with Downtown United Presbyterian Church in Rochester. Spahr works throughout the country on behalf of gay and lesbian rights in the Presbyterian Church. The case against her was tried at the lowest of the church's three levels of courts, in the Permanent Judicial Commission of the Presbytery of the Redwoods.
The Presbyterian Church's Book of Order states that marriage is between a man and a woman. If Spahr had been found guilty, punishment could have ranged from simple reprimand to removal of her ordination. But in its 6-1 ruling on March 3, the Redwoods Judicial Commission said that the Book of Order language does not prohibit ministers from performing same-sex marriages because the language is "a definition, not a directive." Spahr, said the Commission, acted "within her right of conscience."
The majority went a step further, not only exonerating Spahr but, in effect, embracing her actions. The ruling ends with this "concluding affirmation": "We affirm that the fundamental message of the Scriptures and Confessions is the proclamation of the Good News of God's love for all people. It is a message of inclusiveness, reconciliation, and the breaking down of barriers that separate humans from each other, and that this proclamation has primacy in the conduct of the Church."
The Redwoods ruling could be appealed to the higher courts, and like the national church itself, the national court is more conservative than some Presbytery courts. It's unclear, however, whether the Spahr ruling will be appealed. The case was initiated, says the Rev. John Wilkinson of Rochester's Third Presbyterian Church, by a minister from another Presbytery, who had learned about Spahr's marriage ceremonies and asked the Redwoods Presbytery to investigate. That minister would not have standing in bringing an appeal.
This is Spahr's second time in Presbyterian court. Fifteen years ago, Rochester's Downtown Church called her to be a pastor on its staff. Because of Spahr's openness about her sexual orientation, DUPC's call was challenged and ultimately denied by the denomination's highest court, the Judicial Process Commission of the General Assembly.
--- by Mary Anna Towler
---
UPDATED
A long-awaited report on downtown redevelopment, released on Monday, stresses the importance of "reclaiming" Main Street. And it repeats a controversial proposal included in its preliminary version: MidtownPlaza has outlived its usefulness, and most of it should be demolished.
The report is the result of a study by the Urban Land Institute, hired last year to suggest ways to revitalize the Sibley's-MidtownPlaza area. Among ULI's recommendations:
Create 5000 to 7000 new residential units downtown, including 200 loft-style units in the SibleyBuilding. Tear down most of MidtownPlaza, relocating retail businesses there to ground-level spaces downtown. In Midtown's place, create a 1000-seat theater, housing, and a park. Target "the creative class" --- residents, downtown workers, and visitors. Capitalize on downtown's "impressive," architecturally significant buildings. Create a downtown arts district along Main Street.
The full text of the ULI report is online.
---
The city's new lead-paint ordinance, mandating clean-up in rental housing, is supposed to take effect July 1. But it still has one hurdle to jump: the state's Code Council, a 17-member group that reviews all ordinances deemed more restrictive than New York's Uniform Fire Prevention and Building Code. The Council is discussing the city's ordinance on March 15 in Albany.
Such requests are typically approved, says Department of State spokesperson Larry Sombke. On hand to urge the Council to reject the ordinance will be activist Mary D'Alessandro and other members of the Rochester Business and Property Owners Coalition. City representatives and members of the Coalition to Prevent Lead Poisoning will be there supporting the law.
---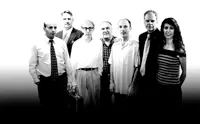 The rumors had bounced around for weeks, but it's now official: Woody Allen and his New Orleans Jazz Band will kick off this year's Rochester International Jazz Fest, performing June 9 at the Eastman Theatre. Though widely known for his film work, Allen can also boogie on the licorice stick. Tickets for the Allen concert are $50 to $95 and are available at www.rochesterjazz.com or ticketmaster.com. Proceeds will benefit Hurricane Katrina relief efforts.
---
When the Supreme Court ruled recently that protests at abortion clinics don't violate the federal anti-racketeering and extortion law, anti-abortion activists called it a decisive victory. But Sherry Handel, spokesperson for Planned Parenthood of the Rochester-Syracuse region, says the decision isn't likely to affect abortion seekers or practitioners. Congress passed the Freedom of Access to Clinic Entrances Act in 1994 specifically to address violent protests against women seeking an abortion. And New York provided additional protection through its own clinic-access law in 1999.
---
This time last year the curtain rose on the inaugural Deaf Rochester Film Festival, with more than 45 documentaries, shorts, and features devoted to the celluloid expression of deaf culture. The sequel to that successful inaugural is scheduled for March of 2007, and DRFF curators have put out a call for work.
Entries are welcome from filmmakers who are deaf or hard of hearing, as well as filmmakers who use the medium as a way of addressing the deaf experience. The deadline: October 15. For a complete rundown of submission guidelines as well as an entry form, visit www.ntid.rit.edu/DRFF.
---
Left rail
The Rochester region didn't get much attention during the 2004 presidential election, but now George W. just can't seem to get enough of us. He was back yesterday, landing at the Rochester airport and scooting south to Canandaigua, where he pitched his prescription drug plan.
This is a BlueState, and some Upstaters might have wanted him to talk about things like, oh, the problems with the prescription drug plan (seniors going without their meds, pharmacies facing bankruptcy). Or Iraq. Or global warming. And just why did the Prez grace us with a visit? Maybe he was trying to help Congressional Rep Randy Kuhl who, presumably, will seek re-election this year. But lots of Republicans are running from photo-ops with Bush. Is Kulh in that much trouble?
---
Clearly Rochester: The folks at the daily just can't pass up an opportunity to make a buck. The latest ad project: "Rochester Pets." Send in $25, and you can run an ad with a color photo of "your best friend," along with your name, your pet's name and age, and a brief description. Get those cameras out! The deadline for ads is just two days away. This Keepsake Section of the Democrat and Chronicle publishes on March 24.