MORE THAN MEDICINE
Dr. Allen Power, Associate Director of St. John's Nursing Home, has never been able to keep music out of his life. Even as a pre-med student at the University of Rochester in the early '70s, Power flirted with the idea of jumping tracks and pursuing music. Nonetheless, he decided on gerontology.
"I wanted to use science in a way that gave me lots of personal interaction," he explains.
Fortunately, as some local nursing home residents, their loved ones, and fans of acoustic guitar already know, music plays a primary role in enriching Power's interaction with his patients. A passionate proponent of the Eden Alternative (a progressive movement that emphasizes, among other things, a holistic rather than strictly medication-based outlook on geriatric health), Power makes music that deals predominantly with issues facing the elderly.
Power's work resonates because he adeptly jumps moods. A given tune might communicate whimsy, stubbornness, vulnerability, or resignation about mortality. (Apparently, Power struck a chord with Peter, Paul & Mary, who have covered one of his songs in concert.) Power embodies the potential for generosity in the arts; ultimately, his music tries to heal and restore self-worth --- the lack of which is a major challenge in his day job.
"We not only have a youth-oriented culture --- a youth-obsessed culture, I would say," he says, "but unfortunately older people have also bought into it. It's hard to empower elders to rediscover their worth."
His nursing home performances can be a hoot (he doesn't get heckled per se, but the crowds can certainly keep him on his toes), but there's a muted urgency in the air when he plays out in front of audiences who can easily sense that the lyrics he sings will soon enough apply in some way to themselves. Luckily, his affable, reassuring delivery usually puts his audiences at ease. www.alpower.net
--- Saby Reyes-Kulkarni
---
PREEMPTIVE STRIKE
It might seem early in the 2006 gubernatorial race to you. Not to Mike Long.
Last Wednesday, the Conservative Party boss announced his choice for the state's top office: former upstate Assemblymember John Faso. The move came just a week and a half after the party's annual conference in Albany, at which Faso and other Republican hopefuls courted the Conservatives for their endorsement. (That endorsement is significant, since candidates seeking to run on a party line for which they're not registered need that party chair's approval.)
Long's decision puts him at odds with State GOP Chairman Steve Minarik, who is supporting former Massachusetts Governor William Weld, a moderate Republican. (At a meeting of the state's GOP county chairs earlier this year, Minarik held a straw poll, which Weld won. But plenty of those chairs opted out of the vote or didn't show at all.)
It's been decades since a Republican won statewide office in New York without the Conservative Party's blessing. Perhaps Long looked at the polls --- which predict Spitzer by an avalanche --- and made a calculated decision to pull the state GOP rightward. Still, there's an element of Mutually Assured Destruction in play here. Like every party in New York, the Conservatives have to field a candidate who'll bring in a minimum number of votes (50,000). Otherwise they lose their official party status and their line on the ballot (and with it the weighty cross-endorsing influence they wield). If Faso tanks, Long's own political power could be a thing of the past.
On the other hand, Long can't be ignorant of the position Minarik's in. "Precarious" doesn't quite do it justice. Last year, when he became state GOP chair, Minarik inherited a state Republican Party that was seemingly directionless. Despite controlling the governor's mansion and the State Senate, the statewide GOP was marked by little cohesion and plenty of public infighting (in stark contrast to the tight ship Minarik runs at the county level).
On top of that, Minarik was handed the Sisyphean task of finding candidates to beat Eliot Spitzer and Hillary Clinton. If he can do that, he's a hero and he'll be off to Washington to be the next Karl Rove. If not, he may be sent back down to the political bush leagues from whence he came. It doesn't bode well for him that he's taken to feuding publicly with some top Republicans, including the man who paved his path to the state chairmanship, George Pataki. One sign that Minarik may recognize his own feet of clay is that he's hedged his bets by holding onto his chairmanship here in MonroeCounty.
If Long is weighing all of this, perhaps he thinks he can force Minarik to line up behind the more conservative Faso by playing to Minarik's hopes of uniting both right-of-center parties around a single candidate. And playing on his fears of losing badly.
One particular sentence in Faso's letter to his party members sounds an awful lot like a shot across Minarik's bow and supports the theory of political brinksmanship. After calling Faso the "best chance" to unite the two parties, Long adds this: "But if the Republicans decide to break with the Conservatives and field a different candidate for Governor, John Faso is committed to waging an active campaign on our issues, on our line right through the November election. Let the critics know this is not an outcome we seek, but it is also not an outcome we fear."
--- Krestia DeGeorge
---
A LAKESIDE VILLAGE
The city is shrinking; the suburbs are growing. It's not new news, but that reality must shape how land around the port in Charlotte is developed --- an initiative that has gained importance since Rochester canceled its beleaguered ferry service almost two months ago.
Two groups --- Sasaki Associates, the company charged with designing the development plan, and ZHA, Sasaki's marketing consultants --- presented their findings to a packed audience at the TerminalBuilding Thursday night. Sasaki principal VaroujanHagopian presented three diagrams illustrating what could be done with the 30-acre space. While all of them create a mini village between Lake Avenue and the river, with housing, retail, and office space, they differ in the amount of residential and commercial space and the size of the marina. All three include a 600-car parking garage near Lake Avenue.
Development could start at the site in as early as 18 months, Hagopian said, but he stressed that the site will likely take up to 15 years to complete. There will be no "instant village," said another Sasaki principal, Alistair McIntosh.
A huge challenge facing the Rochester market, said ZHA vice president Sarah Woodworth, is the low appreciation of housing throughout the region over the past several years. "Right now, Rochester's metropolitan area ranks 200 out of 235 metro areas in this country in terms of housing appreciation," she said.
The good news, however, is that Rochester is seeing a resurgence of interest in downtown living, as evidenced by the popularity of luxury housing options at Sagamore on East and Corn Hill Landing, said Woodworth, who thinks Charlotte could support about 800 new housing units.
Aside from developing residential spaces that reflect market trends, Woodworth said the city must decide what to do with the terminal building relatively quickly. Investors, she said, are unlikely to take a risk here without a clear idea of what will happen with the terminal. Sasaki representatives met on Friday with four developers interested in developing the area.
Many in the audience at the Sasaki presentation were skeptical of the proposals, which they worried would reduce access to the river and river views. One person recommended creating a boardwalk along the waterfront, which, he said, would attract retailers while maintaining the river views. Others were concerned about increased commercial development.
Sasaki representatives said that while they recognize the value of preserving the waterfront, they have to consider costs and feasibility. A waterfront promenade, for example, is a very expensive venture, they said. And they added that they've tried to maximize views of the lake and pedestrian areas.
"Yes, we are making the current open space smaller," Hagopian said, "but we have to create some bodies in here during the wintertime as well. We're trying to create an atmosphere to draw everybody in here at all times, and that's what the market is telling us is viable."
--- Sujata Gupta
---
PHILCHESTER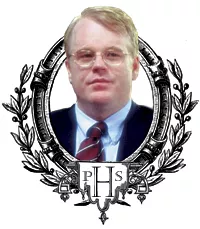 Once upon a time, when Rochesterians wanted to brag, our favorite show-off was Wegmans. But that was then. Now we've got Philip Seymour Hoffman!
When the Fairport native won a Golden Globe award for his role in Capote, a WHEC-10 reporter was camped out at a Fairport watering hole, ostensibly to get crowd reaction. The indifference was deafening, but that didn't curb the media's worship. As a lead-up to the Academy Awards, the D&C has been doing a daily career retrospective called "Phil's Film Files." The Insider devoted much of an early-February issue to him: interview, cover portrait, and all. WHAM-13 is holding a Philip Seymour Hoffman look-alike contest. Hoffman's face dominated a caricature grouping on the D&C's "Living" section. And at the George Eastman House's annual Oscar party --- this year claiming to be "the place" to cheer on our favorite local boy --- you can don a "Vote for Philip" button. (God help us if he doesn't win.)
Young adults are fleeing, Metro Rochester is in last place in the state's job-creation ratings --- but we've got star power!
---
JAZZED UP
You can't blame the Rochester International Jazz Festival (scheduled for June 9-17) for wanting to keep its line-up under wraps for a while. There's nothing like the knockout punch of a news conference packed with names that make jazz fans salivate.
But you also can't blame jazz fans for checking Pollstar.com --- the concert website --- from time to time. We've been checking and, if early indications hold up (things can change in four months), the festival is shaping up wonderfully. Among the most interesting acts listed on the site so far:
McCoy Tyner, one of the greatest pianists in jazz history; Wayne Shorter, a brilliant saxophonist and a key creative force in Miles Davis's mid-1960s quintet and in the 1970s-80s fusion group, Weather Report; local hero Joe Locke, one of the world's top vibraphonists; the Charlie Hunter Trio, whose leader is one of the most innovative guitarists in any genre; and two of America's best party bands, Roomful of Blues and Little Feat. Also listed: Karrin Allyson, the Preservation Hall Jazz Band, Asylum Street Spankers, and Jacob Fred Jazz Odyssey.