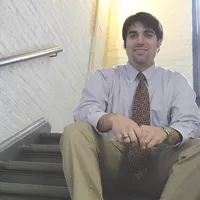 Henley gets his seat
Jeff Henley has been named to fill the Rochester School Board vacancy left by Darryl Porter, who joined the Duffy administration in January. Board president Domingo Garcia made the appointment on Monday after board members failed to agree on a replacement.
Garcia says he chose Henley for several reasons. "He was the runner-up in last year's primary, and he came very close to winning," says Garcia. "That says a large part of the community was interested in him. He's also a teacher, and he understands what teachers need in the classroom to help students succeed."
Henley, who is 28, says that he hasn't changed his views on the school district's needs since the Democratic primary campaign. "I think fiscal responsibility is still an issue for the district, but I also think there are successes happening in the city schools that the public isn't hearing," he says.
Henley's appointment is temporary. To keep his seat, he'll have to run again in a November special election.
---
The big time
This month, the turbulent story of a chapter in Rochester's racial history will hit national airwaves.
July '64, a documentary about the city's 1964 race riots made by local filmmakers CarvinEison and Chris Christopher is getting circulation as part of the PBS program "Independent Lens." The weekly PBS show features documentaries and dramas from independent film producers nationwide.
Eison says public television stations in about 220 markets (including nine of the top 10 and 18 of the top 20) have chosen to air the film, beginning on February 14. (WXXI will carry it at 10 p.m. on February 17).
"The response has been overwhelming," says Eison. "The majority of programs don't get that kind of carriage."
Eison --- who's also the general manager at Rochester Community Television --- thinks the high level of attention his film's receiving is due in part to extensive media coverage of Hurricane Katrina and its aftermath.
"I have to believe there's a growing interest across the country in what's going on in our cities," he says
Whatever it is, the film's been steadily gaining notice, culminating with an interview recently on XM radio for Christopher and Eison.
"The interest has been surprising and gratifying," he says.
---
Mourning Monroe
A longtime figure on the local folk scene, Dennis Monroe, died February 4 from an apparent heart attack. He was 56.
Monroe was an accomplished multi-instrumentalist widely known for his proficiency on guitar, violin, lute, mandolin, banjo, and dulcimer. He shared this gift as well, developing programs for area schools and universities, performing residencies, and giving workshops. When we saw Monroe a little over a month ago, sitting in with The White Hots at the Little Cafe, his fiddle playing was as sweet and pleasant as the man himself.
Local musicians are establishing a foundation to continue Monroe's legacy. Donations can be made to Music Through the Ages, 30 Upton Park, Rochester 14607.
---
Show me the money
The clock is ticking slowly toward Maggie Brooks' self-imposed deadline (90 days) for coming up with a long-term fix for the county's financial pickle.
If nothing is done, according to Brooks' team, the budget deficit will grow to about $102 million in two years. That means the county has to find $50 million of savings. And as Chief Financial Officer Steve Gleason has pointed out, since nearly $800 million of the budget is mandated spending, "It's not 50 million out of a billion, it's 50 million out of 200 million, which is a lot more significant."
In a sign that she's finally opening the budget-crafting process to the public, the County Executive hosted a brainstorming session for the legislature Saturday morning, with an emphasis on being non-partisan. To a large degree, the administration achieved the latter goal; aside from some lighthearted jests about the early hour, the meeting represented more goodwill and civility than the legislative chamber has seen in awhile.
Whether the ideas proposed prove useful or desirable to the Brooks' Administration remains to be seen. Although Brooks thanked the legislators for their participation, she and her budget officials, Gleason and Budget Director Bill Carpenter, gave no indication of whether they were excited, interested, or turned off by the suggestions they fielded.
From among three hours of those suggestions, here are a few of the more notable ones:
- From Minority Leader Carla Palumbo: Since OnondagaCounty seems to spend much less on Human Services, and have lower caseloads, let's see how they do it. Compare Monroe's operation with Onondaga's and perhaps other counties'. Brooks seems to believe MonroeCounty can find additional efficiencies in human services, while Democrats believe a closer look at Onondaga will show that its system works more efficiently because it has more caseworkers. The Federation of Social Workers, the union which represents many of MonroeCounty's caseworkers (and an important constituency of the Dems), has long complained about severe understaffing locally.
- From Deputy Majority Leader Jeff McCann: Consider "partnering with other local governments and sharing some services." McCann specifically mentioned insurance, payroll, and civil service, but noted there could be others.
- From Legislator (and former County Budget Director) Paul Haney: Look at whether it makes sense to keep operating COMIDA, the Ren Square Development Corporation, and the Water Authority as separate entities. Could pulling them back into county operations save money?
- From Travis Heider: Because rents for county facilities have spiraled by about 290 percent since 1994, take stock of the county's needs to see if it could rent space more cheaply.
- From Doug Dobson and Ciaran Hanna: Explore "reverse bidding," which lets companies compete to underbid one another on county contracts (think Ebay in reverse). That's not permitted in New YorkState, but Dobson wants the county to lobby Albany to overturn the law.
- From Stephanie Aldersley: Pressure from a coalition of county officials, led by Maggie Brooks, got Albany to cap the amount of Medicaid for which counties are responsible. Why not use that same tactic to change the outdated federal reimbursement formulas, written when New York was the wealthiest state in the nation?
"We've seen now where lobbying gets us at the state level," she said. With Republican state, county, and federal administrations, she said, "I wonder if we can't do better if we go to the federal government."
Petitioning at the Ball
This could be a watershed year for gay unions in New York, says Todd Plank of the Genesee Valley Gay Alliance. At least five lawsuits seeking marriage rights for same-sex couples are moving through state courts.
New York is among six states that have not passed a Defense of Marriage Act, which defines marriage as being between a man and a woman. At this year's Sweetheart Ball, on Saturday, February 11, the Gay Alliance will encourage attendees to sign a petition in support of same-sex marriage. The petition, which is being circulated throughout the state, has more than 20,000 signatures.
There are about 1,700 state and federal rights that heterosexuals take for granted because they have them, says Plank. "Society rewards citizens for being straight, married, and having children," he says. "But there are millions of people in our society who pay taxes, obey laws, and fight in our military that are denied equal access to the same rights and privileges because they don't fit that mold."
Polls conducted by the Empire State Pride Agenda indicate that 51 percent of New Yorkers support some type of civil union for same-sex couples, and many people think civil unions are an adequate substitute for marriage. But Plank says the differences are critical. "You really can't pick marriage apart and take what you like out of it and leave the rest. Separate but equal really doesn't work," says Plank. "It's not as simple as producing a legal document. It's much broader than that, because we're talking about the rights that come with marriage."
Domestic partnership benefits, says Plank, are a step in the right direction, but same-sex couples are taxed higher on those benefits than married couples. And survivors' rights for benefits like pensions and Social Security --- which legal documents associated with civil unions don't address --- are important to senior same-sex couples.
The Sweetheart Ball will be held at the RiversideConvention Center, beginning at 6:30 p.m. Reservations and information: GAGV, (585) 244-8640 or gayalliance.org.