Metro ink
HOUSING LATINO SENIORS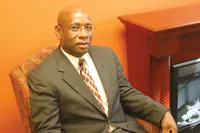 Ibero-American Action League's Eugenio Marlin, in Buena Vista's colorful surroundings.
The interior of Buena Vista Manor, a senior-living apartment complex near Avenue A and Conkey Avenue, is painted yellow, orange, and mint green. Latino paintings with brightly-colored buildings line the walls. And as people enter and exit, you hear the slight lilt of Spanish vowels.
Most of the 30 or so residents here are Latino, says Maria Suben, a property manager for the Ibero-American Action League, which runs Buena Vista. Opened a year ago, it fills a need for elderly Rochester Latinos and their families, says Ibero's executive director, Eugenio Marlin. Latinos, adds Marlin, have a long tradition of housing aging family members. "Culturally," he says, "it's very tough to have their parents go into nursing homes."
Buena Vista is located on five acres of land Ibero purchased five years ago. The site also houses some Ibero offices and facilities for the developmentally disabled. While Buena Vista doesn't have dining staff and live-in nurses aides, it does help elderly people retain their independence close to home. It also offers seniors safe, affordable housing in a depressed urban area. And it was designed, says Suben, to reflect the vibrancy of Latino life. "It's absolutely beautiful," she says.
Buena Vista is not the only living center with a predominantly Latino clientele, says Marlin, referring, for example, to St. Michael's Apartments on the corner of Clifford and North Clinton Avenues. But Buena Vista's popularity illustrates the growing need for housing of this kind, he adds. Suben says she's not sure about the total demand for senior housing for Latinos, but notes: "When a vacancy occurs, we fill it immediately."
--- Sujata Gupta
---
REYNOLDS, RAPPED
Getty Images
Tom Reynolds: What did he know, and when?
It didn't take long for the Mark Foley scandal to reach Western New York.
Foley's the Florida congressman who resigned after news of his, um, less-than-appropriate instant messages to a high school congressional page.
Reynolds --- who chairs the GOP committee in charge of electing House Republicans --- admitted that he had known about the situation for several months. And New York Democrats had a field day. They came out swinging, with three press releases in as many days. Monday's release was a litany of national Republicans denouncing Foley and his actions. Most also had harsh words for those who helped didn't act when they had the information. Here are a few highlights:
Peter King: "Anyone who was involved in the chain of information should come forward and tell when they were told, what they were told, and what they did with the information when they got it."
Dennis Hastert: "In addition, since the communications appear to have existed for three years, there should be an investigation into the extent there are persons who knew or had possession of these messages but did not report them to the appropriate authorities."
Richard Lugar: "There should be a thorough investigation of members of Congress who may have had some knowledge of this, in leadership or out of either party."
It doesn't help Reynolds that all this comes on the heels of a poll by WGRZ in Buffalo that shows Reynolds nearly in a dead heat with Democratic opponent, Jack Davis. Perhaps the worst new in the poll for Reynolds wasn't even the overall numbers, but the fact that over 31 percent of Republicans polled said they were voting for Davis.
--- Krestia DeGeorge
---
DESIGN RENAISSANCE
The public is about to get a chance to see what the final designs for Renaissance Square will look like.
On October 11, Design Architect Moshe Safdie will unveil the final concept for the $230 million downtown complex, which includes a bus station, MCC downtown campus, and a performing arts center. He'll give a presentation at 6:30 p.m., followed by workshops at 7:30, all at the Clarion Riverside Hotel on Main Street downtown.
Assuming everyone likes the design that's unveiled, Safdie's firm will spend the next year translating that design into the technical plans for the building. The firm is earning $3.4 million for its design work from conception through construction. Main and Clinton LLC, the local development corporation created by the county to shepherd the project to completion, expects to break ground in the fall of 2007.
The arts community is still settling on an acceptable size and arrangement for a mid-sized theater, possibly at East Main Street and Gibbs (see "The Downsizing of Renaissance Square," September 6). But according to Ballerstein, final sizes, configurations, and number of seats for the performance spaces in Renaissance Square have been given to Safdie. County officials wouldn't release what those were, saying, "Moshe will reveal those details in his presentation."
So far, about $194 million has been committed to the project. That includes $55 million for the MCC complex, $103 million for "transit and joint development" (the bus station and common areas), and $36 million for the performing arts center.
Additional funding for the arts center remains in question. It will almost certainly require an extensive private fund drive. (The county has already spent $6,400 on a national firm that specializes in fund drives, according to a Democrat and Chronicle report). Whether that will happen in conjunction with a drive to raise money for a mid-sized theater at Main and Gibbs Streets isn't yet clear.
--- Krestia DeGeorge
---
A NEW C OF U
City officials hope to revamp a controversial program that requires many business owners to pay a $100 registration fee and undergo background checks. The Certificate of Use has been in existence for almost a decade, but the city beefed it up a couple of years ago hoping to shut down problem businesses such as those serving as drug fronts. Some business owners complained about the cost, however, and said the background checks infringed on their privacy, and about eight months ago the Duffy administration suspended the program.
"There were a number of unintended consequences from that legislation," Mayor Bob Duffy said at a press conference last week. Duffy reasserted the need for the city to remain diligent regarding illegal businesses, however.
Under the revised legislation --- which City Councilmembers will vote on in November --- business owners would have to pay a $25 registration fee. City officials would also continue background checks, but to a lesser degree. Previously, C of U applicants had to provide the city with their Social Security Number and a photograph. If the new measure passes, the city would waive SSN requirements, and would request photographs only when business owners didn't have an operating license with a photograph on it.
Nor will all business owners applying for a license have to undergo a property inspection as previously required. Now, says Councilmember Bill Pritchard, only business owners with a history of problems, such as prior property mismanagement or tax evasion, will be subject to an inspection. Fewer inspections, adds Pritchard, will also help offset the lower licensing fee.
Business owners would still be required to register with the city every year, but would be charged a fee only if they failed to reapply within the designated time frame. Other changes to the legislation include refunding $75 to business owners who paid in full last year. That'll cost the city about $108,000. Those who refused to pay the $100 fee will have up to 30 days from the date of approval to pay the new $25 fee. Compliance would also waive all tickets incurred during that time.
Pritchard, whom some business owners vilified for his role in drafting the initial legislation, says he supports waiving accumulated fines, but warned those who violated the earlier legislation that the city's leniency marks a one-time "amnesty period."
"I don't believe bad behavior should be rewarded, but let's start with a fresh slate," he said last week. Addressing business owners, Pritchard added: "Take this olive branch, because this is your last chance, and there will be no second chances."
Part of the problem with the previous legislation, said Pritchard, was how the city informed business owners about the changes. Most of them first learned about the new C of U, he said, when they received a letter in the mail. It was, he said, "a very formal letter written in legalese."
Under the new legislation, changes would be communicated by the city's Economic Development Office, not the NET office. City officials say they hope that will shift the emphasis on the C of U from "enforcement" to "help and development."
--- Sujata Gupta
---
LET THEM WED
The nine members of Rochester's City Council --- all Democrats --- are calling on state lawmakers to pass legislation allowing same-sex couples to marry in New YorkState.
In their letter to state legislators, they cited steps the City of Rochester has taken "to protect our lesbian, gay, bisexual, and transgender citizens and their families." The city provides domestic-partner benefits to its employees and respects the marriages of same-sex couples who married in Canada.
The letter is in response to a July ruling by the state's Court of Appeals that upheld the definition of marriage as between a man and a woman. That decision, wrote councilmembers, "has placed this issue squarely in the hands of the state legislature."
Councilmember Bill Pritchard, who requested the measure, applauded his colleagues' efforts. "I'm an openly gay man," he said. "You'd expect me to support a thing like this." The other eight councilmembers, says Pritchard, are "all straight," yet they remain "very supportive of equal marriage rights."
--- Sujata Gupta
---