SATURDAY MORNING SALSA
photo by Frank De Blase
Javier Rivera
For some, Latin music's polyrhythmic frenzy and joy might be a bit much so early in the morning. Yet for the past three years, Javier Rivera's "Esencia Latina" has kicked off each morning on Jazz 90.1 WGMC --- at 6 a.m.
"It's been fun," Rivera says rapid-fire through an ever-present smile. He gets up at 4:30, is at the station by 5:30, and says: "I can't wait for Saturday. This is my fix."
The show begins with a bang; no easing the listeners in. "I used to do that at first," he says. "But not anymore. I just go for the jugular right away: wake 'em up."
Those who are awake dictate what gets spun.
"I don't come in with a play list," he says. "I mean, I got some stuff, but listeners basically pick what I'm going to do."
Originally from Puerto Rico, Rivera, 33, is a Latin-music collector who interned at WGMC before being given the opportunity to host Esencia Latina.
"There was a vacuum of Latin music here," he says.
Despite having an enthusiastic and knowledgeable fan base, he uses the show to educate.
"Salsa is very Cuban, like mambo and stuff like that," he explains. "Merengue is the fast-paced one. There's not many steps to it: shake your hips, and pretty much you're doing it. Bachata is Dominican; it's a lot slower. Then there are the Puerto Rican rhythms bomba and plena. Here on the program, we focus more on the salsa scene and Latin jazz from independent artists."
Rivera mixes in mainstream Latin grooves and artists when he DJ's Friday nights at The Palm Bar (61 Commercial Street). This has gone on since June, swelling to a weekly crowd of roughly 200.
"It's a mixed crowd," he says. "A lot of dancers."
Through his radio show and nightclub events, Rivera clears up misconceptions. This is not "La Bamba" or "La Cucaracha" or anything like that, he says. "Latin music is part of the culture, and we try to feature that. This music and the culture go hand in hand. The fusion of jazz and tropical rhythms is an important part of the culture."
("Esencia Latina" airs Saturdays on Jazz 90.1 WGMC, 6 a.m. to 10 a.m. The show is also live on the internet at www.jazz901.org. Rivera also hosts Latin Night every Friday at The Palm Bar Ultra Lounge, 61 Commercial Street, 325-3030, 9 p.m. -2 a.m.)
--- Frank De Blase
---
CHENEY FOR KUHL
Protestors demonstrate outside the Convention Center, while the Veep pushes his war message to a friendly crowd inside.
In the race for the House of Representatives seat in the 29th district, the war in Iraq is quickly becoming the dominant issue.
This summer, retired General Wesley Clark came to Rochester to stump for Democratic challenger (and former subordinate) Eric Massa.
On Friday, perhaps in an effort to blunt Clark's appeal, GOP incumbent Randy Kuhl brought one of the war's architects, Vice President Dick Cheney.
Cheney was in Rochester only for a few hours, just enough time for a private thousand-bucks-a-pop photo shoot and remarks to an audience of Republican contributors.
Cheney's apologetics for the war in Iraq in particular and the one "on terror" in general dominated his short speech. Although he rarely strayed from GOP talking points, Cheney's tone and rhetoric were both subdued --- more C-SPAN than FOX News. He employed none of the messianic language this administration has become known for. Still, the speech wasn't completely without cheap shots.
At one point Cheney said Democrats were actively pushing for "defeat" in Iraq; at another, he asserted that Senator Jay Rockefeller "believes the world would be better off if Saddam Hussein were still in power."
Here are a few annotated excerpts from the speech:
On Kuhl and the race in the 29th:
"The congressman's lived in this part of the country all his life. He knows the territory; he's in tune with the district." A subtle jab at Massa? The challenger --- of necessity, having been a career military officer --- hasn't lived in the 29th district for all his life.
"Like all of you, Randy stands 100 percent behind the men and women in the United States Military." And Massa --- a veteran --- does not?
On the "Global War on Terror":
"We harbor no illusions about the kinds of enemies we face. Our country's never before had to confront adversaries like these, that have no standing armies or navies. They wear no uniforms. They recognize no conventions of war, nor any rules of morality." This was the first of a few oblique references --- and one overt one --- to the latest beltway squabble, over which interrogation techniques are permissible.
On withdrawing troops from Iraq:
"One of those who's been calling for a withdrawal from Iraq is congressman Jack Murtha. Jack's an old friend of mine. When I was Secretary of Defense, he was the chairman of the defense appropriations subcommittee. We did a lot of business together. But on this issue, Jack's wrong. In making his proposal, he's cited two previous instances of American military withdrawal and suggested they would be good models for us to follow in Iraq. The first was America's retreat from Beirut in 1983. The second: our withdrawal from Somalia in 1993. That proposal is contrary to the national interest and draws exactly the wrong message from the examples of Beirut and Somalia. If you look back at the years before 9/11, you will see case after case of terrorists hitting America or American interests and America failing to hit back hard enough."
Murtha's plan "would simply validate the al Qaeda strategy and invite more terrorist attacks in the future. If we have learned anything from modern experience, it is that we have to stay on the offensive until the danger to civilization is removed." Murtha --- also a vet --- and Massa have campaigned together, so Cheney's remark seems calculated to associate the two in the minds of the rabidly pro-war GOP base. Those war supporters use terms like "cut-and-run" and "defeatocrats" to refer to Democrats. But Cheney manages to hit a sweet spot where he doesn't need to sully himself with that kind of language. Instead he comes across as almost genial.
On "the terrorist surveillance program" (also known as "warrantless wiretapping"):
"Like the detainee program, the terrorist surveillance program is set up in a manner that is fully consistent with the Constitution and the responsibilities and the legal authority of the president and with adequate safeguards for the civil liberties of the American citizens." Perhaps it didn't occur to the Veep that telling us the wiretapping program meets the same high standards as Guantanamo might not be comforting to anyone not already sold on the idea. Then again, it was a friendly crowd.
--- Krestia DeGeorge
---
BOSTON WINS RIVERA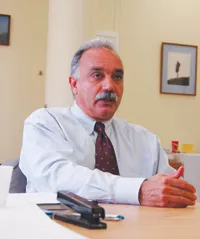 Manny Rivera: The district's initiatives will continue.
He was named the national Superintendent of the Year. He got an impressive grant from the Gates Foundation. Test scores have been rising, and he's pushing a broad initiative called the Children's Zone to provide services to families in the city's poorest neighborhoods.
But now he's leaving.
In July, Rochester Superintendent Manny Rivera will head to Boston, to lead that city's school district. Rivera had previously said he wasn't interested in the job, but apparently Boston wouldn't take no for an answer. And for Rivera, who has family in the Boston area, the location was a strong pull.
Rivera will finish the school year here and said he made the announcement now so the Rochester School Board could have nine months to look for his replacement. Board President Domingo Garcia says the board will create a search committee and hire a recruiting and consulting firm.
Rivera isn't the first superintendent to leave Rochester for a bigger, more prestigious position, and he won't be the last. Former School Board President Rob Brown compares the district's situation to that of the Rochester Philharmonic: an institution strong enough to attract some of the best talent in the nation. But it can't keep them forever. "What we have to understand is that we're a second-tier city," Brown said after Rivera's announcement. "But we're the best."
"If people go on to the most prestigious districts in America," said Brown, that's cause for celebration.
Rivera has his detractors. He has been criticized for not advancing student achievement fast enough. Some board members as well as some City Councilmembers and business leaders have questioned what the community gets for the district's $650 million budget.
And recently, several African-American ministers and former district employees have charged that the district discriminates against African-Americans in its hiring and promotion practices.
"I think no matter where you go in any community, especially when there is change, there will be difficult conversations and difficult meetings," Rivera said in an interview after his retirement announcement. And conflict, he said, is not always bad. "It's what you do with it, how you respond to it, that matters," he said.
There's seldom a good time for a school district to lose its superintendent, and Rochester manages to keep superintendents longer than many urban districts do. Still, Rivera's announcement was a blow. Boston Mayor Thomas Menino told a Boston Globe columnist that Rivera has "done everything he can do in Rochester." Rochester may disagree. Talented and charismatic, Rivera was respected by many people, locally and nationally. And he was overseeing a district with enormous needs. Rochester's child poverty rate is among the highest in the nation, and as a consequence, achievement and graduation rates are low.
And the important initiatives Rivera has set in motion will have to be picked up by a new superintendent, someone who --- unless the district hires from within --- will have to become familiar not only with the district, its administration, its School Board, its principals and teachers and support staff, but also with the community.
That will not happen overnight. Nor is there any guarantee that the School Board will be able to find a successor to Rivera before he leaves.
Projects like the Rochester Children's Zone, Rivera says, will continue to move forward. While Children's Zone was driven by the district, he says he never intended for it to be managed by the district. "The idea has always been for this to be a community-owned plan," he says.
And last week, he was talking about yet another initiative: the district will begin piloting a new type of intervention program that has been used at the NormanHowardSchool, a private school specializing in teaching students with learning disabilities.
"We are learning more about how students learn," Rivera said, "how their brains work, how they plan, organize, and implement information. What is their short-term memory and long-term memory like? And we're going to be designing programs that teach individually to that student's strengths."
--- Tim Louis Macaluso
---
CHAMPIONSHIP'S AT PAETEC
After the first game of the Rochester Rhinos' two-game semifinal playoff series with Charleston Friday, Rhinos rookie defender Kenney Bertz, sweaty and exhausted from the game, was still exuding excitement.
"You can definitely feel that it's more intense," he said of the playoff atmosphere at PAETECPark. "There's a lot on the line. You have to play like there's no tomorrow."
Fortunately, there will be a tomorrow for the Rhinos. On Friday the Rhinos beat the Battery 1-0, and on Sunday the two teams played to a 0-0 draw in Charleston. As a result, under the aggregate-goal format, the Rhinos now advance to the USL First Division championship match this Saturday against Vancouver.
But the Rhinos got even more good news Sunday: they learned that they'll host the title match at PAETECPark at 7 p.m., giving the team a chance to win its first title since 2001 in front of the home fans.
Rochester's semifinal win was secured thanks to the spectacular play of goalkeeper Scott Vallow, who made several key saves in Sunday's match to further prove why he's the team's 2006 MVP.
"This organization has waited so long to get back to the final," Vallow said on 93.3 FM's post-game show Sunday. "It's a little overwhelming. It's almost too much for me."
Vallow added that the Rhinos played well on both ends of the field during the two-game series. To beat Vancouver, he said, "that's what it's going to take."
--- Ryan Whirty
---