Every morning, Justin Dusett parks his Honda Accord at a precise angle in front of Neon Wave's pop-up shop at 1328B University Avenue. At 11 a.m., the sun glints off his rear window and projects the company's logo and address onto the wall in a perfect silhouette.
The business brands itself as "a surf and snow inspired men's lifestyle shop in Rochester, New York," and Dusett was hired as senior art director in time for its July 1 launch. The window-decal-to-wall-silhouette was his idea.
"I made them lay it again so it would do that," Dusett says. "Detail. That's it -- you don't move forward without paying attention to it."
Moving forward is Neon Wave's rallying cry. Its tagline, "We look forward to moving forward," is a commentary on the company, the merchandise it stocks, the culture that inspires it, and the city in which it was founded.
Dusett wrote that tagline as a freelance designer, before he left a steady marketing job to join Neon Wave's team. In the last month and a half, the shop has been filled with product, a library of more than one hundred books for patrons' perusal, and art. A functional 12-foot by 10-foot wall constructed by Zeller Woodworks forms a three-dimensional topographic map of High Point in Victor, where Neon Wave will open a permanent location early next year."
The store's owner, Frederick Rainaldi, has snowboarded and surfed for the better part of his life. He's not alone -- as far as Rochester is from the ocean, wake and lake surfing hold a definite niche in the area, which complements and melds with the snowboarding community.
Neon Wave seeks to serve that demographic, and while the shop's apparel is menswear for now, Dusett says, the surfboards, snowboards, and other equipment the shop carries can be enjoyed by everyone. And all of Neon Wave's community programming and events are designed to engage every gender and age group. They plan to eventually incorporate womenswear, and HelloYogaGirl recently held an event at the shop.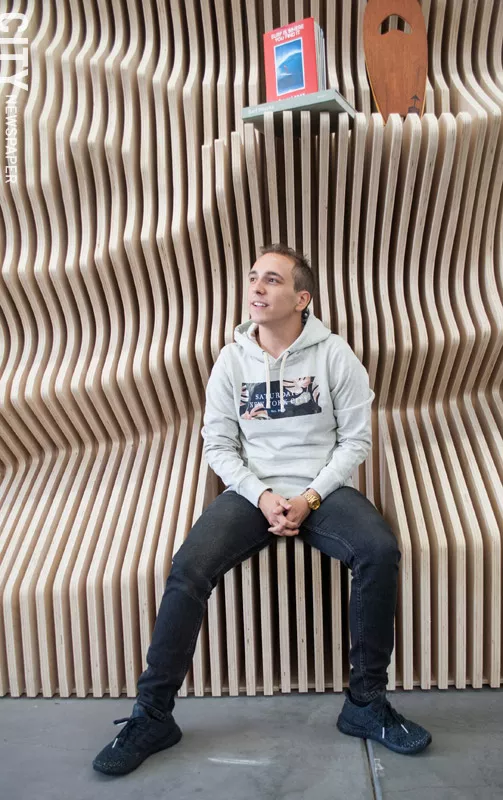 PHOTO BY JACOB WALSH
Justin Dusett, senior art director at surf and snow inspired men's lifestyle shop Neon Wave.
Dusett says shops like Neon Wave used to be part of the surf and snow sports culture, but many have disappeared. He added that a lot of enthusiasts didn't think a shop like that would open in this city. "Neither did we, until we decided to move it forward," he says.
For the team at Neon Wave, moving it forward means stocking brands that embrace quality and craft over rock-bottom prices. Racks are stocked with products by Saturdays NYC, Gentemstick Japan, Burton, Herschel Supply Co., and Outerknown, which manufactures its board shorts from recycled fishing nets.
That environmental approach is another part of moving forward, Dusett says. Neon Wave offers a discount for reusing its recycled cotton shopping bags (printed locally) and opted not to hang a neon sign (desirable for obvious branding reasons) because of the high energy they require.
The company is also a contributing partner of the climate change-battling non-profit Protect Our Winters, and Dusett says, the shop offers a curated array of merchandise that serves both the fashionably- and environmentally-conscious.
Finally, Neon Wave also seeks to move forward the city it calls home.
"I think Rochester has a very sophisticated customer base, a very knowledgeable community of people that have been underserved for a long time," Dusett says. "This is such a creative, driven city -- Kodak didn't happen here by accident. This is a city that's on the cusp of an artistic and economic renaissance. I think if you have the opportunity to push the arts forward and push the market forward, you should."