Though Makers Gallery and Studio opened in May 2015, people are still stumbling upon the venue. Co-owners Edward Zachary Graham, Alexander Gruttadaro, and Anni Gruttadaro have created a smart combination of coffee shop, art gallery, and workspace, where visitors are invited to hang out and work in a cozy, caffeinated environment. The space also hosts art classes.
Makers is a bit tucked away, located on the third floor of 34 Elton Street. "The day to day traffic is spotty, but we're still getting our name out there," Alex says. "It kind of has that speakeasy feel to it sometimes, so we're just embracing that as much as we can."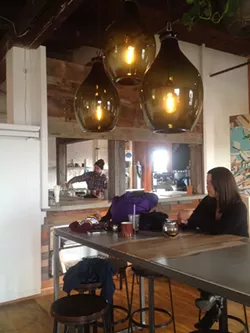 PHOTO BY REBECCA RAFFERTY
Makers Gallery and Studio co-owner Alex Gruttadaro (background) works in the space's snug yet efficient prep area.
But the offer of crème brûlée donuts on Sundays brings a crowd in, as do random specials like $1 pour-over coffees, which are advertised on social media. "Instagram has been crazy for us," Alex says. "It's so powerful."
Makers has the feel of a cool friend's loft apartment, with its great light pouring in from tall windows, hardwood floors, exposed brick, ample plant life, and a tiny but efficient kitchenette. An eclectic mix of cozy furnishings includes couches, a bench made of a log, church pews, stools, and concrete-and-wood tables that Alex made. The 1100-square-foot space is also rented out for private events like bridal showers and office holiday parties.
"We opened as just a gallery in May, with a four-person show based on process," Alex says. This show featured works in various stages of completion by Todd Stahl, Bill Stephens, Sari Gaby, and Alex. Makers also hosted a one-night silent auction of donated artworks in July, during which they raised more than $2,000 for an earthquake relief fund for Nepal.
The space closed to renovate in the fall, during which time the owners built a wall, added countertops, and installed drain lines and sinks. They reopened as a gallery and café serving Fuego Coffee pour overs and espresso drinks, as well as Tea Witch Tea, in the beginning of December.
Most recently, Makers hosted a solo show, "Harvested Corners," by Nate Hodge, which included drawings, prints, large-scale paintings, sculpture, and installations, all within the theme of architectural elements caught within shifting landscapes.
Alex, who is the sole curator of the art side of the biz, says the exhibition schedule is filling up, but plans to put a call for entries for a juried summertime show.
The next show going up on the walls is "Diptych: A Valentine's Day Group Show," featuring the work of artist couples Bill + Jean Stephens, Alex + Ani Gruttadaro, Cordell + Rachel Cordaro, Clay Patrick McBride + Sarah Keane, Rob + MandiAntonucci, and Duncan + Alisia Chase. "Diptych" opens on Valentine's Day, which is Sunday, February 14, 3 p.m. to 8 p.m., and continues through March 14.
PHOTO BY REBECCA RAFFERTY
With its cozy features and cheerful vibe, visiting Makers feels like hanging out in a friend's apartment. At right: one of Nate Hodge's large paintings was recently displayed at the gallery.
Alex and Graham's original vision for the business was a combination restaurant, studio, and gallery. "Hopefully this is a jumping-off point for that," Alex says. "I've been saying it's my ten year plan, but I feel like I need to make it happen faster than that."
The next step is to bring in small food items, but the owners have a vision for a larger enterprise based on sustainability practices. This will entail connecting with farmers and chefs, craftspeople and artists, and creating a system for educating people about living a more sustainable life.
Makers Gallery and Studio is open Tuesday through Sunday, 8 a.m. to 8 p.m. For more information, call 507-3569 or visit makersgalleryandstudio.com.