Walk along Main Street, and you hear a cacophony of construction noise: a jackhammer pummeling an old walkway, machines excavating asphalt, crews in yellow hardhats crawling around the old McCrory building, demolition rubble crashing into a Dumpster. The street is a grove of orange barrels, traffic cones, and streams of caution tape.
Construction on Main Street, from the Sibley building westward to State Street, has reached a point where the speculation about the future is over: the transformation that's been talked about for decades is now a visible reality. The eerie sense of abandonment that seemed to envelop large swaths of Main Street has disappeared.
And if all goes as planned, the revitalization of the Main Street corridor, coupled with another major project – a complete redesign of Charles Carroll Plaza, the park that hugs the west side of the river – will dramatically change the way Rochesterians experience downtown. The new Charles Carroll Plaza will finally begin to maximize what is unquestionably the city's greatest natural asset: the Genesee River.
About $843 million is currently being invested in the development of buildings downtown, many of them on Main Street, says Heidi Zimmer-Meyer, president of the Rochester Downtown Development Corporation. And that doesn't count recent development that's already completed. Street-level shops and services are also entering the pipeline, she says.
The Main Street projects vary in scope and size. The former Chase Tower has been renamed the Metropolitan and is being converted into a combination of housing and offices. The National Clothing Company building has been transformed into the Hilton Garden Inn. The Hyatt Hotel has undergone an $18 million renovation and added Morton's, a high-end steakhouse chain based in Chicago. CGI, a fast-growing communications firm, occupies much of the historic Granite Building and, looking to expand, it has bought the Gateway and Atrium buildings next door.
The McCrory's building, originally Neisner's, with its cast concrete 1940's-style facade, will have federal and city government offices as tenants once renovations are complete. A Social Security office will occupy the building's upper floors, and the city's Traffic Violations Agency will take over the basement.
"We came in when people were fleeing downtown," says CGI's CEO, Bob Bartosiewicz. Many of the buildings on East Main west of Clinton Avenue had been completely or partially vacant for years and had deteriorated.
"There was nothing here," Bartosiewicz says. "It was a ghost town, and now it's the opposite. You see an absolute confidence that wasn't here a couple of years ago." There's a seismic shift occurring in the cities around the country that he travels to on business, he says, and he's seeing it in Rochester and Buffalo, too. "People like what I call sidewalk living, sidewalk working," he says. "It's a lifestyle that's not suburban."
FILE PHOTO
CGI's CEO, Bob Bartosiewicz.
The upswing that downtown is undergoing is the result of some brave business people with both courage and foresight, Bartosiewicz says, as well as several city administrations who have committed to rebuilding the downtown core. He gives a special shout-out to Buckingham Properties' founder, the late Larry Glazer.
"Larry Glazer was right about his hunch about downtown," says Bartosiewicz. "He didn't listen to the naysayers. This is his opus, and it's great to see it."
City government is also giving Main Street itself a major upgrade, and it will look completely different when all of that work is finished, says Norman Jones, the commissioner of the city's Department of Environmental Services. He points to wells that line both sides of the street, where new trees will be planted. The city is adding new benches, sidewalks, and, for the first time in years, parking.
"There will be 52 parking spaces on Main Street," says Jones. "We haven't had parking on Main Street in a long time. We didn't even have street parking in the 1950's."
PHOTO BY RYAN WILLIAMSON
Environmental-services commissioner Norman Jones: The city is connecting the dots between developments.
The redesign of Main Street incorporates what planners refer to as complete transportation use: walking, biking, driving, and busing. Other features being considered for Main Street include solar-powered trash and recycling bins, cellphone charging stations, and new signage to better guide visitors to the city's museums, parks, and other attractions.
"We want this to be the most inviting and memorable downtown they've visited," Jones says. "We want them to be thinking about when they're coming back."
Jones says the redevelopment of Charles Carroll Plaza will help create that positive experience. A major facelift for the park, which stretches along the west side of the Genesee River between Main and Andrews Streets, would finally address what urban planning experts have been telling city officials for decades: incorporate the river into whatever you do downtown.
The point was made again last year by the Rose Center for Public Leadership, an urban planning and land-use think tank that studied downtown Rochester and made recommendations to Mayor Warren. When the Rose Center was asked how the city can revitalize its Main Street corridor, its response was straightforward: the Genesee River, with its falls and aqueduct, is the city's greatest asset. It once powered the city's economy, and it could help do that again.
But architects and developers have been slow to recognize the river's potential, the Rose report says, treating it as a barrier instead of capitalizing on its appeal the way other waterfront cities have.
"So many people come here and they say they didn't even know there was a river running through the middle of downtown; why aren't you taking full advantage of it?" Jones says.
Charles Carroll Plaza is a 3.4-acre park built in the mid-1960's, connected by the Sister's Cities Bridge to a smaller greenspace on the east side of the river. The bridge allows people to walk from the St. Paul Street corridor to State Street, though that can be difficult during the winter months.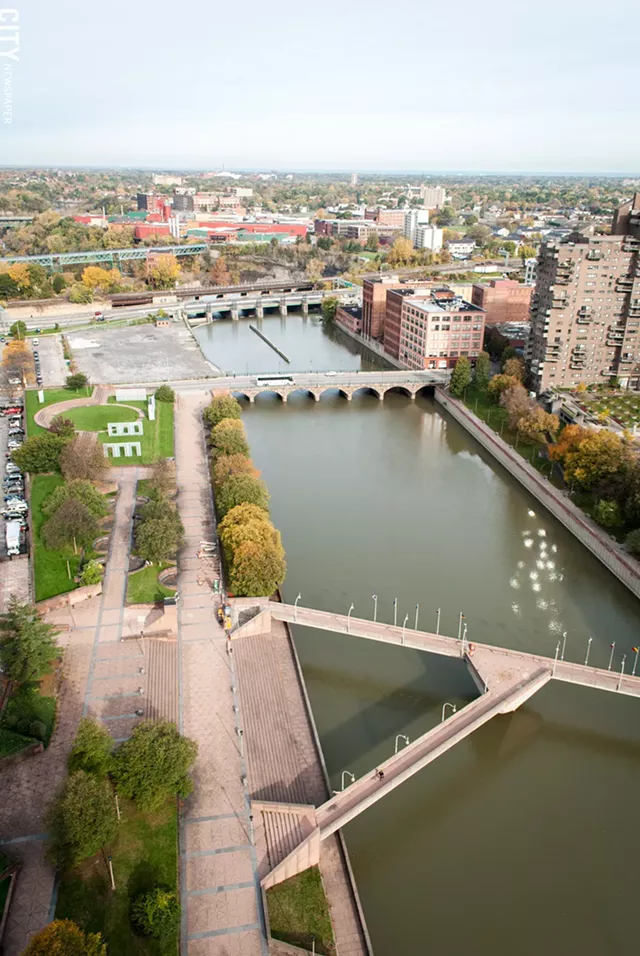 PHOTO BY RYAN WILLIAMSON
The view of the Genesee River downtown, from the top of the First Federal Building.
Much of Charles Carroll Plaza consists of a concrete slab covering the Genesee Crossroads Garage, which has 658 underground parking spaces. The plan for revitalizing Charles Carroll Plaza calls for removing most of the existing concrete walls and walkways. The park is so deteriorated that rebar is exposed through cracks in the concrete, causing it to break apart. The cracks and upheavals along the walkways have been patched and repaired so many times over the years that some of the walkways are unstable.
Entering the park from State Street one recent afternoon, Jones pointed to a wall that blocks any hint of the river, even though it's only feet ahead.
"It's like it might as well have a sign that says, 'Don't enter; no going beyond this point,'" Jones says.
If the plan becomes a reality, the park's half-circle concrete seating will be removed. And much of the site will be opened up into greenspace with full vistas of the river, making it safer and more engaging, Jones says.
The water feature that was once in the middle of the river will be reactivated. And a key feature of the site will be a central staging area, with steps extending to the river's edge to serve as an amphitheater for entertainment and public events. At public meetings held last year, Jones says, a top priority for residents and business owners in the area was improving access to the park, including during winter months. Jones says the ultimate goal is to eliminate the fragmentation of downtown walkways and trails, making it easier to jog or bike to Corn Hill Landing to the south and the High Falls district north of Main Street.
"We're going to be connecting all these dots where some development along the river has already occurred," Jones says.
It would be hard to find someone more enthusiastic about the city's plans for Charles Carroll Plaza than Chris Hill, a partner with I. Gordon Corp. The company has financial interests in the First Federal Plaza building at 28 East Main Street and the McCrory's building at 200 East Main, which is under renovation. For First Federal Plaza (the riverside building with the saucer-shaped top), the park is almost an appendage of the building.
"I'm pretty passionate about this," Hill says. "We've got an awesome design teed up and ready to go. It would really be a game-changer. There's no other way to describe it."
PHOTO BY RYAN WILLIAMSON
The redevelopment of Charles Carroll Plaza along the river will be "a game changer," says I. Gordon's Chris Hill.
Hill believes developing the park on the river is just as important as redeveloping Parcel 5. He references the Rose Fellowship report and what other cities have done with their waterfronts – places like Lansing, Michigan, and Providence, Rhode Island, for example.
"We have something extremely unique here that other cities would love to have," Hill says. "With this park, it all comes back to Main Street and the river. This is really the epicenter of business in downtown. You have the courts, the county offices, the federal buildings, and City Hall. And when visitors come to downtown, they often stay in one of the hotels near the river."
The park can't stay in the condition it's in, Hill says. He says he's noticed that people tend to avoid it, and on a recent afternoon, only a few people could be seen wandering through it. Several large garbage bags containing leaves and trash were lodged under one of the benches among broken glass and the occasional discarded syringe.
Hill says he's confident that people would gravitate to the park if it were redeveloped. His own company has discussed the possibility of adding a high-end restaurant where people could sit outside in a bistro-like setting next to the river.
Views of the river from the upper floors of the First Federal Plaza building are nothing short of spectacular. You're reminded of the vital role the Genesee River has played in the character and economy of Rochester. And Hill says he's watched Main Street awaken into something that is more like the urban neighborhoods he's seen in bigger cities.
"I remember seeing a couple of girls roller skating on Main and thinking, That's unusual. And then I started seeing people walking their dogs," he says. "Now it's commonplace." Blending Main Street with the park is the obvious next step, he says.
But as encouraging as all of this development is, there are still potential trouble spots ahead. For instance, an upper floor of the First Federal Plaza building is vacant. A large print of a Katsura tree taken in Highland Park is the only remnant of the last tenant. The market for some types of commercial real estate in downtown Rochester is soft, Hill says. And rents haven't kept pace with the cost of maintaining some of the buildings.
Another concern with the redevelopment of downtown involves the future of two small buildings on the northwest corner of Main and Clinton – which many people believe form one of downtown's most important sites. The properties are only a short walk from Parcel 5, potentially the site of the Rochester Broadway Theatre League's performing arts center.
Neil Bauman's parents owned the corner property for more than 60 years, and during much of that time, it housed the family's jewelry store. It's currently owned by eBaum Real Estate Rentals, he says.
PHOTO BY RYAN WILLIAMSON
The large billboard on the top of a building at Main and Clinton has been removed, exposing its original architectural features.
The property next door, which once belonged to an uncle, has been sold, Bauman says. The huge billboard that covered the top three floors of the buildings has been removed, revealing century-old architectural features as well as some deterioration. Bauman says the buildings won't be torn down, and he's working on a plan with the new owner to renovate them.
There's also a concern about state and federal funding for the city and its projects. Congresswoman Louise Slaughter warned just days ago that the Trump administration's budget proposes cutting funding that has helped to make possible some of the city's biggest projects, like demolishing Midtown Plaza and filling in a portion of the Inner Loop.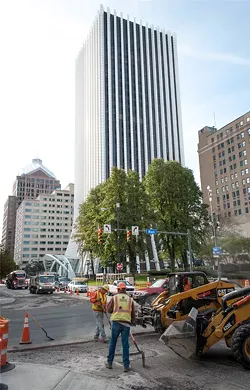 And then there's a concern that we may be overly optimistic about the market for apartments downtown. Is the demand real, or are we seeing a housing bubble? The renewal of Rochester's downtown core, especially the new housing development, has been part of a national trend. But a Washington Post article last year warned that we're seeing a demographic shift that may not last.
"Downtown boosters and academics have argued that we're witnessing an urban revival in the United States," said the Post article. "But there remains deep debate over how widespread the pattern really is and whether it points to a fundamental shift in where and how Americans live."
In many cities, downtown housing rents are rising so high that they're starting to displace people, the Post article noted. Some people argue that in growing metros, that problem can be remedied through better planning. But Rochester isn't growing. And betting fortunes on an endless supply of millennials and empty-nesters, as many downtown developers have, may not be wise, skeptics say.
But CGI's Bartosiewicz isn't worried.
"I'm very bullish," he says, "and I would buy more property. We have a long way to go before being overbuilt."