The 2000 or so people who filled Kodak Hall at the Eastman Theatre for Louise Slaughter's funeral this morning included Slaughter's family; local and state politicians; interfaith clergy; Hillary and Bill Clinton; Nancy Pelosi, John Lewis, and other members of Congress — two planeloads of them, Pelosi said, representing 15 different states — and hundreds and hundreds of ordinary Rochesterians, many of whom had started lining up before 9 o'clock for the 11 a.m. service.
It was a remarkable tribute to a remarkable person.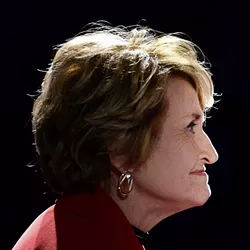 FILE PHOTO BY MATT DETURCK
Democrat Louise Slaughter.
Slaughter was a native of the coal mining region of eastern Kentucky, and her Southern Appalachian twang was so strong that strangers might think she was a recent import. But Slaughter had been so visible locally for so long that her name and face had become one of the most familiar in the region. She had been in regional politics since her election to the Monroe County Legislature in 1976. And she had campaigned for public office every two years since she first ran for State Assembly in 1981.
She gained local prominence by doing more than campaigning. She delivered money and legislative support for local needs, in the Assembly and, since 1987, in the US Congress, for everything from regional transit to the arts. The Photonics Institute, Rochester's new train station, the clean-energy manufacturing institute, the Inner Loop infill, lake restoration, arts institutions… all bear her imprint.
But she was no parochial, bring-the-bacon-home member of Congress. She fought for improved body armor for US troops, for ethics-law reforms, for housing for homeless children, for reproductive rights, for the Affordable Care Act, for an increase in the minimum wage.
Over and over, speakers at her funeral service this morning mentioned Slaughter's refusal to quit. Her strength and her fierceness. "She was determined," Civil Rights hero and Georgia Representative John Lewis said, "and she stood up for her beliefs. She was strong. She was solid."
And, Lewis said, "you wouldn't want to get in any argument with her."
"She shortened the time between what was inevitable to her and what was inconceivable to us," said House Speaker Nancy Pelosi.
"She truly made a difference," Pelosi said.
"She didn't get into politics to make a name for herself," said Hillary Clinton. "She got into politics to make a difference."
And, Clinton said, "Nothing could stop her when she made up her mind."
Photo by Renée Heininger
People began to line up outside of Eastman Theatre around 9 a.m. to attend the 11 a.m. funeral service for Louise Slaughter.
This morning's service was an unusual one: a Christian religious service with a distinct layer of politics. The service opened and closed with hymns and included Old and New Testament readings, a prayer, and a homily. And as many funeral services or memorial services do, it included tributes from family members: daughter Amy Slaughter, son-in-law Michael Minerva, granddaughter Lauren Secatore, and grandson Daniel Secatore.
But given the nature of the person whose ashes were in an urn on the Kodak Hall stage, politics was unavoidable. Slaughter, said Lewis, "believed deep down in her heart that government could do good for people." Pelosi and Clinton named one liberal cause after another for which Slaughter had fought. Clinton urged people at the service to honor Slaughter's legacy by "fighting for facts and reason."
Slaughter's friend and early campaign manager Fran Weisberg mentioned Slaughter's love of door-to-door campaigning, and talked about the odds against Slaughter when she ran for Congress. "But we were out to change the world," Weisberg said.
It was people in the audience, though, who put the strongest liberal political stamp on the service, something Slaughter, no doubt, would have endorsed. They had refrained from applauding when the service was stopped, shortly after it started, and Hillary and Bill Clinton entered through a side door. But as speakers began to list Slaughter's accomplishments on progressive causes, the applause began. And when Clinton herself walked to the stage to give her remarks, she got a lengthy, standing ovation.
Amy Slaughter described her mother as someone who was "from humble roots but was outspoken." She noted her mother's childhood in Lynch, a small town in the coal-mining region of eastern Kentucky. She said her mother remembered when the Tennessee Valley Authority first brought electricity to her home. Grandson Daniel Secatore noted that Slaughter was the first person in her family to go to college.
Son-in-law Michael Minerva spoke about both Slaughter's determination ("stubborn for all the right reasons," he said) and her empathy — and the impact both had on her children and grandchildren.
"When your Grandma is Louise Slaughter," said granddaughter Lauren Secatore, "your path ahead doesn't look like a trail, it looks like an open road."
"We can remember that all that beauty in the world does not come without strings attached," said grandson Daniel Secatore. "We are responsible for fighting for it."