The American Civil Liberties Union yesterday
issued an open letter
to the president and CEO of Greyhound, calling for them to refuse Customs and Border Protection permission to conduct bus raids without a warrant.
The letter cited instances in Washington, California, Vermont, Michigan, Florida, Arizona, and here in Western New York of border patrol agents boarding Greyhound buses and detaining people to question them about their citizenship status. The agents also asked people to present their immigration documents.
In January,
two videos of immigrants
being pulled off of buses in Ft. Lauderdale, Florida, went viral and reignited a debate about immigration authorities performing these bus raids, a practice that has been occurring since the Obama administration.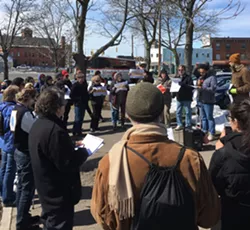 PHOTO BY JAKE CLAPP
Justin Delinois, an organizer with UR DREAMers, addresses a crowd of about 40 people outside of the Rochester Greyhound and New York Trailways station.
Today, local immigrant rights activists built on the ACLU's call by sending a letter of their own to Greyhound's Rochester operations and New York Trailways. The bus companies share a station on Cumberland Street.
Representatives from the local chapter of the New York Civil Liberties Union, Worker Justice Center, Rochester Rapid Response Network, and UR DREAMers held a rally outside of the station and then marched inside to deliver the letter. (Rochester Police asked the majority of the group to leave the terminal building and wait outside while organizers delivered the letter).
"We have learned of accounts by witnesses of the Border Patrol racially profiling, harassing, and targeting people of color and people who speak languages other than English," says the letter, a a joint statement by Rochester Rapid Response Network and UR DREAMers, a UR group supporting students protected under the Deferred Action for Childhood Arrivals program. The activists' full letter is below.
Rally speakers talked about local incidents, which are also recounted in the Rochester letter. For example, they gave an account of a University of Rochester student protected under Deferred Action for Childhood Arrivals, who was asked by Border Patrol agents to show his papers. A married couple in their 60's was also detained while they took a bus from Rochester to Chicago.
In January, following the incidents in Ft. Lauderdale, Greyhound
issued a statement
saying it is "required to comply with all local, state and federal laws and to cooperate with the relevant enforcement agencies if they ask to board our buses or enter stations." But the ACLU says that's not true.
"They have the belief that they just have to allow ICE on to the buses," said Iman Abid, director of the Genesee Valley Chapter of the NYCLU. "But in reality, what the law says is they don't have to allow these people on the buses if they don't have warrants. They're going in without any sort of probable suspicion."
See related PDF