Walk into the reception area of the Love Beets factory in Eastman Business Park and the smell hits you immediately: dark, earthy, and unmistakably beet-y. Beyond the reception area, in a 100,000 square-foot facility, thousands and thousands of beets are tumbling down the production line, being prepared for shipment out to more than 9,000 stores all over the country.
You may not know it, but beets are big business, and Rochester is something of a hub for the ruby-red vegetable. Love Beets USA, a joint venture between Fairport's LiDestri Food & Beverage and British produce firm G's Fresh Ltd., opened its North American headquarters in Rochester in 2016. The company employs about 125 full-time workers, with plans to add more in the next two years.
Managing Director Daniel Cross pours me a cup of beet juice as I dig into one of the brand's newest offerings: diced golden beets marinated in honey and vinegar. Sweet, tangy, and with just the right amount of crunch, the golden beets were surprisingly good all on their own, though they'd also work nicely in a salad or as an adornment to your avocado toast. The beet juice, available plain or flavored with ginger, was smooth, earthy, and slightly thick, not unlike a full-bodied red wine.
Love Beets was founded in England in 2010 by husband and wife team Guy and Katherine Shropshire. Guy is a third-generation vegetable grower; his grandfather, also named Guy, founded G's Fresh in the 1960s. The Shropshires wanted to find a way to make beets more appealing to younger consumers, and began experimenting with different types of marinated beets.
In October of 2010, the Shropshires brought their product to the Fancy Food Show in New York City. The brightly-colored veggies were well-received, and several attendees, upon sampling the product, said that they "love beets!", Cross says. The name stuck, and G's began exporting beets to the United States under the Love Beets name the following year. Guy and Katherine moved from England to the United States to build the brand, establishing a sales and marketing office outside of Philadelphia.
The brand flourished, and by 2014 Love Beets was looking to establish a large production facility stateside. Though the company considered locations in other states, Love Beets ultimately selected Eastman Business Park in Rochester as the site for their new North American headquarters, partnering with LiDestri Foods in 2015 to become Love Beets USA LLC.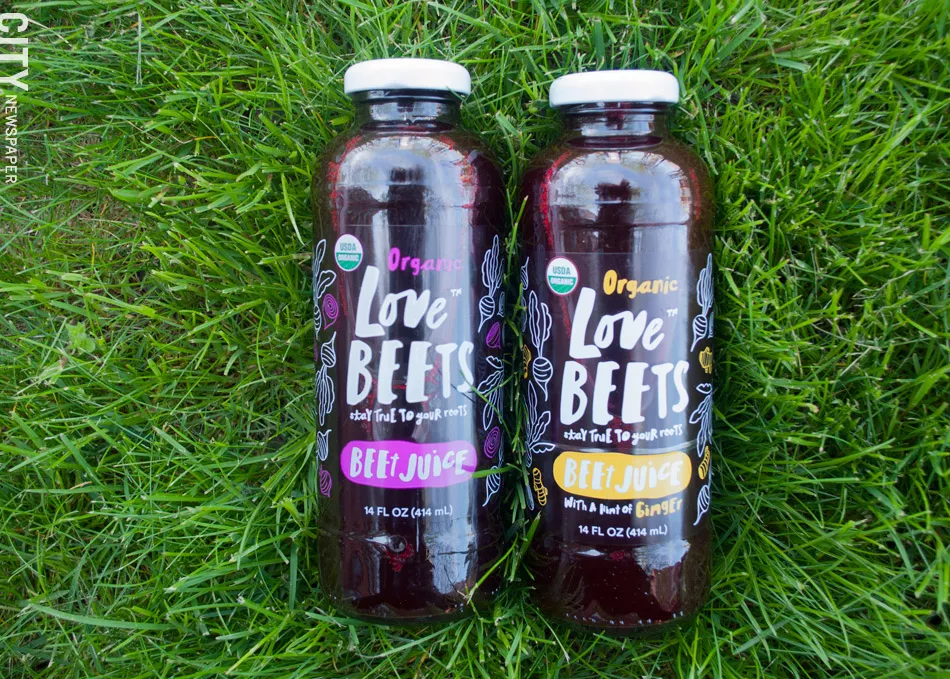 Love Beets was attracted to Rochester for several reasons, Cross says. For starters, the area is the second-largest beet-producing region in the United States. (About half of conventional Love Beets products come from New York farms). The area also boasts a local labor force skilled in fields like robotics, engineering and agriculture, plus universities like RIT and Cornell that are open to working with business and industry.
After moving into Eastman Business Park, Love Beets continued to expand its product line, which now includes more than a dozen preparations of beets such as sweet chili-marinated baby beets, steamed plain beets, beet salsa, beet juice, and beet powder (great for smoothies, Cross says).
Cross is aware that for some consumers, beets can be a hard sell. "I usually hear people say they had beets once as a child and had a bad experience," he says, adding that most of the stories he hears involve mushy boiled beets prepared by an older relative. Even consumers who do enjoy beets are sometimes unsure what to do with them.
"Beets are healthy and nutritious, but they're difficult to prepare," Cross says. Love Beets products are ready to eat and come in re-sealable packages, making them a more convenient choice for shoppers who don't want to spend the time boiling or roasting. On their Instagram account, Love Beets offers plenty of serving suggestions: soups, salads, sandwiches — even desserts. "People ask, 'What's the occasion for eating a beet?' But you can include it so easily in so many things," Cross says.
After the beet tasting, we don hard hats and safety glasses and Cross shows me around the factory floor. The facility runs around the clock, five days a week. We walk along the production line where beets are being washed, peeled, weighed, diced, shredded, steamed, and packaged. Cross pushes open a door marked "BALSAMIC" and shows me a vast and chilly room where pallets upon pallets of baby beets are marinating in white wine and balsamic vinegar.
The beets will bathe in the marinade long enough to impart flavor but not so long that the beets become pickled, Cross says. He holds up a bag of beets that are almost finished marinating. The vegetables inside are covered in a thick purplish glaze. A forklift rolls by, leaving a bright red skid mark behind. The color is inescapable when you're dealing with this many beets.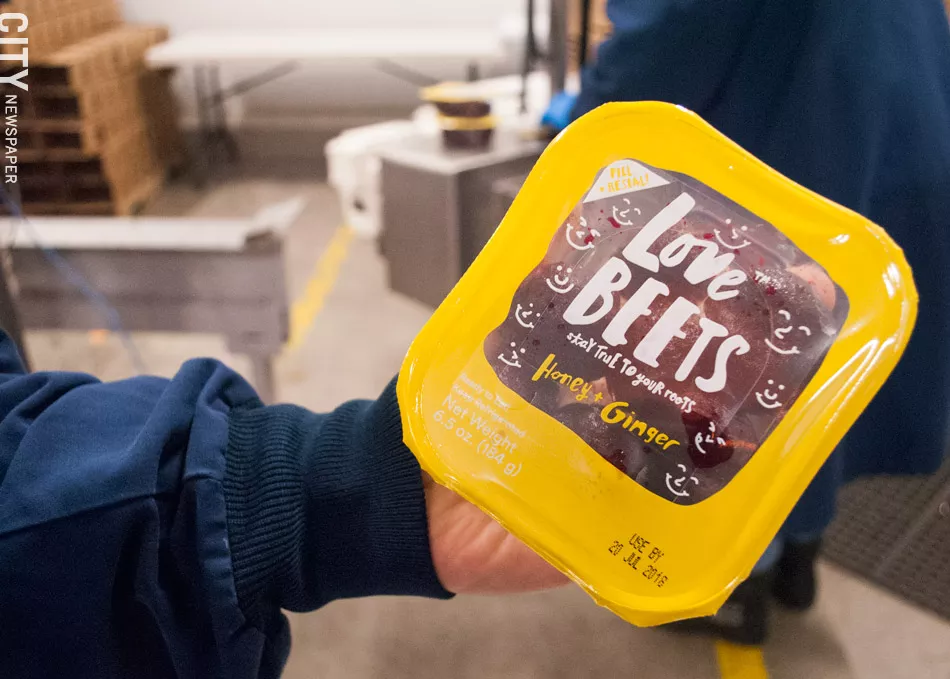 Earlier this year Love Beets announced that they would be expanding their operations at Eastman Business Park, creating 100 new middle- and high-skilled jobs in 26 months. Cross says the company has plenty of room to grow in its current location — a good thing, given that beets are undergoing something of a renaissance in the US. The National Garden Bureau declared 2018 the Year of the Beet, in recognition of the vegetable's growing popularity. The beet has even attained superfood status: they're packed with fiber, vitamins A and C, iron, antioxidants, and some research shows they may even help control blood pressure, Cross says.
"Think about food in the last 100 years," he continues. "Companies have spent huge amounts of money selling you food that does no good. I think that will be different in the next 100 years."
Love Beets products are available locally at Wegmans, Tops, Costco, ShopRite, ALDI, Sam's Club, and BJ's Wholesale Club. More info: lovebeets.com.