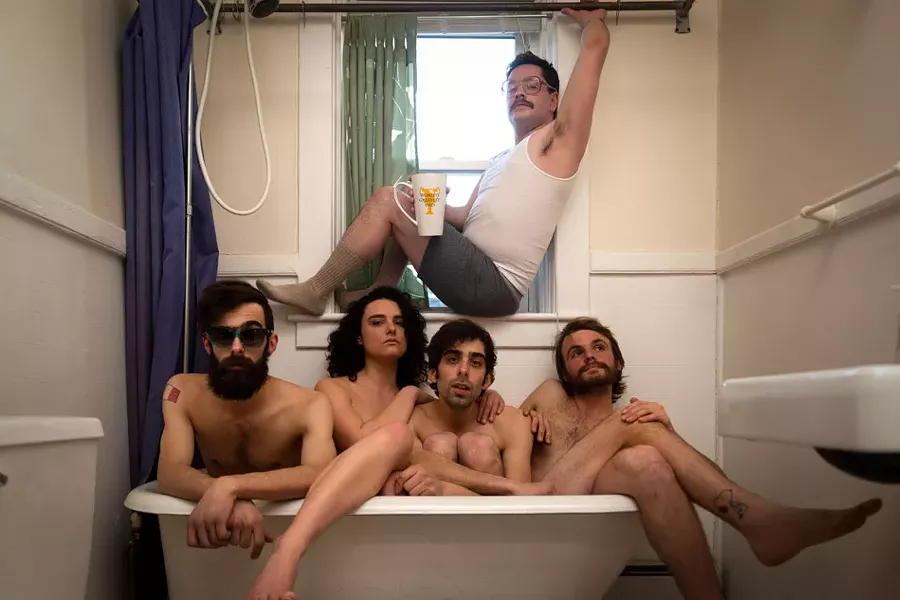 PHOTO BY MARLA KLEIN
Bringing the Jazz Age back for a new generation, Lexi Weege & The Wondertwins will play Mendon 64 on Friday, May 31.
A quiet gym receptionist by day and a sultry diva by night, Lexi Weege is stomping back into town on May 31, this time with her band The Wondertwins. Based out of Northampton, Massachusetts, Weege has a deep, jazzy voice, shreds on the keyboard, and has a sensual, female-empowering presence that demands the attention of everyone in the room. Now accompanied by identical twins Tom "Sunny D" Del Negro on guitar and AJ "Big Sal" Del Negro on bass, as well as drummer Erek "Candy Boi" Brown and guitarist Nick Ferrara, Weege delivers a powerhouse, Roaring Twenties-esque experience.
Lexi Weege began as a performer when she was just eight years old, having grown up with her mother's cabaret troupe rehearsing in the living room. It was Weege's initial employment with the troupe that inspired a life of music and travel. "I've always had an adventurous spirit and I love to explore," she says.
Weege met Erek Brown and the Del Negro twins at an open mic, and has been playing with them for three years. The group recently added Telecaster twang master Ferrara, a grade school friend of the twins.
A 25-year-old on a mission to play all 50 states by the time she turns 30, Lexi Weege has already taken The Wondertwins across the country in her typically rigorous touring style. But it's not always as glamorous as it may seem. Weege remembers back to one of their more humbling nights on the road: "Last year AJ and I ended up running out of money," she says. "So, true to form, we had to go busk in the street to make enough money to get enough gas to go to the next gig. We smelled so bad."
As a band of vegans, staying well-fed and in a good mood on crushingly long road trips can provide its own challenges, but Weege and company find the motivation. "I just love seeing new places and I love travel," she says. "All of us are pretty outdoorsy, so we like to climb shit and camp, and I just love meeting new people."
Currently, Weege is celebrating the release of her third studio album and first collaborative effort with The Wondertwins, "Do I Seem Weird Lately?" Just released on May 10, many of the songs on the album are centered on normalizing mental health awareness and, as Weege puts it, "Expressing the isolation one feels when they're experiencing it."
In fact, the new album's title track is a survivor song written by the twins in response to their own father's suicide. "The most unexplored place artistically is the human psyche," AJ Del Negro says, "considering there's such a stigma in exploring mental health." Framing mental health from a more positive angle, Weege brings a musical message of self-embrace and uninhibited expression.
While the title track and "Why Can't I Hear the Birds Anymore?" express melancholic undercurrents with heart-wrenching melodies that'll bring a tear to your eye, the album also has more upbeat hot jazz numbers like "Anxious Ass!" and "Sourpuss." Weege has a throaty, leonine voice with soulful delivery and explosive versatility, and she peppers her melodies with trumpet-like scatting and a tasteful blend of Amy Winehouse and Billie Holiday.
Exploring the duality of dark and light, silly and serious, innocent and naughty, Lexi Weege & The Wondertwins are bringing the Jazz Age back for a new generation. The band folds in classic blues chord progressions and unexpected, technical jazz motifs filled with soul and swagger. The live show is "a three-ring circus, 'cause there's so much going on," according to Weege.
Always delivering jazz-pop ingenuity with genuine intent, Weege has a straightforward goal when connecting with the audience: "I just want them to enjoy it and I hope it brings them happiness," she says. "We're unapologetically ourselves, all five of us, and I think that's important, and I hope that comes across."
Lexi Weege & The Wondertwins will perform on Friday, May 31, 8 p.m. at Mendon 64, 1369 Pittsford Mendon Road in Mendon. Free. 433-9464.
mendon64.com
;
lexiweege.com
.