PHOTO BY ASHLEIGH DESKINS
A long line of energetic audience members stretched from the entrance of the Spiegeltent nearly to Main Street on Tuesday night. It was only 8:15 p.m., but Fringe Fest attendees were ready to turn up for opening night of "Shotspeare," which returns for the second year with nightly shows through Saturday.
During each performance, the five-person ensemble (and one audience volunteer) performs a different Shakespearean tale — Tuesday night was the "Scottish Play" - with a bit of a twist, or three. Attendees are encouraged to grab a drink from the Spiegeltent's speedy interior bar, because they might feel left out otherwise: thanks to a very obvious and frequently mentioned sponsorship provided by Tito's Vodka, the cast of "Shotspeare" downs plentiful shots and Genny beers throughout the 90 minute show. On Tuesday night, local Wallbyrd performer Joey Chacon was chosen to go onstage, and he kept up with the cast of "Shotspeare" like a champ.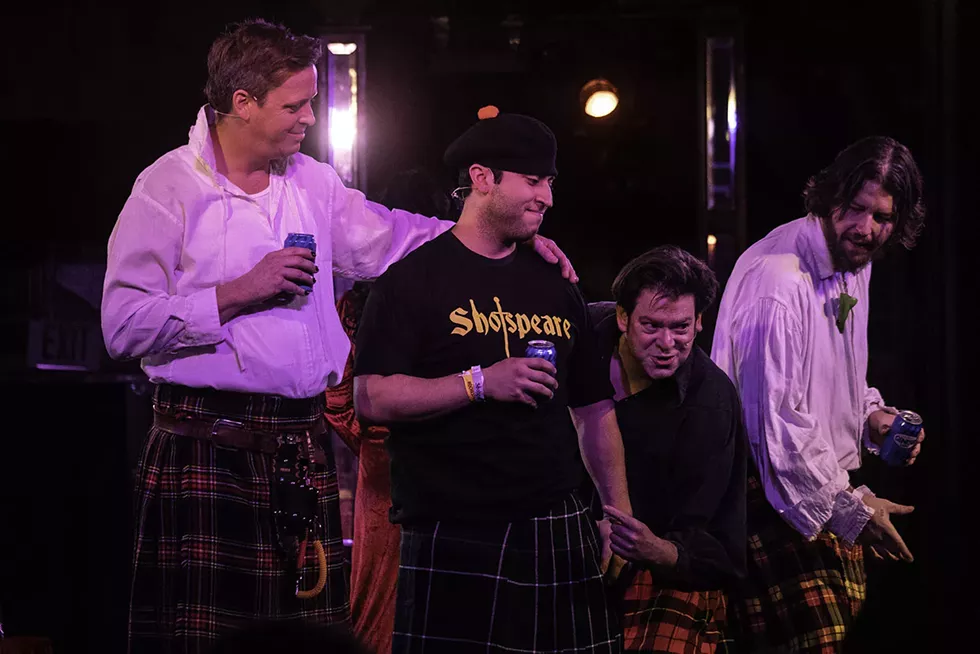 PHOTO BY ASHLEIGH DESKINS
This is Shakespeare unhinged and hilarious. The Bard's flowery language is interjected with haphazard costumes, colloquial cursing and the "Wheel of Soliloquy," which demands things like beer pong, Saltine eating, and sock-throwing every time there's a solo actor speaking on stage. Colored cards hidden beneath audience seating give patrons the power to call "Shotspeare" at any moment during the show, which then means the cast has to do a shot. Led by "Cirque du Fringe: D'illusion" stars Matt Morgan and Heidi Brucker Morgan, "Shotspeare" is a bawdy good time and worth adding to every Fringe-goer's list, whether they like Shakespeare or not.
"Shotspeare" will be performed again at 9:15 p.m. Wednesday, September 18 through Saturday, September 21 at the Spiegeltent. $25 Wednesday and Thursday (booth for six, $147), $30 Friday and Saturday (booth for six, $165). Appropriate for 21 and over, all attendees will be asked to show ID.