There's something magical or even cinematic about a swimming hole; about finding an isolated spot on a hot day, jumping off of a dock or a tire swing with your friends and sneaking a kiss from the person you like that you brought there just to impress.
Living in Western New York, we have plenty of swimming options apart from the public beaches. While some of these options are more populated than others, they still invoke that summer feeling of being in the middle of nature and away from the city — and away from that middle-aged guy in the Speedo who is always working on his tan.
Where's your favorite place to take a dip around Rochester? Leave your suggestions in the comments below this article.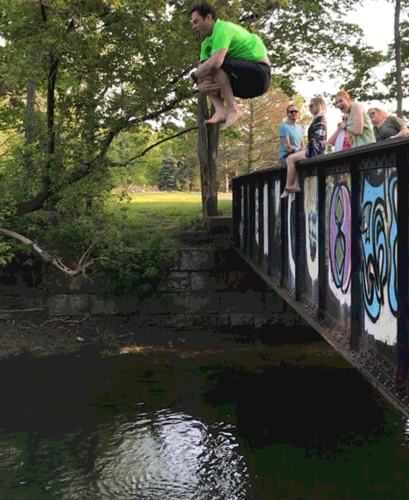 Stony Brook State Park
10820 Route 36 South, Dansville
335-8111
Swimming season at Stony Brook starts June 17 and runs through September 4. Even though Stony Brook draws a crowd in the summer, it is not to be missed. The park has three waterfalls and natural rock formations that you can sit on while letting the water rush over you. The spot is family-friendly, with lifeguards on duty during hours of operation (10 a.m. to 6 p.m.). There are plenty of camping options available, and the park has recently added "rustic" cabins that can be rented (rustic meaning no electricity or water — no glamping here). Swimming dates and hours are subject to change, so to play it safe, call the park ahead of time before making the drive. The park charges $7 per car and camping rates vary depending on amenities.
George Bridge
Route 251 South, Scottsville
For directions, check: scottsvilleny.org/parks.html
Located in Canawaugus Park in Scottsville, Oatka Creek is a popular swimming hole for locals. The creek is the third largest tributary of the Genesee River, and the water varies in depth from shallow enough to wade in to deeper under George Bridge, which spans over the creek. The Village of Scottsville's website indicates that the bridge is safe for jumping when the creek water is at 8- or 9-feet deep. There's also a rope for swinging into the water. Admission to the park is free.
Robert H. Treman State Park
105 Enfield Falls Road, Ithaca
607-273-3440
There are 12 waterfalls found within Ithaca's Robert H. Treman State Park, including the 115-foot Lucifer Falls. Swimming season for Lower Enfield Falls runs from May 25 through June 25 on Saturdays, Sundays, and holidays (11 a.m. to 7 p.m.), and daily starting on June 26 through September 4 (11 a.m. to 7 p.m.). There is a lifeguard on duty during hours of operation. If you can, go down during the week and avoid the weekend crowds. You can set up a tent, bring your RV, or rent a cabin. The park charges $8 per car.
Havana Glen Park and Eagle's Cliff Falls
135 Havana Glen Road, Montour Falls
607-535-9476
About an hour and a half from Rochester, you'll find Eagle's Cliff Falls in Montour Falls at Havana Glen Park. The water is shallow at the bottom of the falls — too shallow for swimming — but perfect for wading beneath the 60-foot waterfall. Camping and RV parking is available if you want to spend a few days hiking and exploring the area. If you just want to go for the day, admission is $2 per car and the park closes promptly at 10 p.m.
Clute Park and Campground
155 South Clute Park Drive, Watkins Glen
607-535-4438
Clute Park is located on the south side of Seneca Lake and has lake swimming access as well as plenty of campgrounds and even a skate park. Camping season starts May 5 and runs through October 10. The park is walking distance from downtown Watkins Glen — and you'd be remiss not to check out Watkins Glen State Park while you're there, which boasts 19 waterfalls. Camping rates start at $30 per day, and pets are allowed as long as they are leashed and you have proof of a rabies vaccination.
Cayuga Lake State Park
2678 Lower Lake Road, Seneca Falls
315-568-5163
Located about an hour from Rochester, Cayuga Lake State Park has a swimming beach that is open from May 27 to June 23 on weekends and holidays, and daily starting on June 24 through September 4 from 11 a.m. to 7 p.m. The park has cabins available to rent and campsites available, offering expansive views of Cayuga Lake. Entry to the park is $7 per car and tent camping is $15 to $20 per night. Rates differ for cabins and cottages for peak and non-peak season.