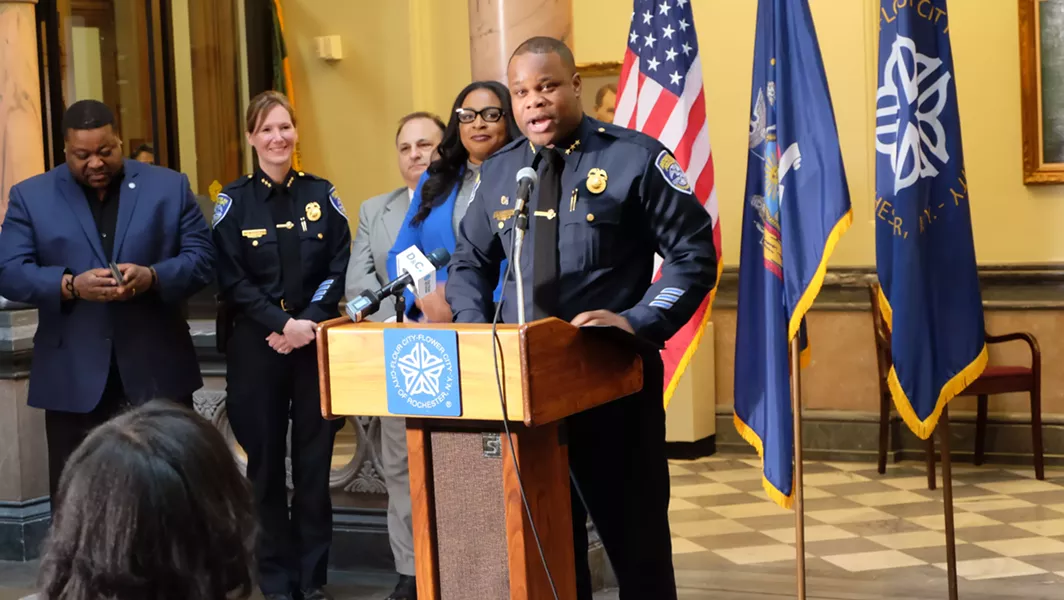 PHOTO BY JAMES BROWN, WXXI
La'Ron Singletary, Rochester's police chief designee, at today's press conference.
Mayor Lovely Warren's choice for Rochester's new police chief is La'Ron Singletary, a young Rochester native with 19 years' experience in the RPD. His appointment goes to City Council for confirmation.
Warren announced her decision during a press conference this morning, concluding a national search in which more than 20 candidates applied. The 38-year-old Singletary was the unanimous choice of a search committee of city officials, Warren said.
A graduate of Marshall High School's Law and Government Program, Singletary has a bachelor's degree from Keuka College and a master's degree in public administration from SUNY Brockport. In the RPD, he has served in neighborhood patrol positions and as patrol sergeant, commanding officer of administrative services, aide to the police chief, and the RPD's public information officer. As head of administrative services, he oversaw the section of the RPD that's responsible for recruiting, hiring, and training. Since January 2018, Singletary has been deputy chief of community affairs.
Singletary succeeds Mark Simmons, who has been serving as interim chief since the retirement of Michael Ciminelli last year. Simmons, who did not apply for the chief's position, is expected to be deputy chief of administration, Warren said. He held that position prior to becoming interim chief.