Frank De Blase
Phil Woods
Tuesday, June 13:
Frank De Blase: Phil Woods' show was the surprise of the evening. I initially heard word there were strings involved and I kinda cringed. However, didn't nobody tell me they were the kind of lush life strings like Riddle used to do. It was absolutely magic. Woods' tales of Bird and their first encounter over cherry pie, plus stories from his bump 'n' grind tour of duty, gave the show some real color. Woods was incredible.
Over to Milestones to dig ex-Rochesterian vocalist Jeremiah --- a clean-headed fellow with a, gee, I dunno, 10-octave range. His voice was beautiful and his unique phrasing elegant. He brought up his little 5-year-old nephew to scat a little with unc. Despite being a little past young blood's bedtime, he nailed each phrase his uncle threw out note for note.
Ron Netsky: I was disappointed with Robert Glasper's 10 p.m. show at Max's Tuesday night. He left no doubt that he's a brilliant musician. A glissando passage in his second tune, some intricate unison melodies and non-stop lyrical solos proved that. But his set lacked focus.
Glasper has a great new album out, but he only played two tunes from it. He began with an amorphous composition that did not have a name, so he referred to it as "Might As Well." But it hardly seemed like anything that could be called a composition. And it went on a long time with an extended, repetitive ending.
After the slightly better second tune, he spoke a bit while his bassist and drummer played a little vamp. By then several dozen people had walked out. The parade continued throughout his set.
Instead of getting down to business he tinkered with the little vamp for another meaningless five minutes. I'm thinking: this is about an hour-long set, when are you going to take it seriously?
The last 20 minutes or so were better. Glasper played a couple of tunes from his album, including a version of Herbie Hancock's "Maiden Voyage." He also did some beautiful solo work when the bassist and drummer dropped out for a while. Still, it seemed like a lost opportunity for one of the most promising young musicians in the country.
---
Wednesday, June 14
Saby Reyes-Kulkarni:
Vibrophonist Joe Locke is an animated frontman indeed. He must be the only person on earth who can get away with the shirt he was wearing and make fun of it. He started the show with a WAZZUP! and once told the crowd, "I'm just checking to see how high you are." He even kept things light during a more serious moment, dedicating a piece to the late saxophonist Bob Berg.
The music Locke and his band --- bass, drums, and piano --- made had a tidal feel, like the pause before you see spray in the air when waves are crashing. The groove was deep and felt like ba-dum...[ pause]...[pause]...BAP!
I thought, "I might be going too far with these visuals," but felt vindicated when pianist Geoffrey Keezer described the next piece as "kind of a watery, ocean-y sound."
---
Thursday, June 15
RN: Understanding abstract art prepares one well for Wayne Shorter. Abstract painters improvise, with each brushstroke a reaction to the stroke before it. Shorter's current group consists of four brilliant musicians --- Shorter on sax; John Patitucci, bass; Danilo Perez, piano; and Brian Blade, drums --- reacting to each other's aural brushstrokes in a form of group improvisation reserved for the few and the brave.
Although there are landmarks in most of his compositions, Shorter's band never knows quite how it will reach them until they are on stage engaged in the process. Shorter inherited his modus operandi from Miles Davis, with whom he performed in one of the greatest quintets in jazz history. In that group someone would start and the rest would just jump in.
Shorter's Eastman Theatre performance was unlike almost any other show at the festival. Instead of concrete tunes with traditional structures, almost all of the compositions were musical conversations between diverse musical personalities. Like verbal conversations, they could be simple or complex, quiet or loud, harmonious or dissonant. The result was a stunning display of contemporary improvisation.
FD: Tom Harrell slowly ambled onto the Kilbourn stage with his quartet. He stood stock still, moving only to adjust the mic and raise his horn to his lips. He looked like a cross between a palace guard and the shroud of Turin. What came out was Chet Baker in tone only --- the notes were in a different, less conventional order. It was tres hip.
Caught the Terell Stafford B3 Band at Montage. The organ swelled and swirled and licked the walls of the joint with the power of two Leslies behind it. It was classic radio soap operas and church rolled into one --- the sound anyway.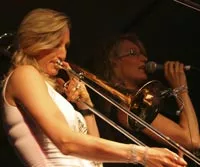 Frank De Blase
Sliding Hammers
Slid over to the tent to dig the Sliding Hammers, from Sweden. If you're a leg man, this is your group. The trombones plowed rich and smooth; however, when the ladies sang it kinda gave me a cruise ship vibe. Their backing group was swingin' and the joint was packed ...and man, those getaway sticks. I'm tellin' ya.
---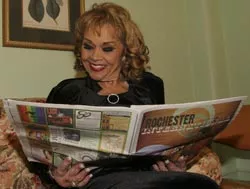 Frank De Blase
Etta James
Friday, June 16
FD: I'd kissed Ruth Brown a few years ago in Vegas. I even kissed The BellRays' Lisa Kekaula last Wednesday night. But last night I got to kiss Etta James. That's right, you heard me. I have kissed three of some of the most influential black women in music, and consequently in my life --- two in the last week.
Though Ms. James stood me up a couple two-three times for a phone interview, she read the nice things I had to say about her in the City Newspaper Jazz Fest guide and requested an audience with me.
But first let's talk about the show, Jack.
The R&B legend strutted out on the stage to her excellent band's jump and pump; great horns, killer guitar players. She headed straight to her chair center stage where she copped a provocative open-legged perch for the duration of her hour and a half show. That is, when she wasn't molesting herself playfully or grinding her booty in the audience's face while bending over the B3.
Her voice was incredible; full of roaring, rampant want. She was lust personified, only meaner and if it were on fire. Her gaze was as intense as her voice. Etta James has not lost a thing, baby. Well, except for a couple hundred pounds. She looked regal. She looked fabulous. It's scary how sounds so wonderful and so dangerous can come out at the same time. Etta James is like a bouquet of switchblades.
Backstage she was gracious and accommodating as I stuttered my way through a few compliments and attempts at being funny. Since this was essentially meeting the Pope for a character like me, I kissed her ring. But after a few minutes, a few laughs, a few snapshots, and a few autographs, I graduated to her cheek...at last.
SRK: How would SOMI convey the delicately threaded atmospheres of her studio recordings in concert? Answer: her drummer/percussionist, who gave the music all the extra ambient layering it needed with just the right touch. In fact, the whole band played with great finesse. SOMI, an affable, gentle, smiling presence on stage, received a well-earned roaring reception. Unlike anything else at the festival, SOMI has a beautiful, flowing voice that ranges from hush to booming. She also masterfully employs in-between pitches that I'm guessing stem from her native Rwanda/Ugandan music? She ended with a piece that featured a kind of throat-hissing vocal that left the crowd in awe.
---
Frank De Blase
Charlie Hunter
Saturday, June 17
RN: Despite my problems with absurdly loud concerts (Charlie Hunter, are you listening? Can you still hear?) I believe the 2006 RIJF was the best of the five jazz festivals so far.
All of the headliners were well chosen and many of them gave thrilling performances. The club-pass acts were so strong and so varied that when I compared the shows we'd seen with a friend on the festival's second-to-last night I found that she had basically attended a different festival-within-a-festival just by choosing different shows to see.
The free concerts were so plentiful and so strong that my son, who did not go inside a venue, attended the festival on several nights and had a great time. Of course, once having tasted the festival, he caught the fever. Next year he (and my other sons) want club passes. And they'll get them. I can't think of a better way to expose kids to great music from around the world.