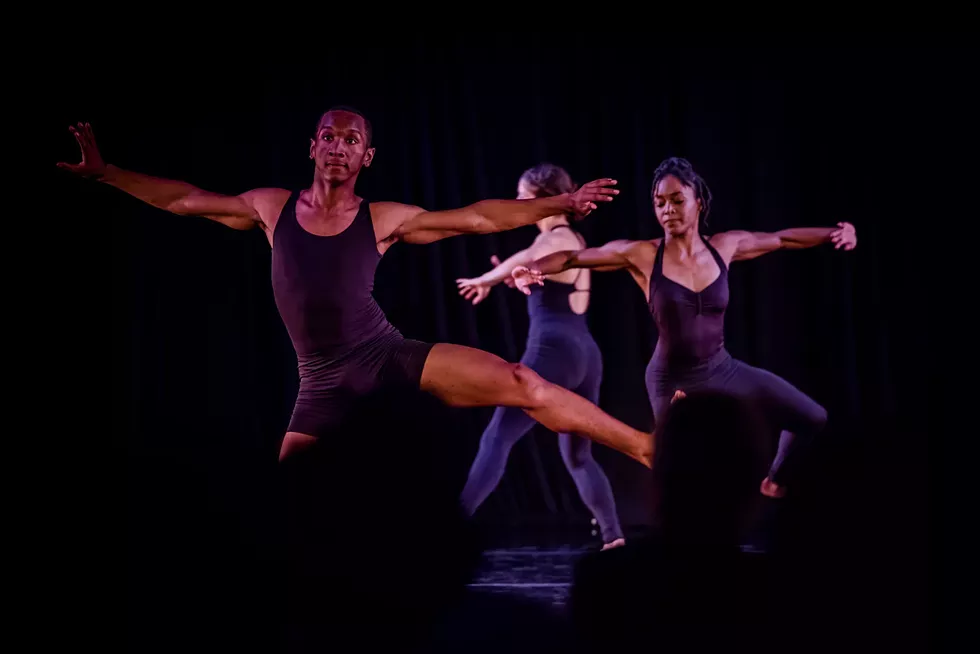 Garth Fagan Dance's
"Up Close and Personal," my first show at the 2017 Rochester Fringe, was a raw shot of movement, inspiration, and awe. The show, set in the
acclaimed company's
rehearsal space, feels intimate as you watch the dancers move gracefully about the stage. The performances are punctuated by chats with the
man himself
about the group that he's built over the last 45 years.
When watching "Prelude" (originally created in 1983), I felt as if I was peeking through the window at dancers warming up to music before the show. Each one stretched, isolating every body part. Every so often, two or three dancers were in sync — seemingly at random, but in careful choreography. Meanwhile, another dancer stood perched on pointe, with a leg outstretched in the air for a gravity-defying eternity.
Among the dancers on stage for the first routine, was Steve Humphrey. He's one of the original members of the company and worked with Fagan on "The Lion King." At 65, he moves with such ease and grace alongside the 20-something dancers, you'd never know his age but for the silver hairs coiffed into a bun atop his head. "Prelude" is a classic example of what Garth Fagan Dance does: a mix of rhythmic African dance-inspired movements and arabesques and chaines with crisp, clean lines. The dancers move with such fluidity, it was only when they were taking their bows that I realized they were sweating profusely (they make it seem effortlessly easy).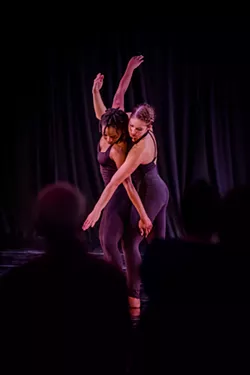 The program's second routine, "Wecoo Duende," is one of the works in progress by
Norwood Pennewell
. It tells the story of community and an alluring "spirit," portrayed here by dancer Natalie Rogers. As she moved on her own, the others gathered in groups of three, often dancing in circles. The routine started off somewhat aggressive, with the dancers' stamping feet and drumbeat vibrating the wooden floors. The rhythmic, almost percussive footwork gave way to a Spanish-feeling music. It was slower, softer. At one point, a male and female dancer moved together with elegance, their arms and legs ebbing and flowing together like gentle waves coming ashore.
The third piece focused on being "In Conflict." The newer work (created in 2016), featured Rogers again as a soloist. The piece started off slowly, with Rogers making quick, sharp movements, then practically freezing before flowing into her next step. At times, she stood with her arms outstretched, seemingly reaching for what she couldn't hold on to. Vitolio Jeune joined her on stage, lifting Rogers into the air, her arms outstretched, feet flexed, making a giant X with her body — she appeared to be suspended in some sort of jelly. It was truly a wonder to watch.
The last number, excerpts from the 2002 piece "Translation Transition," is just fun. Instead of tights and leotards, the dancers wore flowing, vibrantly colored shirts and dresses. Their arms flailed about as they shimmied, bounced, and leaped to incredible heights across the stage. It felt like I was at a party; you could tell the dancers were having fun. It's a fantastic capstone on this rare, front-row glimpse at a dance troupe led by a master of modern dance.
Garth Fagan Dance will perform again September 16, 20, 21, and 22 at 7 p.m.; and on September 17 and 23 at 2 p.m. Garth Fagan Dance Studio, 50 Chestnut Street, third floor. $20. Appropriate for all ages.
My second show was less introspective and just more in your face. The sharp-witted ladies of
EstroFest
are back at Fringe with a vengeance for "Cinderella, Sci-Fi & Drones," and it's a straight-up riot.
Dresden Engle, Andrea and Norma Holland, Allison Roberts, and Freyda Schneider each come with strong comedy chops, and each has their own strengths — whether it's over-the-top impressions of a schmalzy psychic, the physical slapstick of a roller-blading fairy godmother, or the quiet, subtle punchlines that hit you when you least expect it. But it's the group dynamic that makes this show truly work.
EstroFest
will mock anyone and everything; nothing is off limits: funerals, the postal service, Amazon, "Star Wars" and "Star Trek," "The Price is Right," even Disney. The vignettes are broken up by short videos, many of them infomercials for ridiculous products. The Rochester Snuggler, for instance, provides cuddlers for the lonely in Pittsford ("He only snuggles on Egyptian cotton sheets"), on Park Avenue ("Enjoys long walks on the beach just enough"), and the 315 (he shows up at the door with a bucktooth and a six-pack of Genny). And hey, if that doesn't work, you can try one of the other products featured in a video, GPS for the Bedroom.
EstroFest will again perform "Cinderella, Sci-Fi & Drones" on Saturday, September 16, 5:30 p.m.; Sunday, September 17, 2:30 p.m.; Friday, September 22, 5:30 p.m.; and Saturday, September 23, 8 p.m. Geva Theatre's Fielding Stage. $18. Shows appropriate for 18 and older.