Kate Washington, who has been director of development services in the city's Department of Neighborhood and Business Development, is being moved from that position to that of executive director of the city's new Market Driven Community Cooperatives Corporation.
And Dana Miller, who completes his term on City Council at the end of this year, has been appointed to take Washington's place.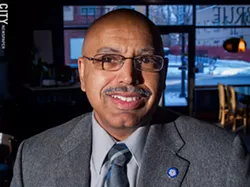 PHOTO BY RYAN WILLIAMSON
Dana Miller
Mayor Lovely Warren announced the changes early this afternoon.
Washington will head the city's new non-profit that is charged with launching and supporting neighborhood, worker-owner cooperative businesses. She has been with the city's Neighborhood and Business Development department since 2014.
Miller has been a member of City Council for 12 years. He owns Brue Coffee on Genesee Street and is the former vice president of advancement at the Rochester Area Community Foundation. Prior to joining City Council, he had been actively involved in volunteer community work, including in the 19th Ward Community Association.