[Updated and revised on May 6, 2019 at 3:15 p.m.] The coalition of tenants and residents in neighborhoods near Cobbs Hill have apparently lost their legal battle to stop Rochester Management from demolishing the Cobbs Hill Village apartment complex and redeveloping the site with new apartments.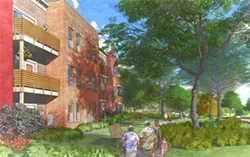 RENDERINGS PROVIDED
Rochester Management plans to build new apartments at its Cobbs Hill Village apartments complex on Norris Drive.
On Thursday, Supreme Court Justice William Taylor dismissed two separate suits against Rochester Management, the City of Rochester, the City Planning Commission, and the city's manager of zoning. One suit challenged the environmental review and the other argued that the city didn't properly comply with procedures for reviewing and approving plans for the site.
Taylor denied all of the claims in both suits.
Rochester Management plans to demolish the 60-unit apartment complex on Norris Drive next to the park and build a 104-unit complex in six two-and three-story buildings. Both serve senior residents. Rochester Management has been met with strong resistance almost since its inception. Many of the opponents wanted Rochester Management to repair the existing units. Others wanted the property to be turned over to the city and converted into parkland.
In a phone interview on Monday, May 6, Alan Knauf said an appeal is likely. Knauf is the attorney who represented the Coalition.
In a written statement sent on Friday, May 3, Peggy Hill, Rochester Management's executive director said, "Following the New York State Supreme Court's Dismissal of the two lawsuits related to the project, Rochester Management is another step closer to bringing high-quality, affordable housing to more seniors in Rochester."
Rochester Management is now working on finalizing the refinancing of its mortgage. The non-profit expects to begin construction on the $27.5 million project in the fall.