Award-winning contemporary dance organization Jane Comfort and Company will bring its provocative dance-theater show, "Beauty," to the University of Rochester this weekend as part of the UR Program of Dance and Movement's 6th annual inspireDANCE festival. "Beauty," choreographed by Comfort, uses the American icon of a Barbie doll to examine the cultural pressures surrounding women's physique, attire, and appearance.
"Over the years," Comfort says, "I just started noticing in New York City, and in the media, that all the women were starting to look the same — same straight long hair, same big boobs on an anorexic body, same botoxed features. Everybody was starting to look like Barbie. I was so disheartened that young women seem to think that they need to look that way too. As women we're so used to being valued for how we look that we accept it."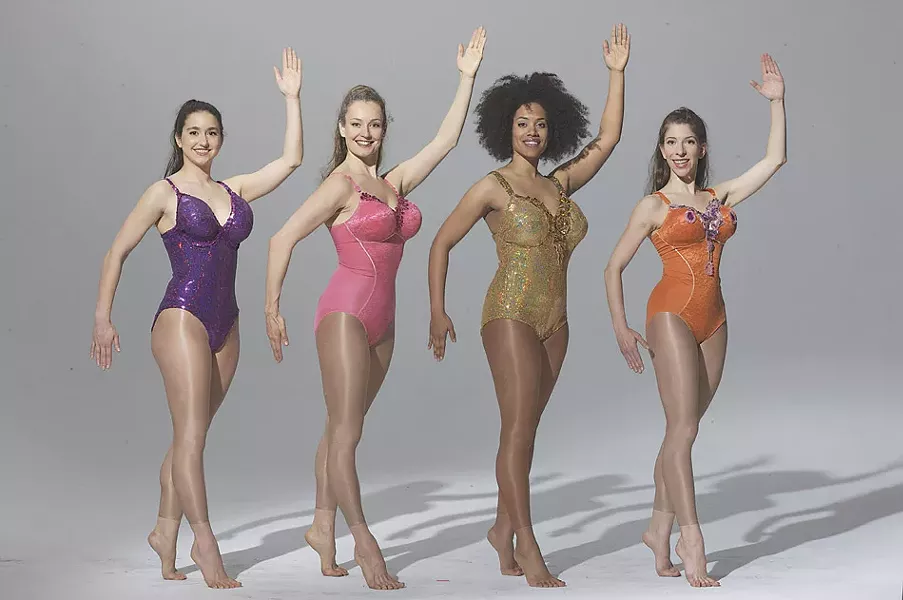 PHOTO BY ARTHUR ELGORT
Jane Comfort and Company will perform "Beauty" this weekend as part of the University of Rochester's inspireDANCE Festival.
So Comfort started researching the topic — reading everything from Naomi Wolf's "The Beauty Myth" to "Cinderella Ate My Daughter" by Peggy Orenstein — and holding in-depth discussions with her dancers on society's perceived expectations of female beauty. Comfort was awarded a Guggenheim Fellowship in 2010 for the creation of "Beauty," and in 2011, the piece premiered at Jacob's Pillow Dance Festival. A New York City premiere at La MaMa Experimental Theatre Club followed shortly thereafter.
"Beauty" utilizes a wide range of theatrical elements: four dancers portray Barbie dolls in various vignettes along with a male performer with many roles, all while one performer does a real-time beauty routine in a corner of the stage — shaving her legs, giving herself a pedicure, putting on fake eyelashes, getting dressed, and so on. We can expect witty insights and in-the-know humor in this performance. Get ready to chuckle; probably guffaw.
Attendees can count on exceptional choreography, too. Comfort has created more than 50 dance and theater works that have been presented throughout the United States, Europe and Latin America. She has won — among other distinctions — a Bessie Award (NY Dance and Performance Award), a Doris Duke Award for New Work, and 15 National Endowment of the Arts (NEA) fellowships and grants (from 1979-2012). She has also choreographed Broadway musicals including "Passion" by Stephen Sondheim, "Amour" by Michel Legrand, and Shakespeare in the Park's "Much Ado About Nothing."
"Beauty" utilizes a variety of scenarios to comment on the absurdity of society's expectations for female beauty. In one section, one of the four "Barbies" is coached by the male performer on how to walk like a beauty queen. In another section, a "Barbie" makes a visit to a plastic surgeon during which he uses magic marker on her face and body to denote the changes he will produce. A drier section of the performance features the "Barbies" walking slowly and in unison downstage — first in bathing suits, then in high heels and evening gowns. Comfort's message couldn't be clearer. The piece ends with the performers coming out of character and discussing, among their real-life selves, what they grew up observing about female beauty expectations.
Missy Pfohl Smith, director of the Program of Dance and Movement, and artistic director of local contemporary dance company BIODANCE, cites Comfort as an influence in her own choreography, much of which also deals with societal issues.
"Jane's work investigates social justice, politics, culture and many controversial issues that plague contemporary society," she says.