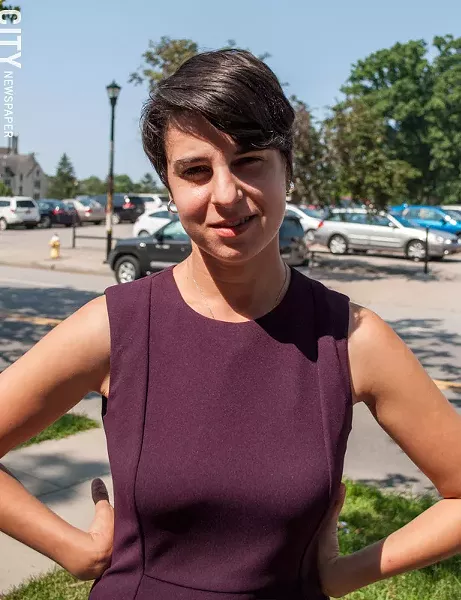 FILE PHOTO
Assembly member Jamie Romeo isn't seeking re-election to her seat and will run for county clerk instead.
County Executive-elect Adam Bello will have to give up his seat as county clerk come January, and that looming vacancy already has Democrats jostling for the job - and the ones they'll potentially leave behind.
State Assembly member Jamie Romeo announced Thursday she will forgo a re-election bid to seek the Democratic Party's nomination to run for clerk. The Irondequoit Democrat and former chairperson of the Monroe County Democratic Committee, was elected to the Assembly seat a year ago. The seat had been held by Joseph Morelle, who was elected to Congress.
Romeo's decision leaves her Assembly seat wide open and other Democrats are already lining up to run for it.
Jaclyn Richards, the former National Organization for Women Rochester chapter president who ran against Romeo last year in the Democratic primary, has announced that she's running again for the seat. Democratic county Legislator Justin Wilcox, who is Romeo's legislative director, has also declared his intent to run. And Monroe County Democratic Committee chair Brittaney Wells said several other potential candidates have inquired about going through the party's designating process.
In November, Bello, the county clerk, became the first Democrat in decades to be elected county executive. Republicans still have a slight edge in the County Legislature.
After the clerk seat goes vacant in January, Governor Andrew Cuomo must appoint someone to the seat. The past three Monroe County clerks, including Bello, were initially appointed to the seat by the governor.
Whoever the governor appoints would have to run for election in November in order to keep the seat past the end of 2020.
In a statement on Thursday night, Romeo said she believes "county government can have a profoundly positive impact on our community."
"With a strong partnership with the incoming Bello administration, I believe the clerk's office must be a key component to seeing the transformational change our community has demanded" at the county office building, she said in the statement.
Romeo also said she looks forward to sharing her vision with Democratic party leaders and voters in the coming months.
Randy Gorbman is WXXI News director. WXXI is a media partner of CITY.