Allen Creek is hardly raging river. It's a tranquil stream that meanders gently and peacefully through a few Monroe County towns – Henrietta, Pittsford, Brighton – before merging with Irondequoit Creek in Penfield.
But when its levels are high and a heavy rainstorm hits, the creek flows with enough force to eat at its banks, including the sandy bluffs that rise above it in some spots. Last year, the creek cut into the base of a bluff across from some homes on Shirewood Drive, a neighborhood off Penfield Road not far from Panorama Plaza. As a result, some of the bluff's face, and an old tree anchored in it, sloughed off into the stream, says Penfield Supervisor Tony LaFountain.
The collapse also moved the edge of the bluff closer to some of the mobile homes that sit atop it.
Penfield officials and residents have longstanding concerns about erosion along Allen Creek, particularly the associated property losses and flooding. The town hired a consultant, Barton and Loguidice, to study the stream and develop an erosion control plan. Last week, the Town Board authorized the consultant to begin designing projects to stabilize Allen Creek's banks and better define its path.
LaFountain says he expects that the banks will be strategically "armored" with rocks and sections from fallen trees. The project locations need careful consideration: a seemingly simple change in one part of the stream can alter the water's flow in another, creating new problems or exacerbating existing ones.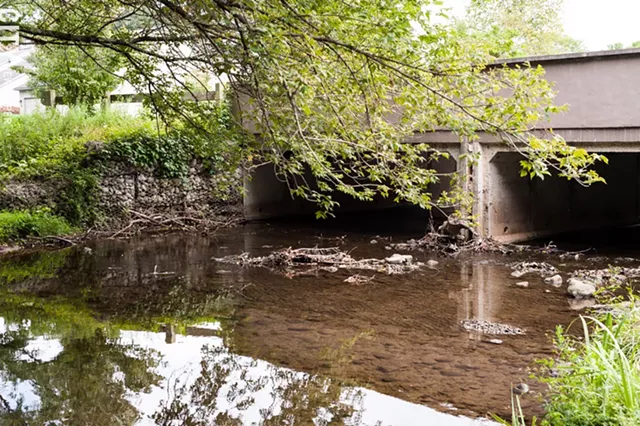 PHOTO BY JEREMY MOULE
The Town of Penfield plans to carry out some anti-erosion projects along Allen Creek. Some of the work could include armoring stream banks, as has been done in this spot near Winding Creek Lane.
The town will need Department of Environmental Conservation permits to perform the work, which it hopes to apply for early next year, LaFountain says. Penfield officials are already talking with the DEC to make sure they're headed in an acceptable direction, he says.
Penfield officials hope to put the projects out to bid by May and to perform work during the typically dryer months of July and August, wrapping up before the fish spawn in the fall, LaFountain says. The estimated cost of the planning and construction is $2 million to $2.2 million.
Allen Creek's erosion isn't happening because of any single factor, but rather several working in concert, according to a 2011 evaluation by Barton and Loguidice. Decades worth of development in the stream's watershed – not just in Penfield – has added an ever-expanding amount of impervious surfaces, which results in more water running off into the creek during heavy rains. Downpours are happening more frequently and with greater intensity than in the past, a trend that researchers have linked directly to climate change.
Erosion isn't just a problem in Allen Creek. Government officials and property owners have been fighting similar battles along the banks of Black Creek and Irondequoit Creek. State environmental officials have also been trying to reduce the amount of sediment carried in the Irondequoit Creek waters, since the sand and silt can impair habitat for fish and other aquatic life.
Allen Creek's waters scour its banks and carry loosened sediment downstream into Irondequoit Creek.
As Penfield officials and their consultant develop a plan of attack for the creek, they've had to take some immediate action. In cases where banks and trees have collapsed into the stream, the town removed the debris quickly to prevent it from redirecting the water and causing flooding.
As for the bluff near Shirewood Drive, the town buttressed it using sections of the tree that fell from it. They hope the reinforcements prevent further erosion for the time being.
"It works," LaFountain says. "I would say that it's somewhat of a temporary measure."