The discount grocer Aldi has work to do to convince some North Winton Village residents and City Hall that a store belongs on the corner of Blossom and Winton roads in southeast Rochester. Paperwork from the city's planning and zoning office says that the project as originally presented would need at least 15, and possibly as many as 17, zoning variances to proceed.
PHOTO BY MARK CHAMBERLIN
Elena Knapp, owner of Jim's Restaurant.
"There's a lot that needs to be resolved," says City Council member Elaine Spaull, who represents the southeast. Traffic density is the biggest problem, she says.
Aldi has submitted new designs, according to a press release from the North Winton Village Neighborhood Association. But those haven't been shared yet. A public meeting will be held at a later date, the release says.
Some residents -- an opposition group currently has about 20 members -- say that Aldi is unnecessary because there are other grocers nearby. The chain is trying to stuff a suburban-style big-box store onto Blossom-Winton, they say, with little regard for the neighborhood's urban aesthetics and atmosphere.
But Spaull says that are other village residents who are thrilled about the possibility of a discount grocer within walking distance of their homes. Neither side is wrong, she says.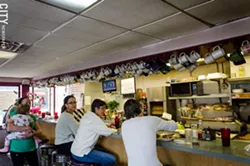 PHOTO BY MARK CHAMBERLIN
The counter at Jim's Restaurant.
In addition to the zoning variances required for the original plan, Aldi would need a special permit from the City Planning Commission for exceeding the parking cap. Aldi wants 73 spaces, the city says -- significantly more than what the city requires.
Project opponent Anthony Vallone says that the project site was "downzoned" several years ago at the request of the neighborhood. Commercial operations in this particular district should be "low intensity, unobtrusive, and conducted at a scale and density compatible with the surrounding neighborhood," the city's paperwork says.
The proposed Aldi would be 17,000 square feet, the city says, which is more than five times the permitted size in that zoning district.
Mary Coffey, co-chair of the North Winton Village Neighborhood Association, says that Aldi, City Hall, and the neighborhood are working together to improve the project, and that people should be glad that developers want to invest in the neighborhood.
"We're hopeful we come up with just a wonderful building and a good developer in the neighborhood," she says.
In a statement, Aldi representatives say that they're working with local officials and hope to be open by the end of the year.
Adding to the angst is the fact that Aldi would replace Jim's Restaurant -- a popular local eatery -- at Blossom-Winton. The restaurant will close on Saturday. Never to be confused with fine dining, Jim's was nevertheless a cultural nexus in North Winton Village. City Hall administrators and Rochester school board members were just as likely to occupy Jim's booths as 20-somethings feeding their hangovers.
Owner Elena Knapp says that her landlord asked her to leave after her lease expired last December. She said that she plans to reopen Jim's second location on East Main Street sometime this summer. Jim's Restaurant Too closed late last year after a kitchen fire.