For such a young artist, Rochesterian Justyn Iannucci is hella methodical. And it's paid off with some impressive clients, including Playboy Magazine and Complex Media. The way the 26-year-old describes his process is like a bit of a memory theater, or what BBC's "Sherlock" referred to as a "mind palace": "When I think of drawing, I think of it as like you enter a room and there's a bunch of doors that you can go through," he says. "And each one of those doors is a mental state of style. The more you walk through those doors, the easier it is to find your style, because you just retrace your steps quicker and quicker, and you have markers along the way to help you."
Iannucci excels at graphic line work and is able to pack the most information about form and mood with the fewest contours and shapes. His art is a fascinating mix of pared down, punk rock grittiness and romance. Incredibly sensitive to the loveliness of form, stance, gesture, and gaze, he depicts everything from street scenes, to archetypes of people, to mundane objects that he imbues with unexpected value.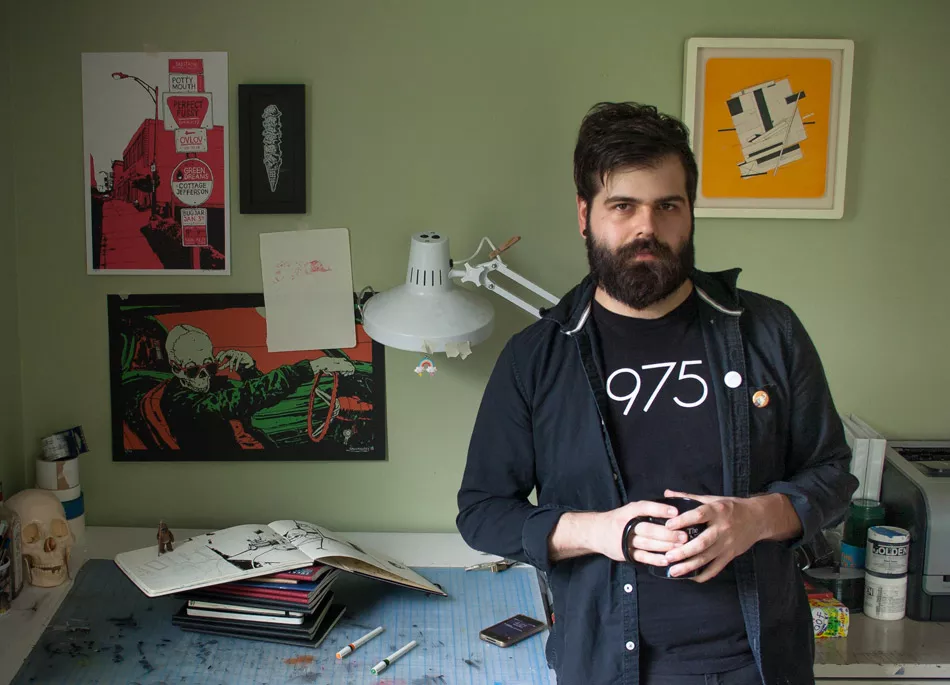 PHOTO COURTESY EVYN MORGAN
Young illustrator Justyn Iannucci has built an impressive portfolio of drawings for such clients as Complex Media, Playboy Magazine, and the Rochester Cocktail Revival.
"I'll go on sketchbook benders when I have personal things going on, like I can just kinda solve all my anxieties and depression in these books," he says. "Usually, the worse it is, the better the art becomes, because I can just focus completely on it."
Iannucci was raised in Churchville Chili, and has fond memories of drawing and painting with his grandmother, Margot Hughes. Her crucial influence on his decision to pursue illustration manifested in "Sproutkeepers," a show of work created in collaboration with Hughes in 2013 and held at 1975 Gallery.
"The punk rock bug hit when I was a kid, and I was just like, screw this, I wanna be in a band!" Iannucci says. He drifted away from making art for a bit, but not entirely, "because there were flyers to make, or a t-shirt design to mock up," he says. "So that kept my foot in the art world while I was trying to pretend to make music."
After high school, Iannucci attended MCC for graphic arts and printing, before transferring to RIT for its illustration program. In the last few years since graduation, he has worked at 1975 Gallery, Tiny Fish Printing, and gained experience with freelance illustration work, which he says is starting to take off.
Iannucci says the first gig that made it seem like illustration was a viable career was in 2011, with a set of drawings for Complex Media for an article called, "A Field Guide to NYC Douchebags." The drawings were of "assholes that you would encounter in different sections of New York," he says. He's since followed up with drawings for Complex's field guide for Washington, D.C.
Iannucci works with Complex fairly frequently, and has drawn for Canto Magazine and Fast Company as well, but he says he's most proud of the Playboy job — a clever illustration for an article about online gambling for fantasy football that printed in Playboy's January-February 2015 issue. "I think my dad's also proudest of that one," Iannucci says.
He emailed Playboy in March of last year, and didn't hear anything for a while. But one day, while having a hotdog at Dogtown, he refreshed his email app, and saw a message from the company. "I was like, somebody is f**king with me," he says.
9 slides
Around town, Iannucci was commissioned to create the Rochester Cocktail Revival poster both years the event has been held, and has created imagery for record labels and bands, including the art for Green Dreams' "Rich Man/Poor Man," which entailed portraits of the band members and an amazing drawing of an enraptured man stuffing money down his pants.
In 2013, he collaborated on a t-shirt design with Three One G, a San Francisco-based record label that promotes bands that helped shape his worldview — "They talked about terrible shit going on in the world, but in a Dada, Surrealist way," he says.
Besides music and indie comics, some of Iannucci's influences include English illustrator Sue Coe; American artist and journalist Sam McPheeters; Brian Chippendale from the noise rock band, Lightning Bolt ("His frantic line quality is something I'm just fascinated with," Iannucci says); and Brad Holland, a conceptual illustrator from the 1970's and 80's.
Iannucci is a champion of the local art scene; he expresses grateful praise for Rochester's wealth of artists, educators, and organizers, like Jim Downer, a "beyond helpful" professor at MCC who Iannucci continues to correspond with; and Chad Grohman, an artist who taught at RIT while Iannucci was in attendance. "His understanding of graphicness and the line is so impressive," he says. "Whenever I talk with him I try to retain as much as possible."
He also looks up to fellow artists Jai Kamat, Adam Maida, and St. Monci, with whom Iannucci collaborated in 2013 on a mural for WALL\THERAPY, and again in 2014 for an exhibition titled, "Core Collapse." Iannucci also waxes enthusiastic about Rochester's inspirational art and music scenes, which he feels are getting better through the hard work of Tim Avery, who books shows at Bug Jar, Erich Lehman's work at 1975 Gallery, and Lehman and Ian Wilson's efforts with WALL\THERAPY.
Iannucci doesn't have a job at the moment, but says he's on the cover-letter hustle, and would like to work for a company. "I'd love to do freelancing full-time," he says, "but I think I need to have a couple other things under my belt before that can happen."
Between working on freelance gigs, he hones his skills by attending live figure-drawing sessions with the New York Figure Study Guild held at Steve Carpenter's studio. Iannucci says he draws every day, sketching in public at coffee shops and museums.
"I'm still testing out exactly what I'd like to be doing," Iannucci says, but working with the New York Times is on his list of goals. But then again, setting concrete goals "could have negative effects on an artist's self-worth," he says. "If it's meant to be, I feel through dedication, it will happen."