The reinstallation of three galleries at the Memorial Art Gallery, a process started in January, is now complete and is changing the way visitors will experience the museum's collections.
The Forman Gallery, situated immediately behind the glass doors past the admissions desk, is now full of sculpted and painted portraits — including some new acquisitions as well as highlights from the MAG collection — carefully arranged in a salon-style presentation.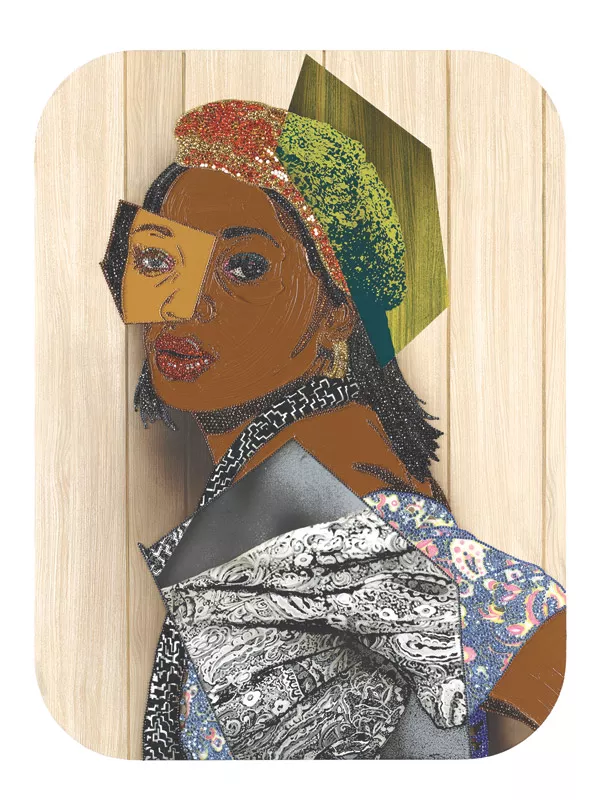 PHOTO PROVIDED
"Portrait of Qusuquzah #6," a mixed media work by Mickalene Thomas recently acquired by MAG, is on display in the reinstalled Forman Gallery.
"Portraiture is one of the great strengths of MAG's collection, and has been an important part of our acquisition strategy for the past year," says Memorial Art Gallery Director Jonathan Binstock. The aim is to introduce visitors to the museum's collection and represent different ethnicities and cultural heritages in the human experience, depicted across centuries of art.
Among the portraits are Andy Warhol's moody blue print, "Jackie," which entered the collection in 1965, and several new acquisitions, including "Portrait of Qusuquzah #6," a mixed media work by Mickalene Thomas; a Makonde tribal mask from Mozambique; and "Idealised Heterosexual Couple," a decorative vase created by English celebrity artist Grayson Perry for his 2014 solo show at the National Portrait Gallery in London. The work features layers of imagery of a broken family still united through a love of ballroom dancing.
In Binstock's first year as director, the acquisition priority has been to give some TLC to the post-war and contemporary collection. "And I wanted to improve the look of the galleries where those things were involved," he says.
To this end, walls were added to not only increase surface area, but also to cause people to slow down and look at the art.
And it's really quite effective. Wilson Gallery, the shotgun corridor running along the Grand Gallery, is now characterized by walls jutting slightly into the space at angles, so that some paintings confront viewers directly as they move down the passageway.
The walls also transform the space into mini thematic subsections on fantasy, abstraction, and the colorfield. In this latter section, find a massive painting by Mark Rothko, which has been borrowed from Buffalo's Albright-Knox Art Gallery. The work will be on view through the fall, so that Rochester audiences can see it during Geva's production of "Red," (October 20 through November 15) which is about the artist. (The play will be performed October 20 through November 15.)
The room directly before the Grand Gallery entrance is called the Hawks Gallery, and is now characterized by the handle "Classicism Reconsidered." The middle of the space is dominated by a 1935 Alexander Calder sculpture, drawn out of storage and dusted off — "one of his very first outdoor mobiles," Binstock says.
In one nook stands "End Upheld," a sculpture by Nick Cave that transformed a racist sculptural stool or pedestal by placing it on top of its own pedestal, raising the figure up and adorning it with an abundance of decorative flora and fauna bits.
Also found in this room is "Fossil Whale (Dome)," a stunning 1992 Frank Stella print — which Binstock calls a "pregnant piece of paper," due to the convex bubble in its center — as well as "Convertible Series, Group 10," a newly acquired wall piece of with geometrically arranged mirrors by Iran-American artist Monir Shahroudy Farmanfarmaian.
"The question became, 'what can we acquire to fill out this story of modern and contemporary art?,'" Binstock says. "And the guiding factors in that decision-making process was primarily how to tell new stories about the artworks already in the collection, through this new acquisitions."
For example, "Three Fujins," a recently acquired, gigantic, mixed-media painting by Hung Liu, "relates beautifully to our Asian Gallery," where it spent its first two months at MAG, Binstock says. It has since been moved to the Hawks Gallery. Created in 1995 but based on antique photographs from the late 1800's, this piece represents the way the gallery seeks "to carry historic narratives forward into our time," he says.
"As we continue to acquire works of art, I'd like to see some of these acquisitions, even if they're modern or contemporary, find their way into the historical galleries," Binstock says. "Wouldn't it be really great to see that Condo clown painting next to our Frans Hals Dutch portrait upstairs? That's what that clown painting is about. It would just make that Hals painting look different. We'd see it in a new way."
Visit the MAG on Thursday, August 27, from 5 to 8 p.m., for an official celebration of these changes. Admission is half-price on Thursdays after 5 p.m.