Ted Nicolosi is a guitar wizard. And, at a quiet 13 years, he lets his guitar do most of the talking. His fingers move swiftly over his Ovation's neck as he weaves in and out of complex scales and runs. He makes it look easy.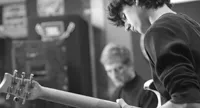 Liking where they're at: Sam (background) and Ted Nicolosi.
As half of the father-son duo Shared Genes, Ted first learned guitar from his father, Sam. But when Sam gave Ted his first guitar at age 5, the young Nicolosi was nonplussed.
"It was just a toy to me," Ted says. "I wanted a race track."
But with a steady diet of Beatles and other acoustic-rooted guitar music like Acoustic Alchemy playing around the house, Ted started mimicking what he heard. Realizing the kid could actually play, Sam bought him his first real electric guitar at age seven.
Then the lessons began.
"I wouldn't call them lessons," Ted says. "He'd just call me over and start showing me chords."
"I reinforced him with chocolate," Sam says.
The squirt quickly surpassed his old man, who had initially planned on plugging the kid into the rhythm position.
"Originally I wanted him to play the chords and realized he couldn't do it," says Sam. "It was actually easier for him to play the leads. Really it was an act of generosity, 'cause I wanted to play the leads."
Like every other kid in the '60s, Sam picked up the guitar for the same reason: The Beatles. His father, like every other parent in the '60s, wouldn't let him have a guitar and made him take banjo lessons instead. So Sam played banjo in a band he formed with friends and rehearsed in the same Central Park neighborhood as Rochester rock 'n' roll legends The Invictas and The Rustix.
"I was playing the chords but it didn't sound right," he says.Finally his mother bought a guitar for him sub rosa; he had to hide it under the bed.
But Sam didn't really have rock 'n' roll dreams. Since he was a boy he wanted to be a mechanical engineer; which is exactly what he did at Xerox for 15 years before the work of his whole department was outsourced to Mexico.
The ax fell October 2001, two weeks before Shared Genes' first gig. Since then Sam guesstimates the duo has played over 500 shows together in coffee houses, restaurants, pizza joints, sub shops, public markets, grocery stores, senior homes, sports bars, and festivals.
So rather serendipitously, Shared Genes became a professional act.
"And I'll tell ya," Sam says. "That's the only thing that's been keeping my mind straight."
The synergy between the two guitarists is apparent. The father-son dynamic fades into one more like that between good friends. Still the type of telepathy afforded through bloodline is undeniable. They blend beautifully. And they finish each other's sentences, especially when recalling a recent career highlight: opening a sold-out show for Acoustic Alchemy at Milestones.
"That was amazing," Ted says.
The majority of Shared Genes' set consists of Acoustic Alchemy's music. It takes a lot of guts to play the headliner's tunes in your set. They had to clear it with the band.
"The manager said no," Sam says. "But [Acoustic Alchemy guitarist] Greg Carmichael said alright." Carmichael dug their whole set from the side of the stage. The audience dug it, too.
"Right after the first song," Ted says, "I'm never gonna forget that noise, the applause and the cheering."
"It was like a sonic boom," says Sam. "They just erupted."
But the majority of Shared Genes gigs are more casual affairs, with the band chugging along at coffee houses or happy hours at local bars. Sometimes they'll get women in their '20s and '30s ("old ladies" to Ted) dancing in front of the bandstand or folks approaching with compliments on their playing --- some amazed at how young Ted is. Sam's assured it's not just Ted's age, but his six-string prowess as well.
"Well he is better than me now," he says.
Sam and Ted seem to like where they're at. Not that they lack motivation, but they're content.
"We like to play live," Sam says. "That's where the real thrill is. We really don't expect a recording contract."
"Or that big break that they all talk about," Ted adds. "We just keep pickin' and grinnin.'"
Shared Genes plays Thursday, March 16, at Beale Street Café, 689 South Avenue, 271-4650, 6:30 to 8 p.m. No cover. And you can catch them Friday, March 17, at Woody's II, 2758 West Henrietta Road, 424-6440, 5:30 to 8 p.m. No cover. www.sharedgenes.com