The perpetual news cycle means that every other day there seems to be a new sound bite in which some clueless lawmaker in an expensive suit weighs in on with whom Americans should be allowed to share their hearts and/or genitals. But movie theaters have long been refuges from all that outside noise, and at ImageOut: The Rochester LGBT Film & Video Festival, love inspires art, rather than uninformed opinion. From Friday, October 10, to Sunday, October 19, ImageOut celebrates its 22nd year with 39 programs of features, documentaries, and short films about the lesbian-gay-bisexual-transgender experience.
Returning this year is the Next Generation Film Series, a selection of flicks free to those 21 and under, as well as the ImageOut There! Series, now in its seventh year of provoking and disturbing audiences with its midnight-movie sensibilities. As always, ImageOut provides perks like the donation-fueled ImageOutreach, which offers sign-language interpreting, senior discounts, and other services to help make the festival accessible to all. And 2014's juried ImageArt exhibition, "personalpronouns," takes a look at gender identity; catch it through October 19 at Visual Studies Workshop, 31 Prince Street.
Read on for a peek at this year's ImageOut. For additional info, like ticket availability, party details, and the scoop on visiting artists, visit imageout.org, or call the festival office at 271-2640.
PHOTO PROVIDED
"Kumu Hina"
As we learned in ImageOut 2010's screening of "Two Spirits," many indigenous cultures not only accept but embrace the idea of a third sex, one that falls somewhere in between the usual two. Through the stirring, powerful documentary "Kumu Hina," we come to know one such mahu, a transgender Hawaiian woman named Hina Wong-Kalu devoted to helping her fellow islanders preserve their shared history by teaching traditional music and dance. Directors Dean Hamer and Joe Wilson also chronicle Wong-Kalu's spare time as the newlywed acclimates to everyday life with a young Tongan husband whose apparent liberality is at odds with a few misogynistic old-world notions. Watch for the scene stealing Ho'onani, a pint-sized tomboy mirror of her teacher whose preternatural wisdom gives hope for the future. (Saturday, October 11, 11:30 a.m., Little 1)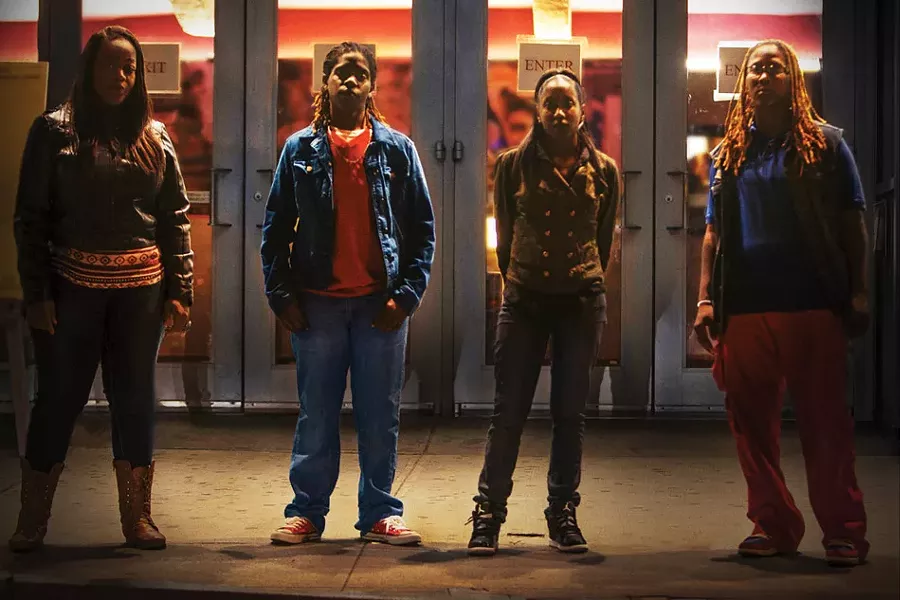 PHOTO PROVIDED
"Out in the Night"
The headline in the ever-subtle New York Post screamed "Attack of the Killer Lesbians," and even the New York Times appeared to sympathize with the alleged victim: "Man Is Stabbed In Attack After Admiring A Stranger." But the hard-hitting documentary "Out in the Night" tells a different story, one in which four African-American female friends, all of whom identify as lesbian, were sent to prison for defending themselves against verbal and physical attack. Through crime-scene video, court transcripts, and insightful interviews with the women involved — but not the man, who declined — director Blair Dorosh-Walther makes the case that the justice system failed Terrain, Renata, Venice, and especially Patreese; their skin color and sexual orientation deciding their Draconian sentences rather than the facts. (Saturday, October 11, 1:30 p.m., Little 1)
When last we heard from John Wojtowicz, the infamous subject of 1975's "Dog Day Afternoon" was shaking down the filmmakers for his participation in ImageOut 2005's "Based on a True Story." But in "The Dog," Wojtowicz won't shut up. Funny, candid, and passionate, though clearly narcissistic and possibly bonkers, Wojtowicz recounts his life leading up to and after that time in 1972 when he knocked over a bank to fund his husband's sex-change operation. It's hard to know what to think of the man — despite his entertaining bravado, he did take hostages, and one of his cohorts was killed — but "The Dog" itself is pretty excellent, with equally absorbing interviews with Wojtowicz's sassy mom, Terry, plus some awesome archival footage featuring our antihero Gumping his way through the post-Stonewall fight for gay rights. (Saturday, October 11, 1:30 p.m., Little 2)
While most of the world tries to do better by the LGBTQ community, the Russian government moves defiantly backwards, making the vaguely lawless Moscow a crucial character in the nail-biting drama "Stand." French filmmaker Jonathan Taieb elicits a couple of compelling performances from the central duo of Renat Shuteev and Andrey Kurganov as Anton and Vlad, a seemingly happy couple whose relationship is severely tested by their differing reactions to witnessing an assault. Anton's guilt over their inaction escalates into a dangerous obsession as he investigates the crime without the help of the indifferent police, and Taieb's deliberate pacing ensures that the inevitable denouement packs a wallop. (Saturday, October 11, 4 p.m., Little 1)
PHOTO PROVIDED
"Born to Fly"
I know nothing about dance, but I do know what's thrilling, and that's watching the Extreme Action Company inhabit the relatively unused space above this earth in "Born To Fly," Catherine Gund's documentary portrait of acclaimed choreographer (and Rochester native) Elizabeth Streb. Gund logs a little time at home with Streb and her partner where the former thumbnails, with the help of photos and footage, her early life and career, but most of the film is spent observing as Streb puts her athletic troupe through their choreographed paces in pieces with titles like "Invisible Forces" and "Impact." A few of the dancers opine on camera about their shockingly physical jobs, with interludes punctuated by those same people slamming into Plexiglas, dodging an I-beam, or dangling from the London Eye in the name of art. And while some may argue that Streb's work isn't technically dance, there's really no other word for expressing oneself through beautiful, fluid movement. (Sunday, October 12, 3 p.m., Little 1)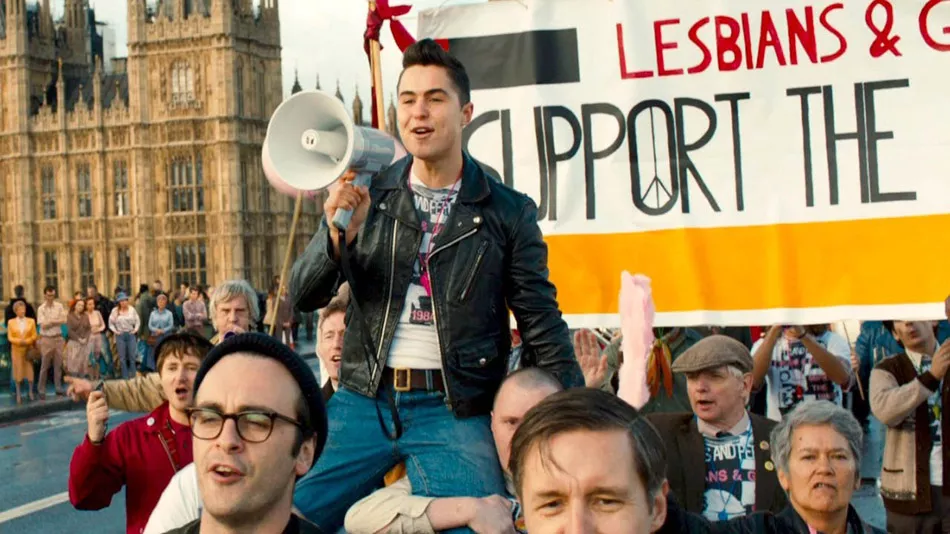 PHOTO PROVIDED
"Pride"
By turns poignant and joyful, the truth-based "Pride" is a welcome throwback to those British crowd-pleasers of the last century, where working-class outsiders band together to fight The Man. Director Matthew Warchus's star-studded comedy recounts the unlikely alliance between gay London activists and striking Welsh miners in Thatcher's England of the mid-1980's, hitting all the satisfying beats that you'd expect and finding the time to toss in a few engrossing personal journeys as well. Charismatic American Ben Schnetzer rocks a flawless accent in a star-making turn as the rabble-rousing Mark Ashton, while the often hammy Paddy Considine and Bill Nighy dial it way back to play quiet, decent miners grateful for the unexpected friendship. And the sexy pairing of Dominic West ("The Wire") and Andrew Scott ("Sherlock") has probably already inspired some McNulty-loves-Moriarty fan fiction. (Sunday, October 12, 3:15 p.m., Dryden)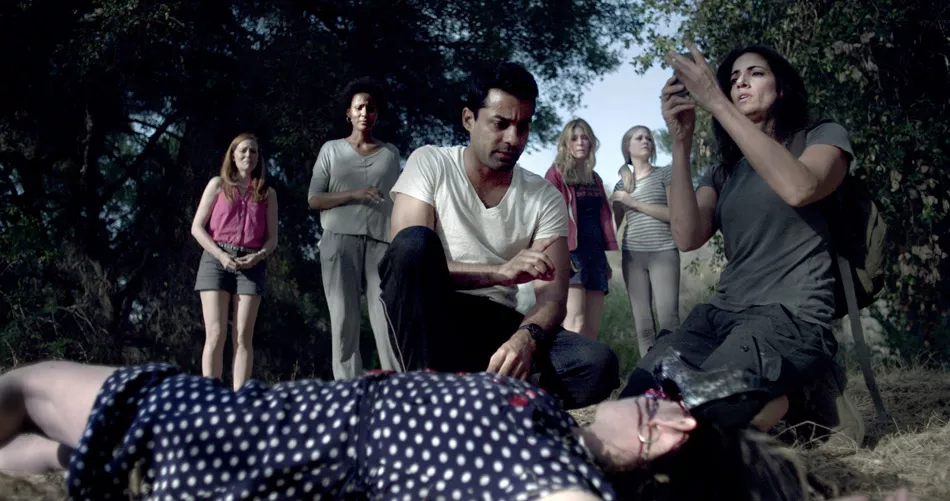 PHOTO PROVIDED
"Crazy Bitches"
"Crazy Bitches" is a horror comedy, so it owes you nothing beyond the now-clichéd basics: a group of friends gathered together in a remote spot where other unfortunate souls have been murdered years ago. Everyone has a secret, people will wander off alone, someone will trot out the Ouija board, and locals will be dismissed as rubes before they can finish imparting necessary information. But that's not to say that there isn't still fun in seeing a fest-friendly cast — including Guinevere Turner and Cathy DeBuono — trade one-liners before they're offed in gruesome yet fitting ways. Director Jane Clark doesn't fix what ain't broken; she just puts her own spin on it. (Sunday, October 12, 8:30 p.m., Little 1)
PHOTO PROVIDED
"In Hiding"
Poland is still in the throes of Nazi occupation in 1944, and Janka (Magdalena Boczarska) is none too pleased that her father is harboring a Jewish woman underneath the floorboards of their Radom apartment. But when circumstances force Janka and Ester (Julia Pogrebinska) to co-exist without a buffer, their isolation gives rise to an attraction. Now, we all know how World War II turned out, but Janka seems to be the only Polish national disappointed with the results as the suspenseful "In Hiding" details the desperate, occasionally homicidal lengths to which she will go to deceive Ester and preserve their hot fledgling bond. Production design on this one is gorgeous. (Monday, October 13, 6:30 p.m., Little 1)
"Everything wounds you," a frustrated patron tells the title character in "Violette," a rich biopic about the French feminist writer, Violette Leduc, whose willingness to mine her hopes, sorrows, and desires led to a celebrated career. The film introduces Violette in her waning days as a black marketeer during the war, devoting most of its focus to her mid-century mentorship by Simone de Beauvoir, who championed Leduc in Parisian literary circles while soothing her melodramatic tantrums and deflecting her advances. Gallic gem Emmanuelle Devos both devastates and irritates as Leduc, deftly illustrating how her perceived indignities and unrequited yearnings gave her the tubes to create her own soul-baring work. (Tuesday, October 14, 8:15 p.m., Little 1)
The elegantly sad-eyed Ben Whishaw (he embodied Keats in "Bright Star," one of my favorites) top-lines the well-acted "Lilting" as Richard, a young Englishman who longs to reach out to his late boyfriend's lonely mother, a Cambodian-Chinese transplant who never knew her son was gay. It's through a patient translator that Richard and Junn (Cheng Pei-Pei, Jade Fox in "Crouching Tiger, Hidden Dragon") begin a series of wary conversations, and as "Lilting" unspools we're privy to thoughtful ruminations on love, death, aging, and acceptance. Incidentally, writer-director Hong Khaou's debut feature would make for a lovely stage play. (Wednesday, October 15, 6:30 p.m., Little 1)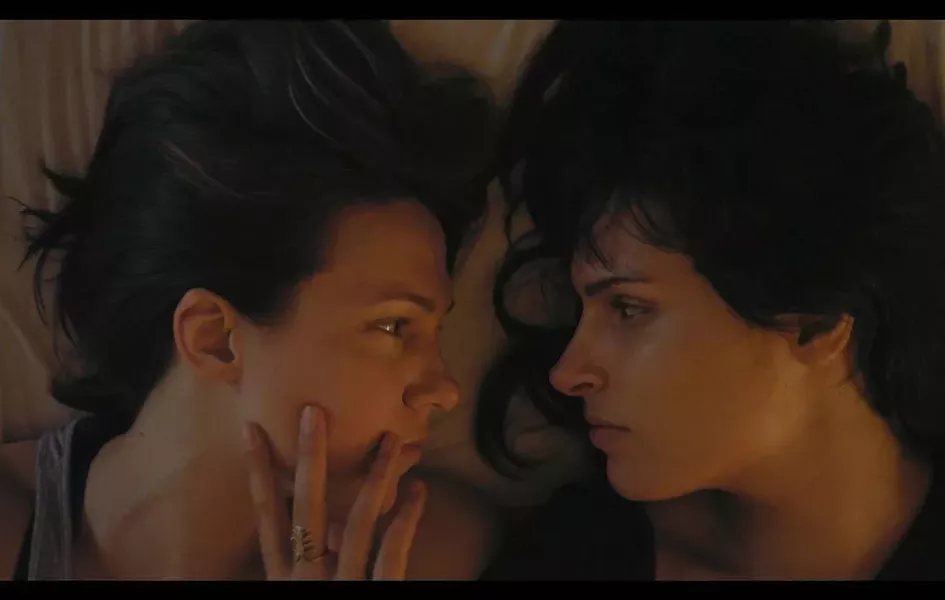 PHOTO PROVIDED
"Appropriate Behavior"
I get it; by now you're totally sick of semi-autobiographical romantic comedies written by, directed by, and starring a bisexual Iranian-American woman, but consider making time for "Appropriate Behavior," the hands-down best of the 20 or so ImageOut films I previewed. An important new filmmaker with a rare yet familiar voice, Desiree Akhavan is Shirin, a Brooklynite in her late 20's trying to navigate dead end jobs, concerned parents, and a recently busted heart. The film plays out as a series of comical and self-involved vignettes, a construct that is earning Akhavan comparisons to Lena Dunham. But where Dunham portrays her "Girls" character as an innocent victim of circumstance, Akhavan's Shirin compulsively, almost willfully, acts out of a burning need to love and be loved. I can't wait to see what she's got planned next. (Friday, October 17, 6 p.m., Little 1)
PHOTO PROVIDED
"The Samurai"
"The most WTF film of the festival" is how ImageOut programmer Michael Gamilla described "The Samurai" to me, and he wasn't kidding: This bizarre and bloody German horror import perfectly embodies the idea behind the ImageOut There! Series. The film begins as a mystery in which a young cop tries to outsmart a wolf terrorizing the town, then devolves into a cat-and-mouse game between the cop and a blade-wielding cross-dresser who comes off like a feral Courtney Love. Serious filmgoers might discuss how the lusty, murderous psycho is obviously the weak-willed cop's id come to vivid life, but anyone in the market for hammy performances and Grand Guignol gore should have a blast. (Friday, October 17, 10:45 p.m., Little 1)
PHOTO PROVIDED
"Life Partners"
"I just wanna meet a guy that I like as much as you; is that too much to ask for?" wonders straight Paige (Gillian Jacobs, "Community") of her lesbian best friend Sasha (Leighton Meester, "Gossip Girl") in "Life Partners," a sweet, uncomplicated comedy about codependent women and the growing pains they experience as they stare down 30. Paige eventually meets that guy (Adam Brody, "The OC"), leaving an increasingly bitter Sasha to dip her toes in the dating pool and fill her Paige-shaped void. (Fellow waders include a hilariously self-involved Abby Elliott and a criminally wasted Gabourey Sidibe.) Now, I'm not sure why some screenwriters seem to think that LGBTQ individuals mention their sexuality in every other sentence, but since "Life Partners" is informed by the real-life friendship between director Susanna Fogel and co-writer Joni Lefkowitz, I'll let that quibble slide. (Saturday, October 18, 4:30 p.m., Dryden)
PHOTO ILLUSTRATION BY MATT DETURCK
Alex was a Peace Corps volunteer in Iran when he met and fell for Ali, but their clandestine romance was abbreviated when Alex was forced back to the States in 1977 by the Islamic Revolution. Still the men stayed in touch, and 35 years later their plans to meet in Istanbul are the crux of the bittersweet documentary "Alex & Ali," directed by Alex's nephew Malachi Leopold. Their happiness at being reunited quickly gives way to friction, maybe even a little resentment, as Alex's comfortable American existence leaves him ill-equipped to truly empathize with Ali's closeted life under a strict, anti-gay Iranian government. Piled on this discord is a potentially catastrophic development, one that serves to remind the West that, as usual, our troubles pale in comparison to the plight of others. (Sun, October 19, 1 p.m., Little 1)


---
ImageOut 2014 Festival Schedule
Thursday, October 9

7 p.m.: Festival Eve Party at 140 Alex (Free w/ opening night film ticket)

Friday, October 10

6:30 p.m.: "BFFs" Little 1 (Rush tickets only)

9:30 p.m.: "The Circle" Little 1

Saturday, October 11

11:30 a.m.: "Kumu Hina" Little 1

1:30 p.m.: "Out In The Night" Little 1

1:30 p.m.: "The Dog" Little 2

4 p.m.: "Stand" Little 1

4 p.m.: "Fear Of Water" Little 2

6:30 p.m.: "My Straight Son" Little 2

6:45 p.m.: "Tru Love" Little 1

9:30 p.m.: "Cupcakes" Little 1

9:30 p.m.: "52 Tuesdays" Little 2

Sunday, October 12

12:30 p.m.: "Happy End?!" Little 1

12:30 p.m.: "I Always Said Yes: The Many Lives of Wakefield Poole" Dryden

3 p.m.: "Born To Fly: Elizabeth Streb vs. Gravity" Little 1

3:15 p.m.: "Pride" Dryden

6 p.m.: Quick Licks (Shorts Program) Little 1

6 p.m.: "Land of Storms" Dryden

8:30 p.m.: "Crazy Bitches" Little 1

8:45 p.m.: Tough Love (Shorts Program) Dryden

Monday, October 13

6:30 p.m.: "In Hiding" Little 1

9 p.m.: "Queen Of Amsterdam" Little 1

Tuesday, October 14

6 p.m.: "Boys" Little 1

8 p.m.: "Longtime Companion" Dryden

8:15 p.m.: "Violette" Little 1

Wednesday, October 15

6:30 p.m.: "Lilting" Little 1

9 p.m.: "Four Moons" Little 1

Thursday, October 16

6:30 p.m.: "Boy Meets Girl" Little 1

9:15 p.m.: This Is Everything (Shorts Program) Little 1

Friday, October 17

6 p.m.: "Appropriate Behavior" Little 1

8:15 p.m.: "The 10-Year Plan" Little 1

10:45 p.m.: "The Samurai" Little 1

Saturday, October 18

11:30 a.m.: "Matt Shepard Is A Friend Of Mine" Dryden

2 p.m.: "Rosie" Dryden

4:30 p.m.: "Life Partners" Dryden

7:30 p.m.: "The Way He Looks" Dryden (Film and party $25-$30)

10 p.m.: Closing Night Party at George Eastman House ($15-$20)

Sunday, October 19

1 p.m.: "Alex & Ali" Little 1

3:30 p.m.: "Snails In The Rain" Little 1

6 p.m.: "Open Up To Me" Little 1

8:30 p.m.: "Eat With Me" Little 1