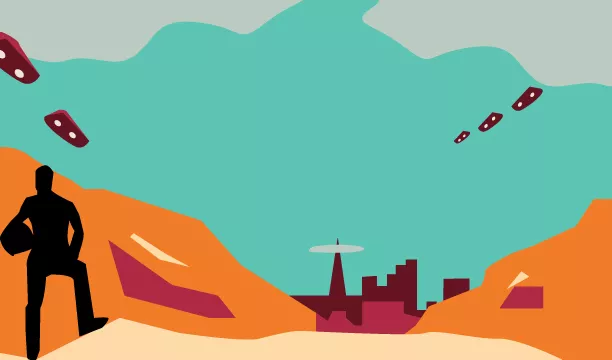 ILLUSTRATION BY MARIAN BONA

Mustapha Ibrahim is somewhat small in stature, but he has a huge smile. Now entering his sophomore year at the University of Rochester, Ibrahim came to the United States last summer from the Republic of Somaliland, a country east of Ethiopia in northeastern Africa that separated from Somalia after a civil war in the late 1980's. Due to the poor educational system in Somaliland, Ibrahim always knew he wanted to study abroad.
The idea of coming to study in Rochester was planted in Ibrahim's head when, during his last year in high school, he learned that three of his fellow classmates planned to attend the UR. All four of them had spoken with the UR dean of admissions, who was traveling abroad to talk with prospective students. It didn't take long for Ibrahim to make his decision — in fact, the UR was the only college he applied to.
Like Ibrahim, droves of international students come to the US in pursuit of higher education. In 2016, 1.2 million international students attended American colleges and universities. But that number has seen a slight decline in recent months, following the enactment of immigration-limiting policies by the Trump administration. Regardless, regional universities, like Rochester Institute of Technology, The College at Brockport, and the University of Rochester, continue to attract significant numbers of students from all over the globe.
In the Rochester region, UR and RIT have the largest numbers of international students, with more than 2,300 and 2,600 international students, respectively. As of the fall 2016 semester, RIT hosted 1,296 students from India and 457 from China, giving those two countries the most representation. Students also come from the Dominican Republic, South Korea, and Canada.
The UR class of 2020 saw students from 87 countries, and international students make up 27 percent of the class. Brockport, one of the smaller schools in the State University of New York system, tends to host around 100 international students each year. But Brockport President Heidi Macpherson has said in the past she hopes to increase that number, with a long term goal of hosting 500 international students each year.
All three of those schools have comprehensive international student offices on campus with both peer and academic advisors. Aside from academic support, international student are encouraged to join Rochester Global Connections, a nonprofit organization that connects international students and visitors to the Greater Rochester community and promotes cultural exchange and international understanding.
One of Rochester's biggest selling points for Ibrahim was the idea that he could study whatever he wanted. The UR has an open curriculum that allows students to take whichever classes they choose; there is only one requirement, a writing-intensive course. Ibrahim spent his first semester on math and chemistry classes — subjects he was already passionate about. During his second semester, he took a few different economics and finance classes to try something different. Although he won't officially declare his major until the end of his sophomore year, he's leaning toward financial economics and data science.
Ibrahim doesn't have any concrete plans for what he wants to do after college, but he hopes to go home to Somaliland. With his knowledge in financial economics, he thinks he could eventually start his own business.
Ibrahim has spent his summer in Rochester, despite wanting to go back home to tend to his sick brother. While Somaliland has separated itself from Somalia, most of the world still considers it to be part of that country, which is one of the six nations listed under Trump's travel ban. Ibrahim's decision to stay was made before the June Supreme Court ruling that people with "bona fide relationships" would be allowed to enter the U.S, which includes students.
"I was a little happy that students were an exception," he says, "but still very disappointed with the fact that they were accepting Donald Trump's discrimination."
Ibrahim says he copes with the guilt of not going home to help his brother and the mental stress that comes from the travel ban by reminding himself why he's in Rochester: to get an education that will give him a better future in Somaliland. He says the worst that can happen is that he won't be able to go home until he graduates. As much as he'd like to go home sooner, he's willing to make that sacrifice.
Although the President may not make him feel welcome in this country, he says Rochester does. Since being in the city, Ibrahim hasn't faced discrimination because of who he is or where he's from. "Rochester, the community — the people — are very welcoming and nice," he says. "I really do love how open people are in this area of the country."
As a regional community, Rochester makes it a little easier for international students to adapt to the US by welcoming and accepting them, says Wendy Fritz, interim associate director of international education at The College at Brockport.
"Fortunately, Rochester is a city that was built on a foundation of civil rights," Fritz says. "As a stop on the Underground Railroad, and as a critically important site for the Women's Suffrage Movement, people like Frederick Douglas and Susan B. Anthony planted the seeds for the city to be welcoming and inclusive. Rooted in the Civil Rights Movement, it is not surprising that Rochester is a Sanctuary City for refugees. To this end, Rochester has a history of acceptance and inclusion of all peoples, including international students."
The college application process for international students isn't all that different from the process domestic students have to go through. International students do, however, have to send English proficiency test results as part of their applications, and they must submit documents to certify to the US government that the admitted students are eligible for student visas. That visa application process in itself is also a big headache for international students; it requires intense documentation and an interview at a US consulate or embassy.
Unlike Mustapha Ibrahim, 2017 UR graduate Ibrahim Mohammad came to Rochester with a major and other plans in mind. Mohammad is a refugee of Palestinian descent who grew up in Lebanon. He doesn't have Palestinian or Lebanese citizenship, though, and is technically stateless.
As a teenager applying to colleges, Mohammad took part in a program run by nonprofit organization AMIDEAST, which works to strengthen the bond between Middle Eastern countries and the United States. A program representative recommended the UR to him, and after reading about the university's technical facilities and academic flexibility, Mohammad was intrigued. He had a Skype interview for the prestigious, full-tuition Renaissance Scholarship, and the UR became his top-choice school.
"I really liked all the facilities and research labs available and how diverse the campus was," Mohammed says. "It made me feel that I would be comfortable there."
Mohammad isn't leaving the area anytime soon. He's pursuing his Ph.D. in Mechanical Engineering at UR studying liquid metal batteries, a new type of battery technology. In addition, Mohammad and a few of his friends founded Meliora Structures, a company that creates refugee housing made entirely of interlocking recycled plastic bricks. Mohammad and his business partners are currently in the running as one of eight finalists for the Hult Prize, a $1 million award in seed funding.
Mohammad was interested in the University of Rochester because of its research potential. In partnership with the mechanical engineering department, Mohammad and a friend, Omar Soufan, realized that they could use 3D-printing technology to create affordable prosthetics for upper-limb amputees in the Middle East.
"Most relief organizations focus on providing people with food, water, and shelter, but something people really need is hope," Mohammad says. He and Soufan realized by helping people in dire situations — specifically amputees, because they are shunned by their own societies — they could give people a reason not to give up hope.
They started a nonprofit organization, Prosthesis for a New Syria, in partnership with a professor from Seattle Pacific University (which is a leader in 3D-printed prosthetics); LimbForge, a non-governmental organization that creates 3D scans of limbs and prints 3D sockets; and a group in Lebanon called Qatari Red Crescent — all of which help Mohammad and Soufan with logistics, their patient pool, and funding.
The UR was able to provide Mohammad with access to engineers and professors, as well as lab facilities. For one of his classes, Mohammad worked on optimizing the printing of a type of flexible filament which he is using to develop the next generation of prosthetics. The mechanical engineering department also gave them access to 3D printers.
International students aren't the only ones benefitting from studying abroad, however. Fritz says Rochester benefits from the cultural diversity international students bring by attending colleges in the area.
"International students on any campus provide domestic students with a new perspective," Fritz says. "A diverse student population encourages all students to hold a mirror to their own culture and critically evaluate their own norms and customs. Hopefully, the outcome of such evaluation is an increased respect and appreciation, for all points of view. As I regularly tell my students, 'No one culture has the market on truth. Dialogue, respect, understanding, and empathy make all of us all stronger.' Our domestic and international students learn from each other. Both populations give and receive from one another equally."