Given the image-saturated nature of Pinterest in our image-literate culture, there's great potential for artists and art dealers to benefit from the use of this emerging social media platform. The site boasts roughly 25 million unique monthly visitors, many of whom help link-bearing images go viral by re-pinning them. City spoke with social media-savvy local artists and galleries who are using Pinterest to promote their artwork or art-related events. Below you can learn the details of how each makes it work for their individual interest.
For those not in the know, Pinterest (found at pinterest.com) is the name for the pin-board-style online platform where participants digitally "pin" or post images of interest to personally-customized virtual "boards." Since its launch in 2010, Pinterest has been used in a variety of ways, and is saturated with fashion, home-decorating ideas, recipes, green-cleaning tips, DIY tutorials, crafting culture, and much more. The images can stand alone or serve as teasers, which may link to articles, virtual storefronts, tutorial videos, or anything else relating to the image.
Browsing visitors can search by categories, by names of pinners, or by popular pins, and can follow other pinners, or comment on, "like," or re-pin images onto their own boards. More and more sites across the web are including a Pinterest button so that viewers can share the content of the page on their Pinterest accounts with ease.
---
See more work from each artist on our PINTEREST BOARD for this article
.
---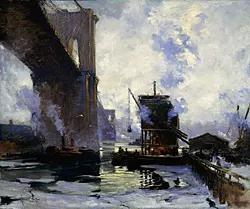 PHOTO PROVIDED
Work from the Memorial Art Gallery's collection.
Memorial Art Gallery (pinterest.com/MAGmuseum)
"Pinterest is a perfect platform for us," says Meg Colombo, public relations and social media specialist at Memorial Art Gallery. The site has become one of the Top 10 referral sites to the MAG's website, she says. MAG's many boards include one highlighting works from its permanent collection, boards with images from exhibits, one showcasing other institutions' exhibits and some blogs, one to promote the Gallery Store, another for concerts at the MAG, one for teacher resources, a board on food offered by Max at the Gallery, one for the Creative Workshop, and others. "Given that MAG is actually six businesses within one address, Pinterest works out well for sharing a targeted message within each board, as well as across multiple boards," says Colombo.
"Our website has so many pages and carries so much information, Pinterest works well to pull out specifics and highlight a particular topic, such as our world religion lesson plans parked on the education page," Colombo adds. MAG is working on adding the Pinterest icon to the footer of its website. Colombo monitors re-pin shares, likes, and how much traffic is directed to the MAG site from Pinterest. "While it is really not a numbers game for us, we have more followers on Pinterest than on Facebook, Instagram, and Twitter combined," she says.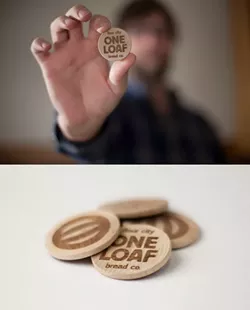 PHOTO PROVIDED
Work by local artist Derek Crowe.
Derek Crowe, The Press Villains (pinterest.com/derektoplasm)
Rochester-based printmaker Derek Crowe uses Pinterest as a virtual conference room, research library, and studio space. "Pinterest for me is a collaborative mood board as well as a drafting wall," he says. After his initial consult with clients, Crowe and the client will then spend time browsing the web for inspiration and examples of particular ideas, and pinning images onto a board. It's no small thing, he says, that Pinterest provides a space "for any client to quickly place an image that can be discussed in-line by multiple parties in a widely accessible location."
During the drafting phase, Crowe can pin each iteration and receive feedback from the client. "Pinterest allows you to opt-in to board notifications, which means an email gets sent to your inbox when someone pins or comments on a pin," he says. "No more formal emails with a giant PDF of labeled images to get sent around the office." Though Crowe doesn't mind his drafts being seen by the public, he points out that users can elect to create a private pinboard for sensitive projects.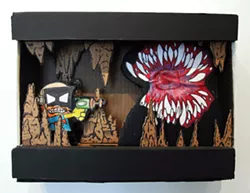 PHOTO PROVIDED
Work by John "Magnus" Champlin.
John "Magnus" Champlin (pinterest.com/magnusapollo)
Magnus created his Pinterest account in 2010, meaning to use it as a marketing tool. "Though at that time," he says, "I found it to be a lot of images of shoes and purses." The PR "schmoozehound" and artist has mostly been a passive user, browsing images and using it as a starting place that leads him to cool art blogs or Etsy shops.
More and more, Champlin is creating boards to showcase types of things he does, while using it as a repository for his work while he redesigns his sites. Much of his work is commissioned, so his boards showcase the types of things he creates, including illustrations and monstrous sculptures, as well as boards that reflect his tastes in books, films, and pop culture.
Even with only passive participation on Pinterest, the artist has recently received a commission after another pinner saw one of Champlin's pins of a drawing he did for the February "Heroes and Villains" exhibit at Record Archive.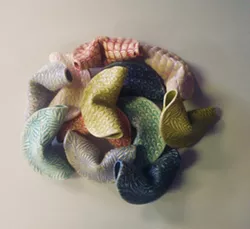 PHOTO PROVIDED
Pieces by Cat Clay's Sabra Wood.
Sabra Wood, Cat Clay (pinterest.com/catclayroc)
Sabra Wood is relatively new to Pinterest, and uses it to showcase her pretty and practical ceramic-goods company, Cat Clay, as well as works by guest artists she hosts during her First Friday "Pop Up Roc" art shows at the Hungerford Building. Wood favors the board organization over chronological posts, because it allows "sustained virtual gallery shows," she says, and "can function as separate rooms in a gallery." Other benefits are its high visual impact, its searchability, and that it remains a relatively uncluttered space as Facebook becomes increasingly inundated with ads.
Wood's boards feature her Highland Park series, her holiday ornaments, her sculptures, and cat-related works, as well as boards that organize collaborative projects like "Giraffe Jumble," a whimsical decal-on-vintage-pottery project with artist Nancy Topolski. Wood plans on adding a board to feature favorite works by other artists, another for art institutions and collections, and one for "inspirations, which," she says, "contrary to popular opinion, will NOT be limited to cats."
PHOTO PROVIDED
Jewelry by Nikki DiBiase.
Nikki DiBiase, Little Lies Between (pinterest.com/nikkidibiase)
Metalsmith and jewelry artist Nikki DiBiase appreciates the increased visibility for artists on Pinterest and other platforms used by many people locally and around the world as a part of their daily routine.
Among a very few inspiration pinboards, DiBiase dedicates just one to showcasing her raw-and-refined, earthly adornments for her business, Little Lies Between, including completed pieces, works in progress, and her displays at festivals. The artist links each pinned image of her work to the corresponding work on her Etsy site, where viewers can explore other items, make purchases, or contact her with questions.
"Most of my images are re-pinned by friends," she says, "but I think in this way it works as a sort of ripple effect." DiBiase also stresses the importance of using many different marketing tools, as well as appreciating face time with people at shows. "I have had more success with obtaining a business site on Facebook and through physically being out there and displaying my work at festivals," she says.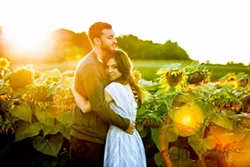 PHOTO PROVIDED
Photography by Teri Fiske.
Teri Fiske, Ciao Bella Boudoir/Hanlon-Fiske Studios, Inc. (pinterest.com/tfciaobella)
Photographer Terri Fiske uses her Pinterest account as both a personal site and professionally, as a place to post images from her Ciao Bella Boudoir blog, as well as the wedding photography blog she maintains with partner Michael Hanlon.
"In our industry, clients want to see who they're working with, see the personality and style of the people they're working with," she says. "Pinterest gives you a chance to have on ongoing 'conversation' with your followers telling them what you love, what excites you, what inspires you, and what you're doing."
"I think it's a great tool for artists, as you have a forum that's very noninvasive and potentially viral for marketing your work and yourself," says Fiske, who also enjoys the inspiration the site provides. Among her several boards are a personal style pinboard, boudoir inspiration, and wedding inspiration. Fiske also sees the site as a "great way for brides to save ideas for images they love."
Do you know of other Rochester-area artists who are using social media creatively? Tell us about them in the comments section, below.