Many Rochesterians shy away from bicycling because of our harsh, fickle weather, or because our city, like so many others, has been developed around roadways. And though it's slowly improving, we don't yet have the best biking infrastructure. Improbable as it might sound, some of our population use bikes as their primary mode of transportation year-round.
Some cyclists have oriented their lives around the bike by choosing to live in manageable proximity to work and other important destinations. Many enjoy the enhancement to their health and fitness, and spending more time in the fresh air. Others have noticed that in attempting to travel more consciously, they have significantly cut down on unnecessary excursions.
And there are some who even create gorgeous machines that are to cyclists what high-end automobiles are to motorists. Here, five intrepid citizens, each of whom represent both the custom bike-building and winter-commuting worlds of Rochester bicycling culture, discuss craft and theft, dispel stubbornly held myths, and give tips on sharing the road with drivers and driving snow.


Michael Cardinale
Age: 24
PHOTO BY LARISSA COE
Michael Cardinale.
What do you do? I cook at Red Fern and bar back at The Revelry, and I sing in the band Alberto Alaska.
How long have you been building bikes, and why did you get into it? I started riding my bike when I moved back [to Clifton Springs, New York] from Florida, because I had spent a lot of money there, and needed to sell my car. So I started riding this old bike, which was really tiny. My best friend's dad gave me a road bike, because he said I looked like a rhino on a tricycle. I worked in Canandaigua at the time, so I rode there every day — 11 miles there, and 11 miles back. I got a job in Rochester, so I started riding 36 miles there, and 36 miles back. I started working on bikes because mine kept breaking.
What are you working on now? I've been working on this 50's tandem bike. It's really heavy, but it's awesome. It's my favorite thing that I want to finish, but I also want to really build up my bike for winter this year, really deck it out with good stuff so that winter isn't as bad as it was last year. Studded tires, fenders, and switching out my handlebars so they're higher up — when you're in the snow, you don't want to be bent down, taking the snow in your face, you want to be sitting up. When you have a hat, a hood, and a mask on, your peripheral vision is terrible, so you have to move your whole body to look behind you. So sitting upright helps.
Which is worse, the cold, or the slush? If you bring a change of clothes, you're fine, but the slush really sucks. I would rather be cold and ride in heavy snow than have to deal with slush. It sticks and gets crusted into every part of your bike. Through the winter, I also take my bike apart to clean it about every two days, because the salt gets in everything. If you really care about your bike and you want to preserve it, you have to clean it. It takes about an hour.
What kind of gear do you need for your bike and for your body for winter biking? Fenders, so slush and snow doesn't whip up onto your legs and back. Get a waterproof jacket, even if it's just a thin raincoat you put over your coat. It'll break the wind and keep you from getting soaking wet. Wear a helmet. Get treaded tires, and ride slowly. Wear gloves. If you don't have gloves, you're pretty much just going to cry. And your hands are directing you. If they get numb, it's terrifying.
In what ways could Rochester's bicycling culture improve?
Bikers should be considerate and aware. If you're in a heavy traffic area, don't do things to cause an accident. Drivers don't want to hit you, and they're going to do things to avoid that if you dart out in front of them. I want to sustain myself cycling as long as I can, and I'm not interested in doing anything to get the laws pumped up against cyclists. Drivers could be more patient. Rochester needs more places to lock your bike up safely.
PHOTO BY LARISSA COE
Michael Cardinale and Jarred Foster.
Jarred Foster
Age: 25
What do you do? I work as a barista at Joe Bean Coffee Roasters and as a bartender at Roc Brewing Co.
PHOTO BY LARISSA COE
Jarred Foster pasted some of his favorite comic-book characters over the frame of one of his custom-built bikes.
How long have you been building bikes, and why did you get into it? I stopped having a car, and wanted a bike. A friend gave me a frame, and said, "You can have this if you can figure it out."
How many bikes have you built? Almost everyone I've worked with, I think, I've built a bike for, because I want everyone to ride. And most of them I've made ride single speeds or fixed-gears, because it's easy, and cheap. I tell them, "If you buy the parts, I'll put it together." I'm still trying to figure out how to do everything, so if you give me a project, I'll work on it.
Describe your favorite custom project. I recently bought a bright yellow bike from a co-worker. It was nice, but it's a bit too bright, so I stripped it all down. I got this idea from a friend to take old 80's and 90's comic books and glue them to the frame.
How do you deal with the potential of bike theft? Have you had a bike stolen, and if so, what did you do? I cried. The first thing I had stolen was both of my wheels. This was my first bike, and I had everything on it, just how I wanted it, and I walked out to go to work, and my bike [frame] was just hanging by the lock. The year after that, I had the entire frame stolen during Park Ave Fest. I checked on Craigslist every day for months. But if you don't know the serial number, or haven't etched your name on the frame, there isn't a lot authorities can do to help you. So know that number, and do a police report. And describe your bike to bike shops and pawn shops, in case the thief tries to resell it.
What are some of the obstacles in Rochester regarding winter biking? Plows. They're terrifying. Getting sprayed by salt. I stick to main roads, which are generally better plowed, but you don't know when cars will slide around, and plows move quickly, so you have to get off and walk on the sidewalk at times.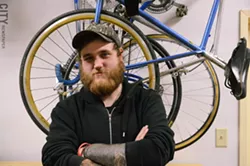 PHOTO BY LARISSA COE
Jarred Foster.
What are some misconceptions about winter biking, or biking in Rochester in general? That commuting takes a long time. Rochester is tiny. You can get anywhere in five to 15 minutes. And Rochester's terrain is pretty manageable. Some people think it's unsafe, but if you have your wits about you, you're typically fine.
Winter biking tips? Grow a big beard. Keep your face warm. Avoid Goodman Street. Take it easy, don't try to go super fast.
How can Rochester better balance the motorist/cyclist dynamic? Bikers don't belong on the sidewalk. It's a lot more dangerous than being in the road. When you're just hauling ass down the sidewalk, especially crossing driveways, drivers are not looking for you. In the streets, it doesn't matter if they are impatient because they think you're slowing them down — they can see you. Drivers shouldn't cross the bike lanes and turn right in front of cyclists. Just think of me as a car.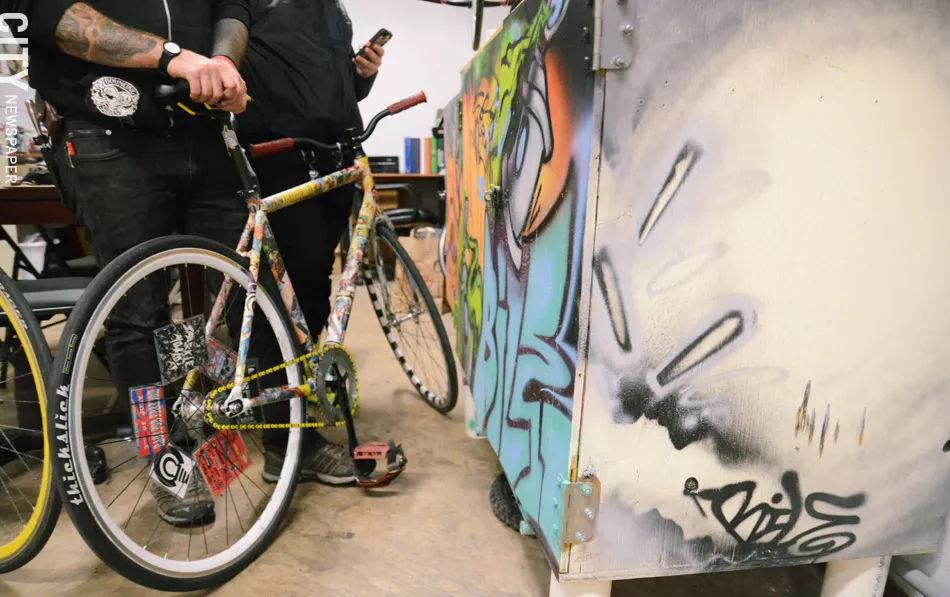 Jason Fierst
Age: 41
What do you do? I'm currently a graduate student at RIT at the School for American Crafts for furniture design. I'm also a community advocate at RIT. My job is to get students excited about getting off campus and into the greater Rochester community.
What's your philosophy regarding the balance of performance and art/design of the bike? I definitely appreciate the aesthetics of bikes, and I have kind of a French Porteur bike that's gone through a few iterations where it's had handmade wood fenders, and I've put wood on the racks. Aesthetics were a little more important than function, but I think right now, form follows function. Typically I ride a cross bike — a road bike with a little bit of a wider tire — from RIT to Fairport or Pittsford, just to get out and get a gelato maybe. So for me, going fast, having the right tool for the job is very important.
Describe your favorite custom project. In my former role as a mechanic and a service manager at Full Moon Vista, I built two custom bikes for a couple who were going to tour across the country and both their bikes came out to $28,000 when it was said and done. It was their retirement gift to themselves — instead of buying an RV, they bought two very nice bicycles. They were like Italian suits, basically. There were measurements that had to be taken and sent to Seven Cycles, out of Cambridge, Massachusetts, and they build from scratch. Everything was custom, the handlebars, the racks, and I did the wheel builds for them. It was a fun build, because there was never a question of finance. Whatever they wanted to do, they did.
How do you deal with the potential of bike theft? Have you had a bike stolen, and if so, what did you do? I've never had a bike stolen in all my 27 years of serious cycling. I have locks on my wheels, with a special key used for my wheel set, and I lock the frame up. I keep all of my bikes in my apartment, and typically I find myself in scenarios where I can keep the bike inside my jobs. If I'm going for a leisure ride, I'll select a restaurant that has outdoor seating, or lock it up in sight of a window.
How/why did you get into biking year-round? It started in undergrad, when I was at Eastern Michigan. I was commuting back and forth between Ypsilanti and Ann Arbor, and I loved biking. I didn't want to get a car, and parking was such a big hassle, so it seemed so convenient. But more importantly, I just remember riding on the snow, and hearing the sound of the tires. All those little subtleties, like riding behind someone's house and smelling their cooking...you just don't experience that in a car. We're so far removed from everything that's going on. The change of the weather patterns, the wildlife....
How many miles do you bike per day, on average? What is the longest distance you've biked? Now I don't ride the distance I used to because I live on campus, but before I came to Rochester, in Madison, I was riding 30 miles per day on average. The longest distance I've biked is 2200 miles over the course of three weeks. Maybe 130 miles in a day.
What are some of the challenges regarding biking in Rochester in general? Awareness from drivers. It's almost like a two-tiered class system, where cyclists and pedestrians fall below drivers. I think it's going to take time for Rochester to learn that space needs to be shared. In Madison, you can get anywhere you want to in the city [on a bike], safely, and families do that together. You see full families riding like that, and it's not a big deal. Whereas here, if you saw families biking together, it would seem a little out of place to the average person.
What are some misconceptions about winter biking, or biking in Rochester in general? That you're going to be cold on a bike. I would disagree. I think it's sometimes worse to scrape off the windows of a car, and get in a freezing cold vehicle that's been sitting outside overnight, than to be chilly for the first five minutes and then warm up quickly on your bike ride. If anything, you'll show up to work a little overheated.
What kind of gear do you need for your bike and for your body for winter biking? Definitely fenders. Full fenders. If the ground's wet, you're going to get wet. Really good lights. There's a point where I put studded tires on the bike, for black ice, and going around turns. Even the painted strips on the roads can become slick. Keep some sandwich bags in your bag — they're a good windbreak. It's all about having backups, so having two different types of gloves and headgear helps. Little heat packs for your toes, in an emergency. Keeping extremities warm is the most important.
Winter biking tips? Plows can push the snow onto the shoulder, where you would typically ride, and shared space gets smaller. I try to encourage people to use the bike paths and side streets, and stay off main roads, and stay off anything [with a speed limit of] more than 35 miles an hour. I've seen too many people get hurt. I'll go out of my way, if I have to. Maybe back off on speed a bit, so you're not sweating, because that will make you more cold.
Rochester's slowly shifting toward becoming a more bike-able city. What, in your opinion, is the ideal balance for a city of our size? I think Rochester's doing a good job, and given five or 10 years, it'll be where some of the other cities are. You don't just need the infrastructure, you need a generation of people getting used bicycles being on the road. It needs to become the norm. Right now, drivers just aren't used to it, especially in winter. So there are safety risks.



Marcus "MdotCoop" Cooper
What do you do? I'm an emcee and artist. I also work in the Rochester City School District as a paraprofessional and at the Boys & Girls Club of Rochester.
What's your philosophy regarding the balance of performance and art/design of the bike? Performance and design go hand in hand for me when it comes to bikes. If a bike doesn't look good I don't want to ride it. Aesthetics are just as important as its function.
What's your current ride? My current ride is a work horse; it's an All-City Cycles Nature Boy fixed-gear frameset with cantilever brakes. Perfect for commuting and city riding on the daily.
What is the most money you've put into one bike project? On average I've spent $2,000 on a build. Working at a bike shop has helped with costs, and once you've built a few bikes you start acquiring parts that you can move over to different builds.
How do you deal with the potential of bike theft? Have you had a bike stolen, and if so, what did you do? Bike theft is very real. I never skimp on bike locks and try to be mindful of where I lock up. I've had a bike stolen — my favorite build thus far, which was a Kazane Japanese steel-lugged track frameset that I built from the ground up with only the best parts — but never off of the street while locked up. After my bike was stolen I scoured the pawn shops and Craigslist here and surrounding cities. I also made flyers to hang in local bike shops and alerted friends and fellow cyclists.
How/why did you get into biking year round? I started biking year round to commute back and forth to work and found I really enjoyed it. I like the unpredictable weather and being able to make better time than cars and public transportation in many cases.
Do you own a car or use other transportation? What is the percentage of time do you transport via bike? I don't own a car currently, so my bike is my primary means of transportation. I spend anywhere from 45 minutes to two hours a day in the saddle between commuting and running errands.
What are some misconceptions about winter biking, or biking in Rochester in general? Common misconceptions about winter riding are it's too cold or dangerous. You certainly have to dress for the weather, but more often than not, I'm overly warm while riding and I find winter riding no more dangerous than any other season.
What kind of gear do you need for your bike and for your body for winter biking? The right gear is crucial for winter riding. Winterizing my bike consists of putting on fenders and knobbier tires for varying conditions. For clothing: waterproof/windproof jacket and pants, a polypropylene thermal layer for warmth and to wick away moisture. I use clipless pedals and shoes, so toe covers for my shoes. Also, a solid pair of gloves. I have many, from fingerless to micro fleece, etc.
Winter biking tips? Take your time, allow yourself plenty of time to travel. Dress for the weather. Keep up on bike maintenance. Winter isn't the time for avoidable gear malfunctions.
How would you describe the Rochester biking community? I love the cycling community here, from the staff at shops to the everyday commuter. People come from all walks of life and are typically pretty friendly. The community here is pretty respectful and mindful of one another, always waving or giving a head nod.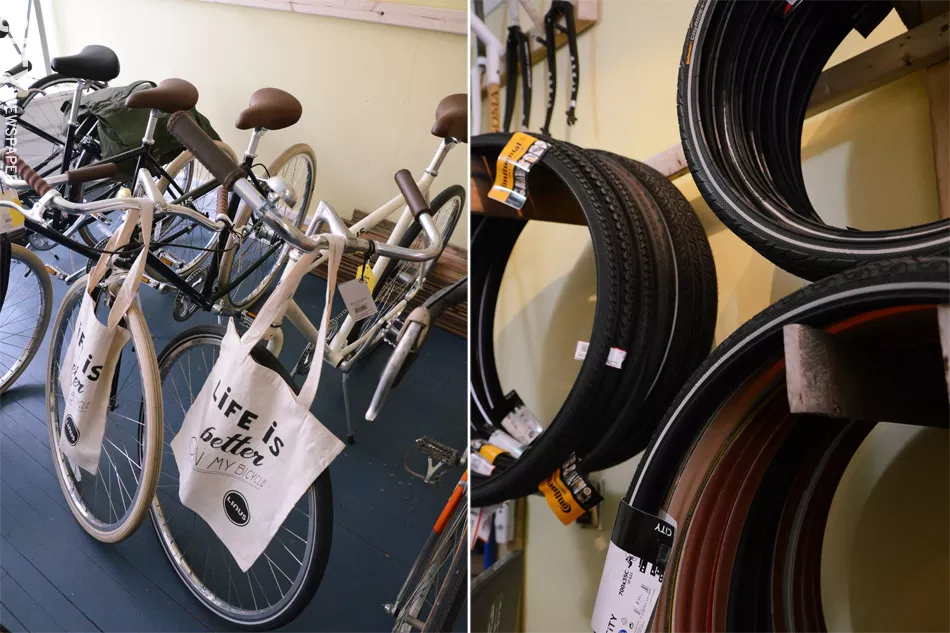 PHOTO BY LARISSA COE
Inside Yellow Haus Bicycles.
Alex Wirth
Age: 35
PHOTO BY LARISSA COE
Alex Wirth of Yellew Haus Bicycles.
What do you do? I own Yellow Haus Bicycles, which mainly focuses on touring, commuting, and urban biking. We sell both vintage bikes and new bikes, and do services and repairs.
How long have you been building bikes, and why did you get into it? I've been into biking since I was a little kid. My neighbor across the street had a nice workshop in his basement. I'd go out and trash my bike, and bring it back, and he'd fix it up for me. So I learned a lot from him. Over the years, instead of paying someone to do repairs, I just tried to do it myself. I've always been sort of mechanically inclined, and excited about doing all kinds of hands-on work.
What's your philosophy regarding the balance of performance and art/design of the bike? For me, I think the design aesthetic is more important than performance, although I hate to sacrifice one for the other. I really enjoy the older 50's and 60's Dutch and French bikes. I love front racks and baskets — that old-style, classy Porteur look.
Describe your favorite custom project. It's yet to be completed. I'm going to try building a front-loaded cargo bike, essentially a stretched-out bike with a bin built into the front. I'm going to hack up a couple of bikes and weld them together.
What kind of gear do you need for your bike and for your body for winter biking? Lights are important. It gets darker a lot sooner in wintertime, and even if it's not dark, but just snowing hard, I'll throw my lights on. Visibility is important when riding in city traffic. It also helps to rinse off your chain, especially when you know you've been riding in salt all day.
PHOTO BY LARISSA COE
Bike art, materials, and equipment details inside Yellow Haus Bicycles.
What are some essential things that everyone who owns a bike should know how to do? Change a tire, lubricate your chain, adjust brakes. It seems like most people are intimidated by bikes, but for the most part, especially on an old road bike, the adjustments are pretty straightforward. Especially with the internet — you can figure things out so quickly. I would encourage people to experiment and see if they can figure out how to fix things.
What are some of the newest trends you're noticing? Cargo bikes. There are also a few people who come into the shop who have built their own electric bikes. E-bikes have been used in Europe for about the past 10 years, and are just gaining traction in the states. I think that could change how people view biking in general — people who wouldn't get on a bike otherwise now don't have to worry about going into work a sweaty mess. Manufacturers have been creating more affordable versions, and there's actually a new wheel coming out that you can pop into any regular bike, as long as it's the right diameter, which converts it to an e-bike that is controlled by an app on your phone. It pedal-assists, and it goes up to about 20 miles per hour, gives you a range of about 30 miles, and charges in three hours or so.
Any accessories or gadgets you're geeking-out over right now? Dynamo/generator hubs and dynamo lights — essentially a very low-resistance generator built into your front wheel to power very bright lights, on par with car headlights, and electronic devices, like your iPhone. Technology has come a long way...


---
Rochester Cycling Resources
Bicycle sales/service
Bert's Bikes and Fitness 100 Jay Scutti Blvd. 424-2777, bertsbikes.com.
Freewheeler's Bicycle Store and Repair Center 1757 Mt. Hope Ave. 473-3724, freewheelersbikes.com.
Full Moon Vista Bike & Sport 661 South Ave. 546-4030, fullmoonvista.com. Hosts races and events, and offers maintenance classes.
Kink Bike Co. 40 Greenleaf St. 654-5250, kinkbmx.com.
Park Ave Bike Shop 2900 Monroe Ave. 381-3080, parkavebike.com. Organizes cycling races and events.
R Community Bikes 226 Hudson Ave. 234-2008, rcommunitybikes.net.
Towner's Bikes 1048 University Ave. 271-4553, townersbikes.blogspot.com.
Towpath Bike 3 Schoen Place, Pittsford. 381-2808, towpathbike.com. Offers a variety of events and classes from studio cycling to yoga for cyclists.
Tryon Bike 150 N. Winton Road. 413-4444, tryonbike.com. Offers a "wrench club," where you pay an annual fee and have access to a full range of bicycle tools.
Yellow Haus Bicycles 987 Monroe Ave. 340-7464, facebook.com/yellowhausbicycles.
Social groups and events
Crime Alley wearecrimealley.tumblr.com. Organizes alley-cat bike races and bike polo tournaments.
Genesee Valley Cycling Club gvccracing.com.
Rochester Action Sports Park, riderasp.com. Haven for all riders: BMX, mountain bikes, skateboards, inline, scooters, etc.
Rochester Bike Kids facebook.com/rochester.bikekids. Organizes benefit events and critical mass rides.
Rochester Bicycling Club rochesterbicyclingclub.org.
Rochester Cycling Alliance rochestercyclingalliance.org. Hosts annual Bike Week events and more.
Spokes & Ink Bike & Poster Festival geneseearts.org.
Tweed Ride and Seersucker Social rochestertweedride.blogspot.com.