There are plenty of mainstream films coming out this season. Along with those local productions in the works, here are the larger-release films I'm most looking forward to.
Which films are you hoping to see this fall? Let us know at rochestercitynewspaper.com. Also, release dates are subject to change, so be sure to check listings to stay up-to-date.
"The Boxtrolls": Laika, the studio behind stop-motion treasures "Coraline" and "ParaNorman," returns with this fantasy adventure based on Alan Snow's children's book "Here Be Monsters." The plot revolves around a young orphan boy named Eggs, who's found as an infant and raised by a race of underground, trash-collecting trolls. When the villagers decide the creatures pose a threat and order them exterminated, it's up to Eggs to save his adopted family. (9/26)
"Gone Girl": The last time David Fincher adapted a best-selling mystery novel (2011's "The Girl With the Dragon Tattoo"), the results were underwhelming. Now he tackles Gillian Flynn's wildly popular mystery novel, about the mysterious disappearance of Amy Dunne (Rosamund Pike, "The World's End") and the media circus that springs up when her husband, Nick (Ben Affleck), becomes the prime suspect. Fincher knows his way around a moody crime-thriller, and with a fun, twisty premise and an unexpectedly nutty cast of supporting players, including Tyler Perry and Neil Patrick Harris, I've got high hopes. (10/3)
"Whiplash": After winning both the Grand Jury and Audience Award prizes at this year's Sundance film festival, a fair amount of Oscar talk has sprung up around this indie drama. Director Damien Chazelle crafts a ferocious examination of the creative process, seen through the lens of the combative relationship between a jazz drumming prodigy (Miles Teller, "The Spectacular Now") and his tyrannical instructor (J.K. Simmons). (10/10)
"Birdman": This dark comedy from director Alejandro González Iñárritu ("Babel") follows the mental unraveling of a washed up A-list actor (Michael Keaton), famous for playing the titular superhero, as he prepares to mount a comeback by directing a Broadway play. Edward Norton, Emma Stone, Naomi Watts, and Zach Galifianakis round out the cast, and as if that wasn't intriguing enough, supposedly the entire film is composed to appear as though it occurs in a single take. (10/17)
PHOTO COURTESY LIONSGATE
A scene from "Dear White People."
"Dear White People": Anyone who thinks America still doesn't have a race problem hasn't been paying attention — especially considering recent events in this country. With that in mind, it seems we're long overdue for the type of provocative satire that newcomer Justin Simien's comedy promises to deliver. Focusing on a group of African-American students attempting to navigate their way through life at a predominantly white Ivy League school, the film looks outrageous, maddening, and hilarious — I can't wait. (10/17)
"Foxcatcher": From director Bennett Miller ("Capote," "Moneyball"), comes the disturbing true story of Olympic wrestling brothers Mark and Dave Schultz (Channing Tatum and Mark Ruffalo, respectively) the relationship they formed with their eccentric millionaire sponsor, John du Pont (Steve Carell), and the murderous results. The film earned raves when it debuted at the Cannes Film Festival, with many predicting possible Oscar nominations for Carrell and Tatum. (11/14)
PHOTO COURTESY SONY PICTURES CLASSICS
Channing Tatum and Steve Carell in "Foxcatcher."
"The Imitation Game": The second of the season's Oscar-baity films about troubled scientific geniuses (following Stephen Hawking biopic "The Theory of Everything") tells the compelling and tragic story of Alan Turing (Benedict Cumberbatch), the gifted British mathematician who helped win WWII by cracking the Nazi's Enigma code, but ended his life being persecuted for his homosexuality. With Keira Knightley, Matthew Goode, and Mark Strong. (11/21)
"The Babadook": The feature debut of writer-director Jennifer Kent tells the chilling tale of a widowed mother, her young son, and the pop-up storybook that may hide a sinister paranormal entity. With much praise for its intriguing story, great performances, and imaginative production design, this Aussie horror flick has had audiences buzzing as it's made the rounds of film festivals across the globe. (11/28)
"Inherent Vice": The latest from auteur Paul Thomas Anderson stars Joaquin Phoenix, Josh Brolin, Reese Witherspoon, and Owen Wilson in a shaggy-dog, 70's-era detective story based on the novel by Thomas Pynchon. Anderson's unprecedented string of masterpieces have justifiably earned him the reputation as one of the greatest living filmmakers, so any new project from him is an automatic must-see. (12/12)
"The Interview": Forever known as the Seth Rogen-James Franco comedy that North Korea referred to as "a wanton act of terror," followed by threats to blow us up with missiles, the film stars Franco and Rogen as TV journalists recruited by the CIA to assassinate North Korean dictator Kim Jong-un. Apparently the North Koreans made a compelling case, because the film was pushed back from its original October release date, supposedly to make alterations to appear less offensive. (12/25)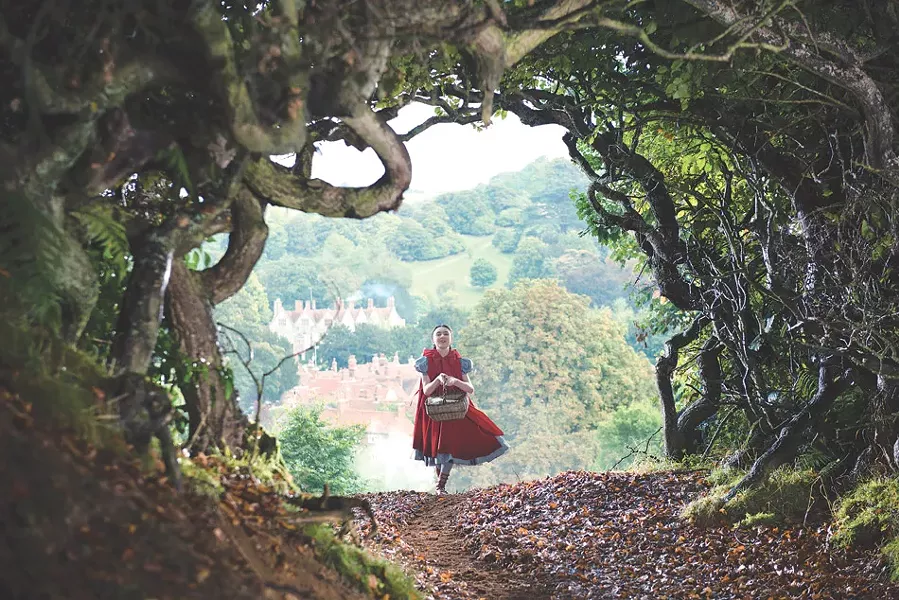 PHOTO COURTESY WALT DISNEY PICTURES
Lilla Crawford goes "Into the Woods."
"Into the Woods": Stephen Sondheim's beloved musical (and one of my personal faves) finally gets a lavish, big screen adaptation courtesy of Disney. Rob Marshall ("Chicago") directs a cast including Anna Kendrick, Emily Blunt, James Corden, Johnny Depp, Chris Pine, and Meryl Streep for this story that explores what happens to several well-known fairy tale characters after they got their happy ever-afters. It's a story with more than its share of darkness — several characters don't survive — so the question is, with Disney overseeing things, how much of that darkness survived the translation to screen? I'm trying to keep my expectations in check, but if nothing else, there's little doubt the results will make for some stunning eye-candy. (12/25)