All endeavors are precarious, and those that seek to last must weather the ebb and flow of cultural shifts, prosperity, and community needs. Even a space based on history must earn its place in the passage of time, and in doing so over the course of the past 100 years, the Rochester Museum and Science Center has had to shift its role from purely a keeper of historic record to a facilitator of the present and future community. RMSC is currently celebrating its centennial anniversary, and like double-headed Janus, is casting simultaneous stares both proudly backward at where the institution has been, and enthusiastically forward into the yet-to-be.
The RMSC Today
The ox yoke pictured here was the Museum's first collection object.PHOTO COURTESY THE ALBERT R. STONE NEGATIVE COLLECTION, RMSC
During the course of any given month, there are a staggering number of opportunities to engage with programs, exhibitions, and recreational events offered by RMSC. Visitors to the main museum on East Avenue can learn about geological and anthropological history, taking us from the Ice Age, to the contact between native people in our region and colonists, to the innovators who built the boom town we now call home. In the "Adventure Zone" exhibition hall, kids can experiment with all manner of interactive exhibits focusing on physics, electricity, water cycles, and elements of weather. The "Expedition Earth" exhibits teach visitors about the ever-changing earth with a particularly local focus. Upper galleries feature the social histories of our region and beyond, with dioramas that reveal the lives of Native Americans, early settlers, and African Americans during the pursuit of freedom on the Underground Railroad.
Adults may take in a lecture on a wide range of subjects by local and visiting scholars. The planetarium offers regular star shows, astronomical events, and films projected on the dome, laser shows set to popular music, as well as the continuous opportunity on Saturday nights to view the cosmos through the telescope (assuming the weather cooperates). The museum-run Cumming Nature Center in Naples offers a year-round series of hikes and special events, many of which contextualize and celebrate local flora and fauna.
A house for Rochester's history
"In 1912, we were an agency of the city, and our home was at Edgerton Place, where the city headquarters was," says Kate Bennett, current president of RMSC, which in 1912 was founded as simply The Rochester Municipal Museum. "We were side-by-side with the Rochester Public Library, the Rochester Historical Society, and we just learned recently that the zoo was there as well."
The City of Rochester Municipal Museum opened in this Exposition Hall in Edgerton Park on Sept .13, 1912. PHOTO COURTESY RMSC
The initial idea behind creating a museum, Bennett says, was to collect and preserve important artifacts that tell the story of the Rochester region, and to provide a sense of place and history to the people who lived here. "Today, we still care deeply still about providing a sense of place," says Bennett, who has been with the RMSC since 1996. But the journey to the present has shifted toward a focus on getting youth excited about science and technology education.
In the 1940's, a donation of land and funding made by Edward Bausch, son of Bausch & Lomb founder John Jacob Bausch, who lived where the planetarium stands today, moved the museum from Edgerton Place to its current home on East Avenue. The Women's Council, the museum's network of volunteers that still exists today, helped pack and move the collection. Today that collection stands upward of 1.2 million objects.
After Rochester experienced race-related rioting in 1964, "the city found itself in the situation where it needed to pay attention to citizens that really needed its support," says Bennett. An analysis was conducted by the Center for Governmental Research Inc. regarding who was using the libraries, the zoo, and the museum, and the results suggested that the whole county used those institutions. So in 1968, Monroe County took on the responsibility of managing the museum and its compatriots. "We became at that point a public-private partnership with the county," says Bennett.
At roughly the same time, a gift from the Strasenburgh family helped build the Strasenburgh Planetarium, which "helped us create an institution that would help people imagine space travel," says Bennett, "and to excite the kids about science, technology, engineering, and math."
In the 1970's, the RMSC campus grew again with the addition of the Cunningham House, which is used for executive offices and private events, the Eisenhart Auditorium, and the building that now houses the Genesee Community Charter School.
Ups, downs, and changes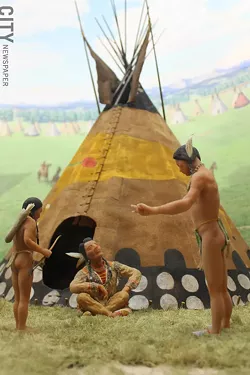 Detail from one of the many dioramas included in the "At The Western Door" exhibit at RMSC.
During the Great Depression the museum became very small, with very few people working on staff, says Bennett. "The director at the time, Arthur Parker, created a very smart program that got some federal money through a Works Progress Administration project, and enabled us to work with Native Americans to create objects that came into the museum collection." Some of those items were traded with other museums, which helped the Rochester Museum build a more robust collection.
More recently, after September 11, 2001, there were cutbacks through county and state funding that were difficult to manage and overcome, says Bennett. "We've brought the budget back up and increased our earned revenue, and admissions represent a bigger percent of our budget than before," she says. But because RMSC holds the county's and city's collection in trust for the community, it also receives some funding from the county.
In 1988, the museum added the Elaine Wilson Hall, the current entrance to the museum, and a whole new series of exhibition halls were added in the 1990's, including "Adventure Zone" and "Expedition Earth." The 2006 addition of the third-floor Riedman Gallery, where RMSC hosts its traveling exhibitions, required an actual physical addition to the museum building.
Over the years the focus of the museum also grew and shifted. "We have always had a focus on Rochester and a sense of place — history, geologic history, environmental history, as well as the anthropology, who has lived here in this region," says Bennett. But in the 1990's, the trustees and the county wanted the museum to tackle the issue of science literacy, and provide more open-ended learning opportunities. "From our point of view, science isn't about the facts of science, but the inquiry into answers," says Bennett. "People are eager for us to make a difference in the lives of children," she says.
The museum has always been geared toward children's education, about giving people opportunities to learn at their own pace, and fueling an enthusiasm for learning, says Bennett. There were very few hands-on exhibits when RMSC hired Bennett in the mid-1990's, but "when we had traveling exhibits, that would add hands-on components," she says. RMSC now boasts more than 150 interactive exhibits and entire exhibit halls that have hands-on, open-ended-question types of opportunities, such as the simulated paleontological dig in "Expedition Earth."
In building modern exhibits and programming, "we concentrate on ways that we can help stimulate the economy," Bennett says, "so we make sure that our plans are helping the community grow and become what it can become in the future."
Though RMSC offers a lot from the historical perspective, "the STEM programming strengthens the educational process of our community," says Andrew Meloni, who has served as chairman of the board of trustees since June 2001 and a museum trustee for 10 years. STEM is an increased emphasis on education in the areas of science, technology, engineering, and math, and is one result of the American Competitiveness Initiative set in motion in 2006 under the George W. Bush administration. The STEM Education Coalition includes organizations such as the RMSC, which serve to supplement what schools can offer children in our community in these fields, and in recent decades STEM has shifted the trajectory of RMSC's exhibitions and programming.
Recent examples of STEM-based exhibitions include the "Titanic" exhibit from 2009, which focused on technical elements — as well as the experiences of different classes of people — of the ill-fated ship, and the "Our Body" exhibit, held in 2010, which featured installations of real human bodies with their biological systems laid bare for open exploration.
Though the museum has an overt focus on children's education, Bennett stresses the importance of the institution for adults as well. "When the museum was looking to create itself on East Avenue, the leaders went out and convinced the community that a community without a major museum is like an amnesia patient," says Bennett. "It helped people understand the importance of it, that this was the university of the common man," she says. "You can come in at any level."
Philanthropy, then and now
"So much of our growth and change has been done through magnificent generosity of individuals in this community who wanted to help us bring a program to fruition," says Bennett. Today, RMSC includes seven buildings and 14 acres, plus the Cumming Nature Center located south of the thruway near Naples that covers 900 acres.
John Carver is the vice chairman of the museum's board, and serves on every committee except finance. Since 2000, Carver has also been a member of the Technical Advisory Group, a network of volunteers who use their expertise to design and build interactive exhibits based on ideas generated by museum staff. When it comes to TAG projects, "the only thing the museum has to pay for is materials," Carver says.
Like so many people raised in this region, Carver remembers visiting the museum as a child, but he became involved in supporting it through his mother-in-law, Eleanor Eisenhart Morris. In the past, philanthropists such as Carver's wife's family donated large sums of money to support the institution and to help it grow. Today, philanthropy isn't only about well-off individuals and families providing funding for specific goals of a community institution, but also about time and expertise donated by individuals with a specific skill set, such as those engineers in TAG who volunteer to actualize hands-on exhibits.
Carver's personal favorite project that he has helped bring to fruition is the interactive replica of Erie Canal Lock 32, which can be found in the "Adventure Zone." Kids who engage with this exhibit learn about the mechanics of the locks by moving a boat around the display by letting water in and out of the locks, and earn a stamp for their Erie Canal Heritage Trail passport. TAG is in the process of creating a replacement the 10-year-old exhibit, which Carver says requires a great deal of maintenance.
But you don't have to have a specific area of expertise to volunteer at the museum, just a willingness to lend a hand. The current volunteer pool includes the Women's Council, student interns, board members, and various committees supplements what can be accomplished by the 74 people on museum staff.
Looking to the future
It's easy to feel excited when talking with RMSC staff about the institution's future endeavors, and how they apply to Rochester's current culture. On January 19, the Riedman Gallery will host a new traveling exhibition, "Race: Are We Really So Different?" which focuses on actual biological, social, and cultural differences, as well as race as a social construct. The aim of the exhibition for RMSC is to educate people about facts, dash myths, and engage the community in an ongoing discussion. The exhibit will continue through April 28. [For information about related events held in Rochester in the coming weeks and months, see the "Facing Race" sidebar.]
"We started looking at the exhibit as an opportunity several years ago," says Bennett. RMSC engaged with Rochester Institute of Technology during preliminary discussions, and together met with Action for a Better Community's James Norman, "who suggested to us that we work with the RISE Coalition, which allows a number of people of different backgrounds of race and ethnicity to come together and work toward a common goal," says Bennett. That goal is to work to improve issues of disparity in Rochester.
"The exhibition is one thing, but we knew that the community needed more than a four-month touring exhibition to solve the issues that we have in this community," says Bennett. In addition to information and interactive elements, such as guessing a person's race based on hearing a voice, the museum is setting up opportunities to encourage focused and continued discussion. For example, city and suburban and rural school groups will see the exhibit together, then sit in a room together to have facilitated conversations about what they saw.
Not a purely black-and-white issue, the endeavor seeks to engage people of all races and ethnicity in Rochester, and RMSC has reached out to Asian-Pacific organizations and communities, has sought Ganondagan State Historic Site's involvement, as well as that of various Hispanic organizations.
RMSC has also reached out to churches, libraries, and other community spaces to build a lecture and discussion calendar of programming, and plans to create a summit at the conclusion of the exhibition in order to "put a stake in the ground and allow us to say this is how we're going to make improvements and this is who is going to work on these ideas going forward," says Bennett. "If we can all put our shoulders to the wheel, we can make progress," she says. "We know that we'll be a more creative community, ultimately, if we embrace and celebrate our diversity."
In addition to the "Race" exhibit, RMSC will host one other traveling exhibit in 2013, as well as exhibitions designed and built here in Rochester. Currently, the museum is building an electricity theater that will feature a Tesla coil in it, which is projected to be ready for a June debut, and was funded through the Centennial Gala held in September 2012. In the fall, RMSC will open a construction exhibit, created collaboratively with local construction companies. This exhibit will enable the museum to tell the story of the building of the Golisano Sustainability Building at RIT, as it will feature videos of people in the process of building and interviews with them about their trade.
Another upcoming exhibit is "Inventing Futures," for which RMSC will redesign the third floor of its main building. The exhibit's aim is "stimulating Rochester's inventive and entrepreneurial spirit, celebrating what made Rochester Rochester, and stimulating the next generation of inventors and entrepreneurs," says Bennett. The museum is currently working through the process of fundraising, and has partnered with RIT's Center for Innovation and O'Connell Electric on exploring some inventing strategies. The exhibit will feature eight to nine display areas which may focus on optical, electrical, or mechanical inventions.
"We want to teach people that invention is something that can be learned — it's not simply up to geniuses to invent, that it's a process that can be learned," says Bennett. "And you can improve all sorts of things in your life by inventing solutions. We want people to understand that that's an option you have, to think deeply and contribute," she says.
Renovations and other developments
Many RMSC staff members gushed about the upcoming renovation to the campus, which will link the main museum building with the planetarium. This "Gateway Building" will be a mostly glass construction, serving as the new main entrance and front desk to both buildings, sheltering visitors who wish to travel between buildings from Rochester's inclement weather.
RMSC is also planning an upgrade for the planetarium, which involves revamping the decades-old equipment to make programming more engaging to visitors, says board member Meloni. These plans are still in their infancy, however, and like all of the renovations, are contingent upon an ambitious capital campaign.
RMSC will also embark on a program that applies the material from the successful summer camps and educational school-break programming to distance-learning activities.
Other than school groups, the largest percentage of attendees to the RMSC are parents with kids, says Carver. Next year, RMSC is planning an initiative to have volunteers on hand to engage with visitors in an informal way, asking them questions about an exhibit, and providing information. The upcoming programs, formal and informal alike, reflect the spirit of the Rochester Museum and Science Center's long history of seeking to assist the Rochester community in connecting with its past, engaging with its present, and developing its future.
---
Facing "RACE"
Part of the "RACE: Are we really so different?" exhibit, opening this week at RMSC.
From January 19 through April 28, RMSC will host a traveling exhibit, "RACE: Are We Really So Different?" which looks at the story of race from biological, cultural, and historical points of view. The exhibit will present the everyday experiences of race, the science of human variation, and the history of the idea of race, and will include hands-on activities for all ages, a 3-D animation of our molecular selves, a scanner which will enable visitors to add their skin tone to a mosaic of other visitors' scans, and a challenge to match voices with the faces of people of different races.
The exhibit is included in museum admission ($11-$13, free to kids under age 3 and museum members). RMSC is located at 657 East Ave. and is open Monday-Saturday 9 a.m.-5 p.m. and Sunday 11 a.m.-5 p.m., with extended hours until 9 p.m. on select Thursdays (January 31, February 14 & 28, March 14 & 28, and April 25).
In the coming weeks and months, the Rochester community will be presented with many opportunities to have crucial continued conversations with one another about race relations in our home city at a variety of forums. A number of community dialogues, films, musical performances, and other events will be held at libraries and community centers. The following are a few highlights to represent the types of events that will take place. For a complete schedule of related events, visit faceraceroc.org, or search "race" at our online calendar at rochestercitynewspaper.com.
Friday, January 18, 7-9 p.m.: Film: "Color Adjustment" The Baobab Cultural Center (728 University Ave.). This 1992 film traces 40 years of race relations through the lens of prime time entertainment, scrutinizing television's racial myths and stereotypes.
Sunday, January 20, 4-5 p.m.: MLK Youth Event Edgerton Community Center's Stardust Ballroom (41 Backus St.).
Thursday, January 24, 7-9 p.m.: Community Dialogue Series: Race & Politics The Baobab Cultural Center (728 University Ave.). Panel discussion.
Friday, February 15, 11:30 a.m.-2 p.m.: Chinese New Year Networking Luncheon, Celebrating the Year of the Snake! Golden Port Restaurant (105 Gibbs St.). College/community networking opportunity. $10. 224-3271, timothy.cosgriff@esc.edu.
Saturday, February 23: 6 p.m.: 11th Annual Black Heritage Gala Rochester Plaza (70 State St.) $50, register. 428-9857, blackheritagerochester.org.