Loudon Wainright III plays his songs live accompanied by guitar and not much else. That leaves a lot of room for the most important stuff: the lyrics. Over the course of 20 albums, he has written songs in just about every imaginable flavor. Mostly, he dwells on stories of dysfunctional families (namely his), personal insecurities, and reflective studies of celebrity and musicianship.
His songs are seasoned with self-deprecating wit, a little desperation, a little nihilism, and balanced out by a great deal of bittersweet humor. But in the end, Wainwright is more than just a songster, he knows how to tell a good story. If you can imagine what it would be like if Woody Allen wrote songs for Townes Van Zandt, that should give you a clearer idea of his music.
Loudon Wainwright is patriarch of a prodigiously musical family that includes Rufus Wainwright, Martha Wainwright, and former wife Kate McGarrigle. On top of his musical career, he has also chalked up a respectable acting career. He has had roles in the MASH and Undeclared and has acted in Tim Burton'sBig Fish, Martin Scorsese'sThe Aviator, and in 40-Year-Old Virgin he plays a cameo as a minister (of all things).
We spoke with him about albums both old and new, his song in Squid and the Whale, and musical influences from the old, weird America.
City: You've played with a series of great session musicians over the years, and on your most recent album, you play with guitarist Bill Frisell and lap steel player Greg Leisz.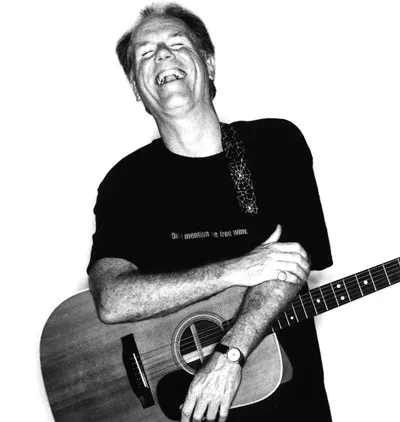 Ross Halfin
Loudon Wainright III
Wainwright: I had met Bill and Greg actually a few years ago on some shows I did with them in Germany and had enjoyed that experience a great deal, so it occurred to me, and Lee Townsend, who produced the record Here Come the Choppers and also works a lot with Bill [Frisell], that it might be fun to do a record together. And then we got the other half of the equation with Jim Keltner and David Piltch and it just kind of happened. We rehearsed, really only a day, and then it went into the studio and made the record really quickly, we recorded it in four days.
City:There are a number of Wainwrights who appear in Martin Scorsese's "The Aviator," three by my count, is that right?
Wainwright: Yeah, Rufus [son], Martha [daughter], and myself.
City:How did that happen?
Wainwright: I think we have to give credit for the idea to the music supervisor, a guy named Randy Poster. The movie called for singers at the Cocoanut Grove over a series of three decades and he thought it might be interesting to get the three Wainwrights. He pitched the idea to Mr. Scorsese and the rest is cinema history.
City:Speaking of movies, recently "The Swimming Song" has been used in "The Squid and the Whale." Have you seen the picture, and what'd you think about the usage?
Wainwright: Yeah, I have... Well, I thought it was great, but unfortunately they don't play the song until the very end of the credits so most people are already out in the parking lot getting into their cars, but I like the fact that he used the whole song and I was very happy I was included.
City:Often, people ask you how your family members feel about you writing about them in your songs, and you usually reply something along the lines of, "You'd have to ask them." But to look at it from a different perspective, how does it feel when you show up in one of their songs, or when they cover one of your songs?
Wainwright: It makes me feel fine... if it's a good song. Anytime anybody sings one of my songs, whether it's one of the kids or Johnny Cash, that's the biggest thrill of all for a songwriter.
City:I'd like to ask you about an older song you did, it's a cover song of "Old Paint," that came out on your second album. You don't usually do covers, what inspired you to do this one?
Wainwright: It's a Jimmy Rodgers song I did... I don't do it often, but it's a song I like, and if I recall, at the time, it was a song I was singing and Kate McGarrigle used to sing it with me.
City:Do you count that early type of country music as an influence?
Wainwright: I like country and western music, and from a music point of view, I'd say it's had a big effect on me.
City:What other musicians would you list with Jimmy Rodgers?
Wainwright: Charlie Poole, those string bands from the '20s, people like Hank Williams, that tradition of playing guitars and banjos and fiddles. When I was a kid in boarding school, that would've been the early '60s, I listened to all that folk music and that kind music was considered to be pretty hip, so I think some of that rubbed off on me. Probably my biggest musical influence was Ramblin' Jack Elliot, who also played all those songs... Like a lot of kids in '62 I went out and bought an acoustic guitar and went to the Newport Folk Festival. You know, it was just kind of a scene, that I was a part of, as a fan. In the late '60s I started to write my own songs.
City:What do you when you're not on the road or recording? Do you have any hobbies?
Wainwright: Nothing I would consider a hobby, just existing, pretty much.
Loudon Wainwright III Montage Live, 50 Chestnut Street, 232-1520, 8 p.m., $25-$27