Just in time for All Hallows' Eve, Rochester-based artist Peter Lazarski will release the full version of his first video game, "Halloween Forever," a throw-back 8-bit game with creepy midi music to match. Although the market for indie, retro games is well-established, Lazarski's game is targeting the hyper-niche corner haunted by retro-enthusiasts who adore Halloween.
"Halloween Forever" is currently available on Steam as an early access game, and Lazarski estimates he's sold nearly 800 copies so far. You can purchase it for $2.99 and provide feedback as he puts the finishing touches on the full version, which will be released on Wednesday, October 26, for $4.99 — if you purchased the early access version, you will automatically be able to play the upgrade.
You start off as a character called "Pumpkin Man," a humanoid who was resurrected in a graveyard by a necromancer who is trying to make Halloween last forever all over the world, Lazarski says. "Pumpkin Man wakes up, and he's not happy about it, because life as a pumpkin was relaxing," he adds. "So he starts vomiting candy corn everywhere. He doesn't really speak, he just resorts to cartoon violence immediately."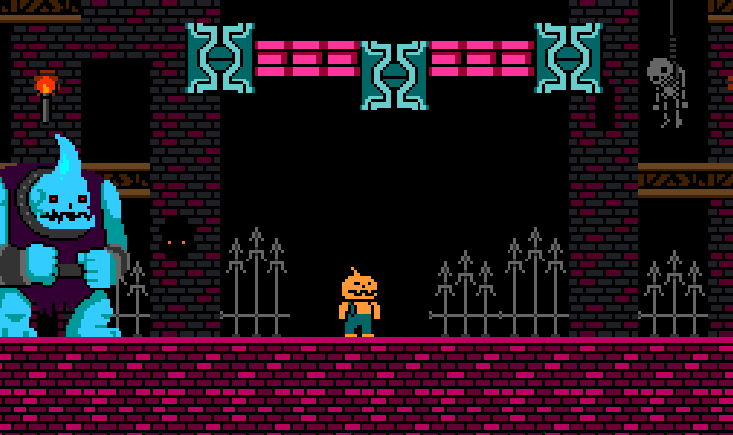 There is some animated gore (8-bits is cuter than it is graphic), but the main age-recommendation concern is dexterity, Lazarski says. The target audience is the adults who are driving the market for these nostalgic games.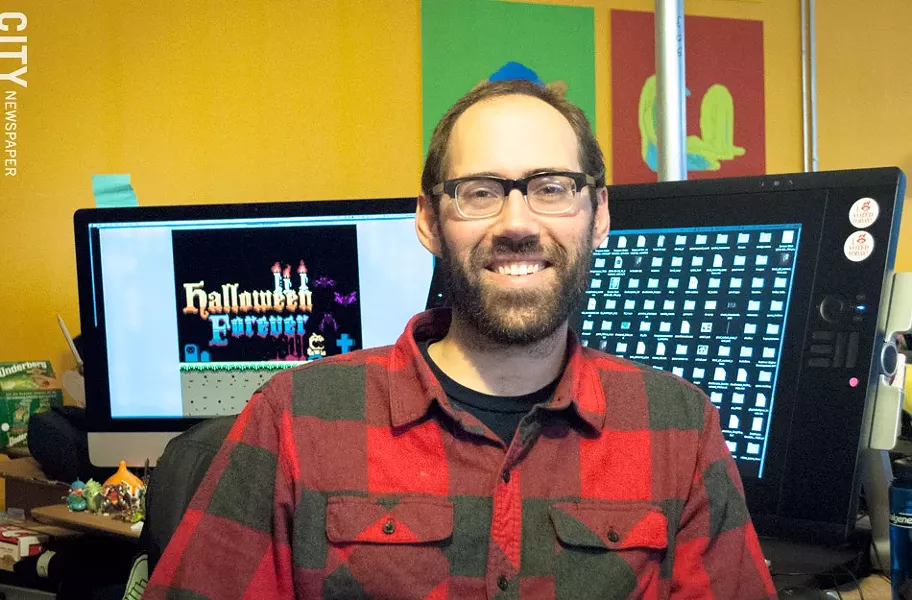 PHOTO BY RYAN WILLIAMSON
Peter Lazarski.
"I would say it's Nintendo-difficulty," Lazarski says. "There aren't extensive tutorials. There are some checkpoints. But it's designed to be tricky; it's a game that will probably take a few attempts to clear it. A player who's a retro-gaming god will probably clear the game in 40 minutes to an hour."
Gamers initially have access only to playing the main character, the jack-o'-lantern-headed Pumpkin Man, who navigates graveyards, churches, and dungeon levels while spewing candy corn at "chainsaw maniacs" (who sport the Jason Voorhees mask), "spooky bats," and the like. The darkness is ominously dressed up with skeletons, candelabras, and lanterns suspended from chains. Much of the content is a nod to cult horror movies and pop-monster-culture, and the spooky soundtrack was created by Rochester chiptune musician bc likes you.
"Halloween Forever" is made up of five worlds, each with a handful of rooms and both a mid-level mini boss and a classic-style big boss fight at the end. Once you've cleared the game, you have the option of going through it again with different starting characters. These include a witch and a skeleton, who each have different characteristics and attacks. You unlock each new character by locating them hidden throughout the worlds.
Lazarski has been working on "Halloween Forever" off-and-on since the summer of 2014, amid family responsibilities and full-time work at local gaming company Workinman. He's been with the company since 2010, creating 2D animation, background painting, 3D modeling, level design, and art directing for the many accounts the company has — including the likes of Nickelodeon, Disney, "Sesame Street," and Little Tykes.
"It's a good place to wear a lot of hats," he says, "and also there's quite a bit of room to learn new skills."
Lazarski went to RIT for graphic design, but was always interested in making comics and animation. "I kind of took a windy path after I wrapped up with school," he says. "I worked a new media job for a bit, was doing freelance illustration and animation for a few years, and that kicked off right around the start of the recession. It was feast or famine for a while."
He also had a teaching stint at RIT, which he gave up a bit after he joined the team at Workinman. I met Lazarski almost a decade ago when he was selling his rad screenprinted t-shirts and prints of robots and grotesques through his company, Imaginary Monsters. "Programming is simpler in a way," he says with a laugh, "because it's easier to fix when you mess something up. There's no undo button once you've burned a screen." And linking up with platforms like Steam takes care of distribution and marketing.
As of now, "Halloween Forever" is available only as a PC version, but Lazarski plans to add a Mac version later on. And he has a second game in the works. Lazarski also hosts a bi-weekly podcast at twitch.tv/imaginarymonsters, where viewers can converse with him while watching a live-stream of him programming.