The Toronto International Film Festival continues through Sunday, but my time there has sadly reached an end. What follows are a few more quick reactions to a few of films that made an impression over the past week. You can check out the first half of my TIFF recap here.
"The Children's Act" stars Emma Thompson as a High Court judge hearing a case involving a teen boy (played by "Dunkirk's" Fionn Whitehead) with Leukemia who, based on his religious objections as a Jehovah's Witness, refuses the blood transfusion procedure that would save his life. The story's a bit uneven, but Thompson delivers a powerhouse performance and Stanley Tucci provides strong support as her frustrated husband.
Director Craig Gillespie ("Lars and the Real Girl") brings the sordid story of figure skater Tonya Harding to the big screen in the buzzy dark comedy "I, Tonya." As Harding, Margot Robbie is outstanding in one of her best roles to date, and Allison Janney is equally terrific as her piece of work mother. Gillespie turns the tale into a bitterly funny, wildly entertaining, Coen-esque, class comedy, but the director has enough of a sympathetic eye to save one of the great villains of the 90's from remaining a mere punchline.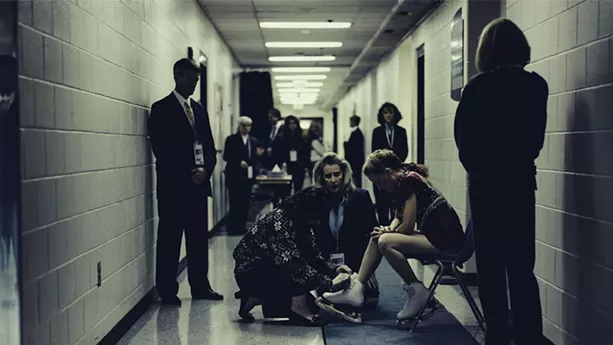 PHOTO COURTESY NEON AND 30WEST
Margot Robbie in "I, Tonya."
The Canadian feature "Porcupine Lake" is a sweet but slight coming-of-age drama about love and longing between two adolescent girls, both helped and hindered by their working-class families. As the girls in question, Charlotte Salisbury and Lucinda Armstrong Hall deliver lovely, unaffected performances, but I couldn't help wishing for a bit more from writer-director Ingrid Veninger's screenplay.
The directorial debut of writer Aaron Sorkin, "Molly's Game" stars Jessica Chastain in the fascinating true-story of Molly Bloom, an Olympic-class skier who moved on to running the world's most exclusive high-stakes poker game and in the process became a target of the FBI. Both Chastain and Idris Elba — as Bloom's lawyer — are predictably great, and Sorkin's patented rapid-fire dialogue lends the film a crackling energy that carries the film along until the last 20 minutes or so, when the film delivers a frustrating, overly explained ending.
Sweet, funny, and surprisingly heartfelt, "The Disaster Artist" is everything I'd hoped it would be. Dramatizing the behind-the-scenes story of the making of Tommy Wiseau's "The Room" — one of the most beloved, absolutely godawful movies of recent history — the movie melds it to a genuinely moving story about the power of friendship. Directing and starring as Wiseau, James Franco knocks it out of the park.
PHOTO COURTESY RLJE FILMS
Vince Vaughn in "Brawl in Cell Block 99."
I also caught a screening of "Michael Jackson's Thriller" in its new, fully-restored 4K 3D conversion, which director John Landis hopes will get some sort of theatrical release in the near future. And I certainly hope so: it's an absolute blast to watch big and loud, and with an enthusiastic, rowdy audience.
The prison thriller "Brawl in Cell Block 99" is the story of a drug courier (a terrific Vince Vaughn) and family man who winds up incarcerated, only to face even more deadly threats from his enemies on the inside. As he demonstrated with "Bone Tomahawk," director S. Craig Zahler does good gore, and his follow-up has such brutal, bone-crunching (and face-dragging) violence that it made me yelp out loud on more than one occasion. Entertaining, but definitely not for the faint of heart.
The documentary "Scotty and the Secret History of Hollywood" chronicles the exploits of Hollywood legend Scotty Bowers, a former Marine who, from the 1940's through the 80's, made a living procuring sexual partners for movie stars — whatever their desires. Even at 94, Bowers is still a wily, compelling subject, and director Matt Tyrnauer focuses his camera on his subject with a deep sense of empathy and good humor.
PHOTO BY LINDSAY MACIK COURTESY A24
Saoirse Ronan and Laurie Metcalf in "Lady Bird."
Strong performances elevate the mostly by-the-numbers "Kodachrome," which stars Jason Sudeikis as a down-on-his luck music exec who agrees to take a road trip with his estranged photographer father (Ed Harris) after he learns his old man is dying. With his father's nurse (Elizabeth Olsen) along for the ride, they head out for Kansas to deliver some film rolls to the last remaining photo lab that processes the titular color slide film format. You know exactly where the film is headed from the moment it starts, but director Mark Raso and writer Jonathan Tropper find enough honest moments that it's easy to get swept along for the ride.
My final film of the festival was Greta Gerwig's solo directorial debut, "Lady Bird," a warm, affectionate, and hilarious coming-of-age story following Catholic high school senior Christine "Lady Bird" McPherson (Saoirse Ronan) as she takes her first reluctant steps into adulthood. The film also acts as Gerwig's big, gooey love letter to her hometown of Sacramento. Laurie Metcalf has catapulted to the front of the Oscar conversation for her wonderful supporting turn as Christine's lovingly obstinate mother. I absolutely loved this, and I can't imagine better end to my TIFF experience.