PHOTO BY ASHLEIGH DESKINS
The East Main Street end of Gibbs was packed and buzzing with energy on Saturday as almost 200 people gathered for Fringe Street Beat. The Rochester Fringe Festival brought back the all-styles dance competition for its second year, drawing in teams from the region and as far as Montreal to compete for a $1,500 cash prize.
This year the event was held outdoors (rain had pushed it into the Spiegeltent in 2016) with DJ Sike on the turntables, and hosted by Rochester's Eugene "Tinman" Cleveland. Tinman was also a judge, along with Buffalo's Stacy VanBlarcom, known as "B-Girl Resolve," and Marc Sakalauskas, or Scramblelock, from Montreal.
With around 11 groups participating, the competition moved along by way of three-on-three battles. Each team that signed up to compete had to go through a preliminary round where each participant from the group had one minute to freestyle in front of the judges. After the preliminary round, judges selected which groups would move on to compete during secondary battles before a final face-off.
Pyro, a B-Boy representing Twisted Moon Illusions from Toronto, and one of last year's Street Beat winners, shared a little about his experience coming back. "It's always exciting to see what the community has to bring, what styles of dance people like to do out here," he says. "It's always great to see the familiar faces and see the growth in everyone from the year before."
Montreal's MTL Squad and Seven Sessions from Binghamton squared off in the finals. After an incredible seven-round battle — one round allowing each team-member to have their moment and a final battle before the judges' decision — MTL Squad (Abdel Madini, Alexandre Philippe-Beaudoin, and Waliid Hammani) won the competition.
Last year the event was intended to be a "B-Boy Only" competition but the B-Boy scene in Rochester has become rather small over the years, so organizers decided to diversify it into an all-styles competition — including diverse styles like B-Boying, Krumping, Locking and more — showcasing local talent while expanding to include competitors from other states.
"The B-Boy scene has been pretty dead in the Upstate New York area," says B-Boy Rlo, part of the Seven Sessions Crew. "When I started breaking seven years ago, it was kind of thriving. But as time went on and people had more responsibility, families, jobs, it kind of fell apart a little bit. Now more than ever, at least what I've seen in the last two years, the scene is kind of coming back up."
There aren't many B-Boys in Rochester left to celebrate the old-school style, says Mars, a member of Rochester's TRU Red. "A competition like this allows us to cypher and build with other B-Boys from different cities."
While this competition is an all-styles-welcome competition, it does give a platform to breakdancers here in the city of Rochester that are underrepresented, and it's an opportunity to people from all over to come and share their art and expertise.
"It being part of a festival, it's a very different vibe," Rlo says. "When you go to a B-Boy Jam it's very aggressive and competitive, everybody wants to be the best breaker. At an event like this, there's more variety, everyone can appreciate what the next person is bringing to the table. It makes it more of a melting pot of happiness."
You don't get to see events like this often in Rochester. Having it in the heart of the city, making it a headlining event and part of The Fringe opens it up to a wider audience. Fringe is allowing dancers a space to share their talent, unite, and connect while giving non-dancers a taste of the culture within the city that often goes unrecognized.
"It enables a larger audience that may not even know that battles like this even happen," VanBlarcom says. "Some people are seeing this for the first time, kids are being exposed to styles of dance they've never seen before. It's a great opportunity and a great platform that hopefully opens up more opportunities for dancers in Rochester to do more."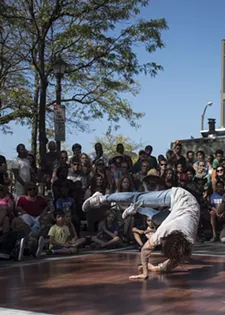 6 slides