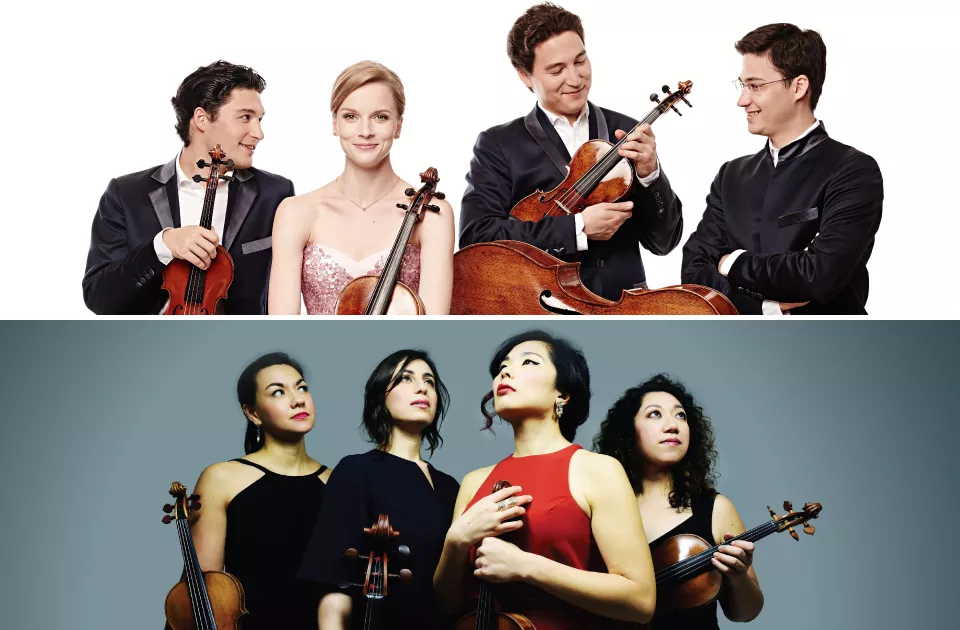 TOP PHOTO BY KAUPO KIKKAS; BOTTOM PHOTO BY SHERVIN LAINEZ
The Schumann Quartet (top) comes to Kilbourn Hall on February 23, while the Aizuri Quartet (bottom) performs on March 29 as part of the 2019-20 Eastman-Ranlet Series.
The 2019-20 Eastman-Ranlet Series of Sunday string quartet concerts isn't flashy at first glance, but initial appearances can be deceiving, with two groups with which you may be unfamiliar. The series' five chamber music concerts at Eastman School of Music's Kilbourn Hall offer a brilliant combination of beloved compositions and newer works.
The new lineup is anchored by the Eastman School's Ying Quartet, which will perform three times – November 27, February 2, and April 19 – throughout the season. The local quartet presents a consummate blend of refinement and exuberance, excelling at Romantic works of composers like Beethoven, Mendelssohn, and Schumann.
ying4.com
.
Performing on February 23, the young German group known as the Schumann Quartet has a singularly electrifying sound, full of explosive energy and expressive range. The quartet has great facility with the works of classic melody makers like Mozart and Mendelssohn, but it's also at home interpreting the works of more contemporary titans such as Philip Glass, Arvo Pärt, and the late Toru Takemitsu. The Schumann Quartet's new album "Chiaroscuro comes out in May.
schumannquartett.de
.
If new compositions by living composers are your thing, the Aizuri Quartet's performance on March 29 is one to mark on the calendar. The New York City quartet is fresh off a 2019 Grammy nomination for "Best Chamber Music, Small Ensemble" and the auspicious album debut "Blueprinting," released on New Amsterdam Records last year. The precision and intensity of the Aizuri sound are enough to make you fall in love with chamber music all over again. The quartet has already wrapped up an impressive amount of premieres in only five years, debuting works by vital contemporary composers such as Caroline Shaw, Donnacha Dennehy, Wang Lu, Lembit Beecher, and more.
aizuriquartet.com
.
Tickets and information about upcoming concerts can be found at the Eastman Theatre box office, 274-3000.