There's a certain kind of magic that connects a band with its music, and in the case of Foster the People, the inspiration behind the tunes is indefinable.
"When writing, what we call 'the spirit' enters the room," says Isom Innis, the band's keyboardist. "It's something that's elusive, but when it comes, it's a rush that propels you forward."
The spirit was a feeling that let the band know it was on the right track during the recording of its new album, "Sacred Hearts Club," which was recorded at several studios, including Sunset Sound, where the group claimed it sensed Prince's aura at one of the sessions.
"It took us five passes to get the final arrangement right to be digested in one continuous listen," Innis says of the process that brought out the clarity in Foster the People's third full-length. "Then, when we listen back, days, weeks or even months later, certain songs stand out, and we know they're special."
Foster the People — lead singer Mark Foster; Innis on keyboards; guitarist Sean Cimino; and drummer Mark Pontius — has a knack for catchy, upbeat singles. The music is danceable, balanced out by guitar and keys and guided by Foster's vocals that frame it all in a perfect pop package.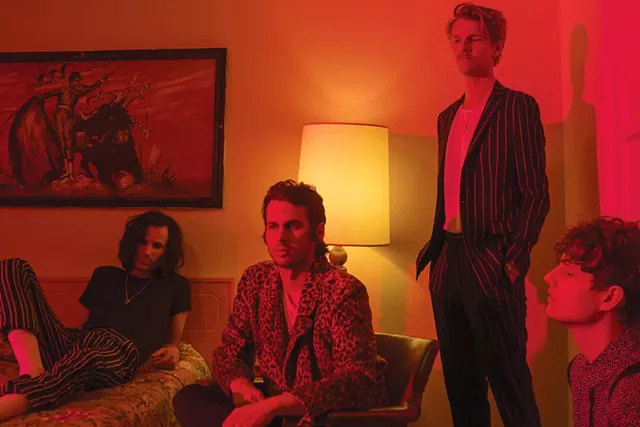 PHOTO BY NEIL KRUG
Foster the People will play with The Demos on Friday.
The numbers are impressive: Foster the People's biggest hit, "Pumped Up Kicks," has gone platinum six times in the US alone; the band has three Grammy nominations; and its 2014 sophomore album, "Supermodel," peaked at number three on the Billboard charts. But it's also a terrific live act whose concerts can be described as joyous.
Foster the People's show on Friday at the Dome finds the group touring in support of "Sacred Hearts Club," and Innis says the experience of playing the new record has been unreal. The band looked in the Rochester music community for an opening act and power-pop group The Demos landed the spot on the bill. "We've been putting on our own night called Sacred Hearts Club in select cities, which is essentially our version of CBGB from the late 70's or something," Innis says. "It's been exciting to find local bands we love that are under the radar and curate a night in the spirit of the album."
That album, released last summer, pushes Foster the People into more of a beat-driven direction than ever before. Yet it's still the sound of a band chasing what it finds to be innovative and exciting. A few songs, like "Static Space Lover" — a shuffle beat homage to Brian Wilson that features Jena Malone — have different identities and at the same time sound cohesive with the others.
"We met Jena Malone for the first time at Bronson Island, the studio we initially started recording 'Sacred Hearts Club' in. It's one of our favorite rooms in the back of Chuck Berry's old home, tucked away in the Hollywood Hills," Innis says. "It was the first piece of music we ever made together, and most of it happened within a few hours. After we had a bit of the musical foundation, Jena and Mark went in the living room together, sang and essentially channeled the entirety of the melody and words. Jena is such a wonderful person and creative force. Her spirit really shaped that piece of music."
Grounded in songwriting that is built to last, Foster the People sounds as vital as any band that has drawn from 'the spirit,' and Innis is grateful to be a part of the journey. "I feel like every time we write new music or play a show — it's an evolving rush and privilege to do what we love."