Travel doesn't have to be a physical experience. Sometimes we travel through books and film, but much of the time we travel through food. Globe-trotting chef Anthony Bourdain's legacy is inspiring but it isn't feasible for everyone to eat international dishes abroad. After he died in June of 2018, foodies became nostalgic for, and re-inspired by, his ethos of exploring world cultures through food. This is something we can do right here in Rochester.
Owners Diane and Gerry Brinkman opened their third restaurant, Atlas Eats, in 2012, because they wanted to share their passion for global cuisine. The interior of the Irondequoit restaurant and bake shop is adorned with maps, and even the coffee mugs are little glass globes.
Atlas is a great place to have a regular date night, because as Chef Gerry says, "It's like a new restaurant every two weeks."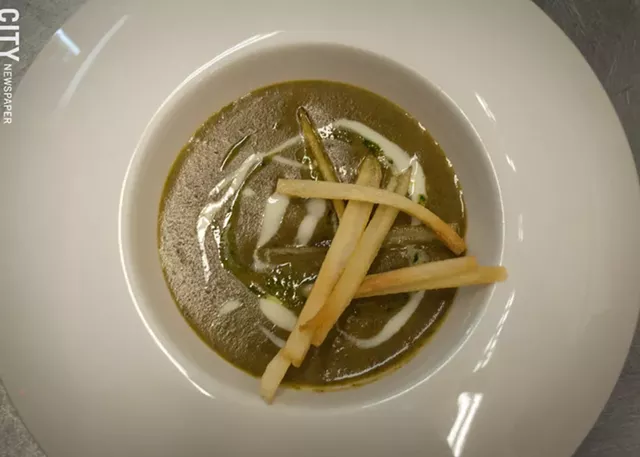 PHOTO BY REBECCA RAFFERTY
The warming poblano chile soup, served in the "spaceship bowls" at Atlas Eats.
This weekend, the Mexican-themed Dia de los Muertos menu brings the holiday-inspired dishes to Rochestarians. Each course has a dash of something uniquely Mexican to it as well as something original.
The first course is a tamale filled with turkey achiote, wrapped in banana leaf instead of the traditional corn husk. The achiote, or recado rojo, is a spice paste that the Brinkmans brought back from Mexican markets during their last trip to the Yucatán Peninsula.
Served as the second course, the ceviche is a contender for star of the show. The lime scallops are beautifully presented atop a bed of chopped avocado, mango, and slices of fresh coconut. But a pleasantly surprising dish on the menu is the third course: the warming poblano chile soup, served in Atlas's famous "spaceship bowls." The heat is less intimidating than it sounds and is comforting on a chilly fall evening. And if you're lucky, Brenda Robak, the baker who has been with the Brinkmans since 1990, will come by your table with a variety of breads for dipping.
PHOTO BY REBECCA RAFFERTY
The second course of the Dia de los Muertos dinner at Atlas Eats is ceviche with lime scallops atop a bed of chopped avocado, mango, and slices of fresh coconut.
Chef Gerry has been sourcing much of his produce from the Rochester Public Market for more than forty years now, and has built a strong rapport with local businesses like Halal Market & Meats.
He comes up with the dinner themes but the overall execution is a joint effort between him and his daughter, Chef de Cuisine Anna Mooney Brinkman. Anna started prepping at previously Brinkman-owned restaurant, the Rochester Club, on Saturdays when she was six years-old.
"I would have to stand on milk crates in order to reach the top of the table to cut zucchinis and yellow squash," she says. I loved it right from that age."
She attended culinary school at Johnson & Wales University, but says she believes much of her talent comes from her father's guidance in the kitchen.
"Holidays inspire us," Diane Brinkman says. "Every New Year's Eve we do a New Orleans theme, and the last menu was in celebration of Oktoberfest."
Holiday feasts are one of the few reasons we're obliged to travel to see loved ones and sit across from one another, and to fill the open silence with conversation. At the Dia de la Muertos dinner, I brought my inquisitive 12-year-old son, whose curiosity was piqued by the Spanish titles of the courses and the geography of Mexico, and how he can have a conversation with his first-generation Mexican friend about his new knowledge of the Day of the Dead.
The Dia de los Muertos menu continues through Saturday, November 10, at Atlas Eats (2185 North Clinton Avenue). The next theme will be Autumn in New England. (Be sure to ask about the cocktail specially paired with each new dinner.) Dinner is five courses and is a steal at $49, which includes gratuity. Reservations can be made for 6 p.m. or 8:30 p.m. on Fridays and Saturdays. 544-1300; atlas-eats.com.